As those of us in the Northern Hemisphere break out the sweaters and hot chocolate I think we can all agree that there is nothing we would rather do than curl up by the fire and read some software release notes. We hear you, and we've got you covered because ThoughtExchange version 6.3 is set to be uploaded on Thursday, November 17, 2022 @ 8PM Pacific Time.
We've got some pretty exciting new features for you to learn about as those logs crackle away. And if you happen to live in the southern half of the world, you're also in luck since these changes will make creating and analyzing the results of your Exchanges easier than ever; leaving you more time to surf and shop for a new Christmas swimsuit or whatever.
Without further ado, here's what's coming:
Preview Mode
You hear that? That's the sound of leaders around the world cheering in unison to celebrate the fact that we now offer a full preview mode. Once you're done creating your Exchange you can take a tour of exactly what your participants will see in a way that will not save any of the responses you provide. Enjoy the confidence of knowing that your Exchange is laid out how you want it without worrying about altering your participation statistics.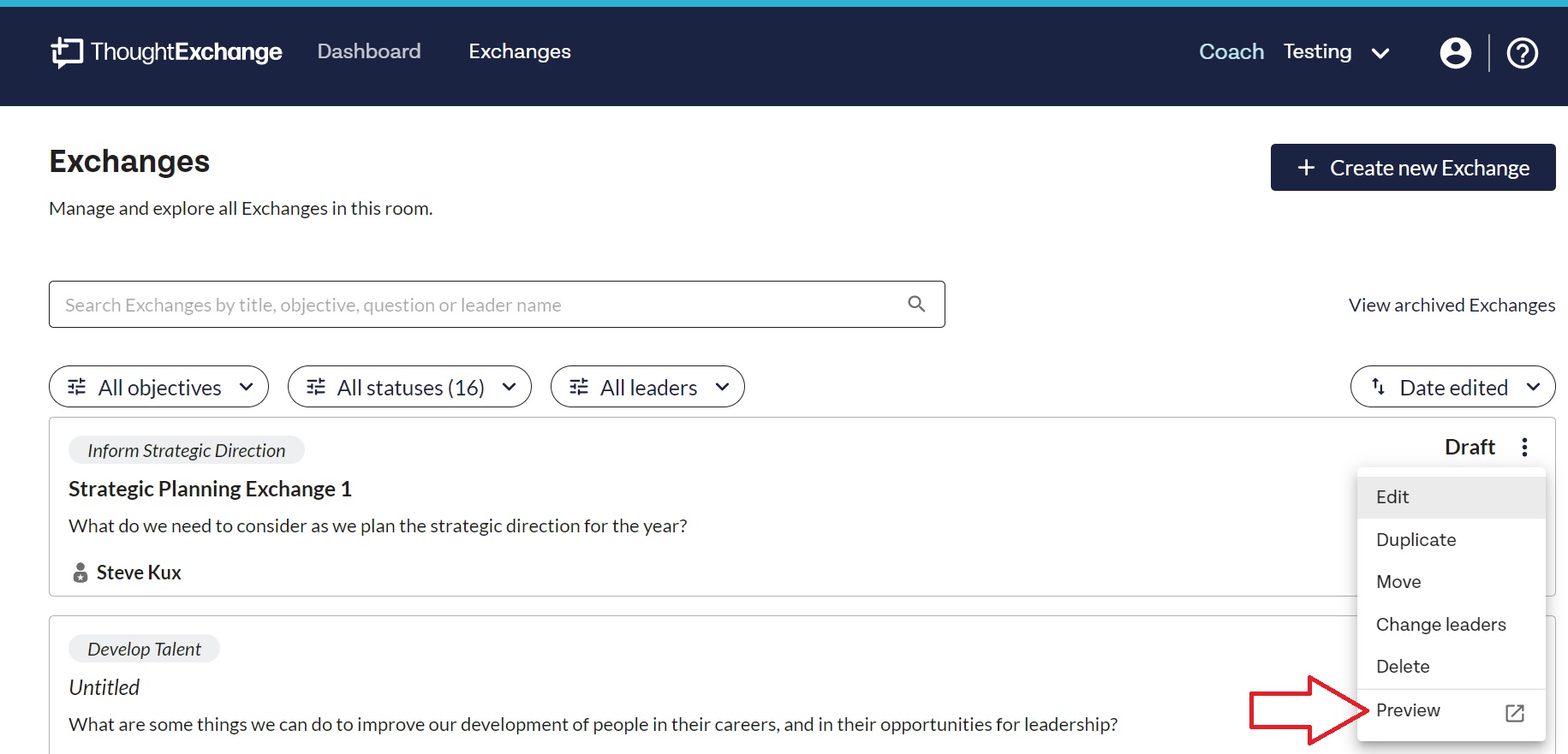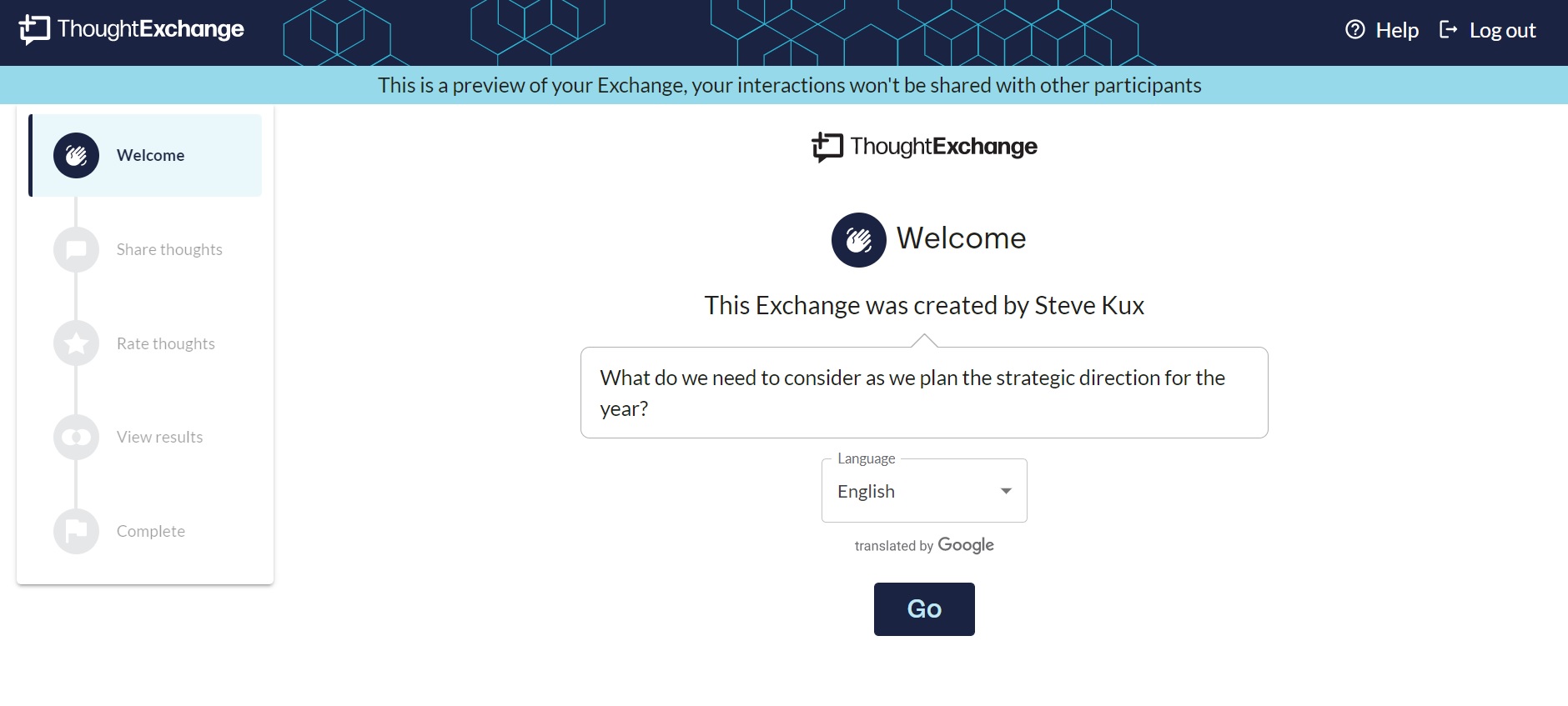 Two Easy, New Ways to Create Theme Set Templates
Over our past few updates we've taken some big steps toward making theming Exchanges a quicker and easier thing to do. Chief among those steps was the creation of Theme Set Templates which can be applied to any Exchange and use keywords to give you a massive head start in organizing the ideas your participants shared. In this update we've added two new ways to create those templates:
1. Add Predefined Theme Set Templates to a Room
We've added predefined theme set templates to the list of available templates that leaders can choose in the Add Template Menu. To add one of these theme sets to your room simply click the avatar button in the top right corner of the leader view, navigate to the Room Settings menu, select the Templates tab, and under Theme Sets click the "Add template" button and "Copy from." At the top of the list of available theme set templates you will see the predefined templates under the heading "ThoughtExchange." The templates you will have available depend on the type of organization you work for.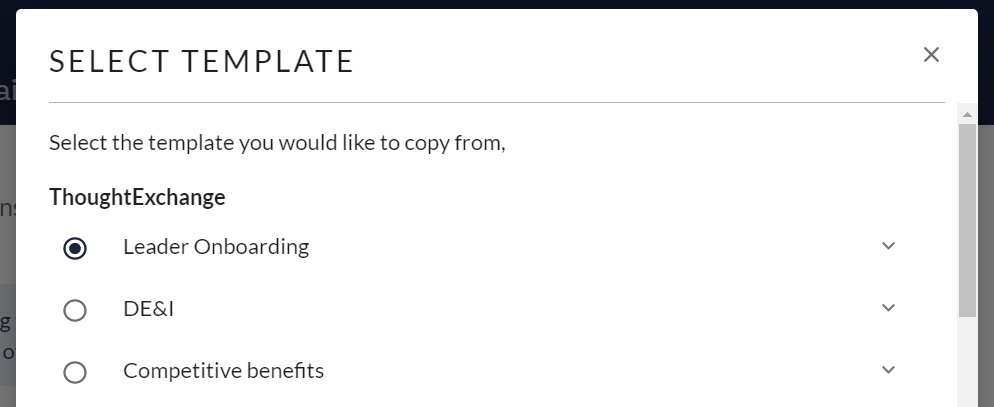 2. Export a Theme Set You've Made from the Discover Dashboard
Do you have a theme set you've created in the past that would be perfect for theming the results of your current Exchange? You're in luck! Leaders can now create theme set templates from theme sets created in the Discover Dashboards of previous Exchanges. Simply click the "Manage" button on the theme set you want to use and click the "Copy as Template" button. Once you're finished, click the "Manage your templates" option in the top right corner to navigate to the Theme Set Templates menu for your room. This feature is a game changer for Exchanges you run each year and for a series of Exchanges on the same topic.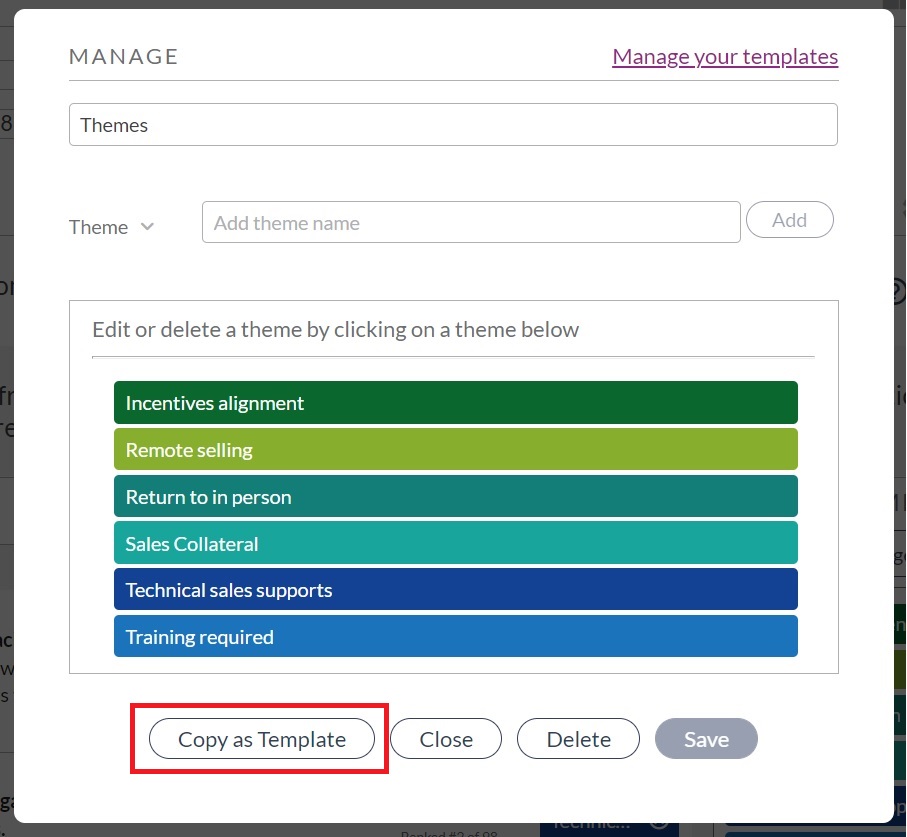 Improvements to the New Results Page
Our new Discover experience is still in its early stages but we're finding more and more ways to make it useful for leaders. In this update we've added three new elements:
Leaders can now generate summaries based on Survey Question response groups.

Summaries can be edited to correct grammatical errors (summaries are generated by artificial intelligence, and robots can't write good).

We've made extensive accessibility improvements for keyboard-only users and folks using narrator software.
These changes will help the new results page be more customizable, shareable, and readable for anyone who needs to dig into your Exchange.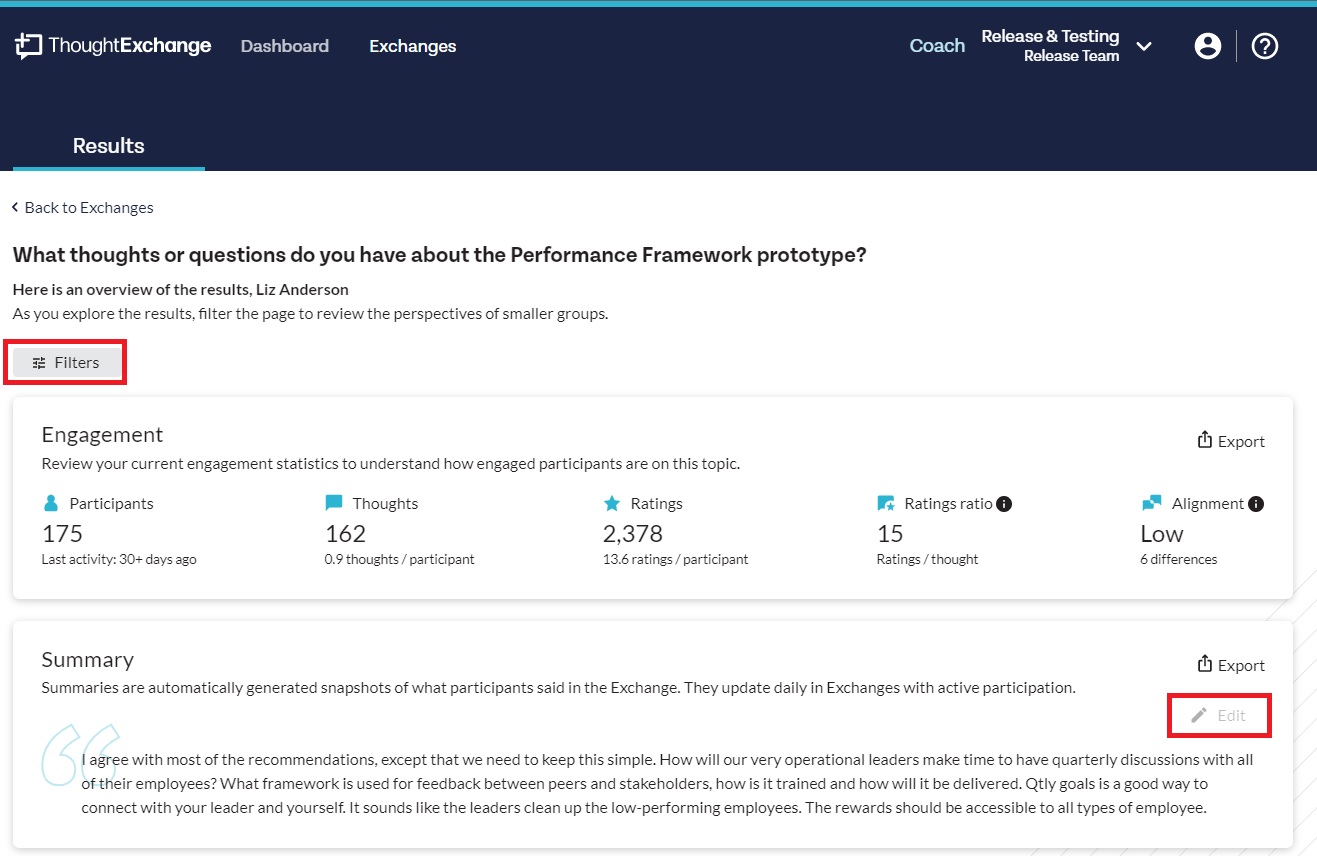 Participant Notifications
Participation reminders are sent to participants to help boost activity in Exchanges and lighten the Exchange management process for leaders. These reminders encourage participants to return to share and rate more ideas over the period that the Exchange is open. Participants can receive a maximum of two reminders for any one Exchange, depending on how long the Exchange is open (we only send one reminder if the Exchange's deadline is 2 to 4 days from the launch date and no reminders if the Exchange is open for 2 days or less); or the activity in the Exchange (if no deadline is set, reminders go out following a decline in participation).
Participants will only receive reminders if they have logged in with an email address and password to participate or if the leader of the Exchange has invited them to participate using our Slack, MS Teams, or contact upload options. Leaders themselves will receive notifications regardless of the Exchange settings.
Leaders can choose to disable participation reminders for an Exchange (for their participants and themselves) by toggling the option OFF in the Exchange Settings menu.
To learn more about notifications and notification settings click here.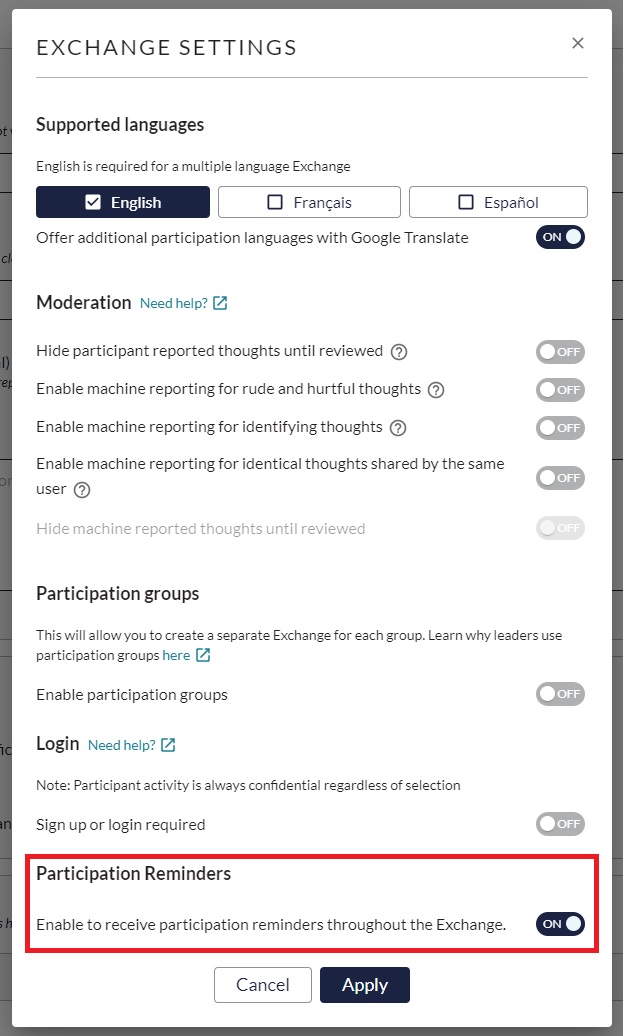 Survey Questions Step Added to Participant Menu
And finally, in a small change to the participant experience we've separated the closed-ended, survey questions portion of an Exchange into its own separate step in the navigation menu. This makes it easier for participants to navigate back to those questions if they need to add or change a response. We've also added a progress bar to let participants know how many questions they've responded to and how many they have left.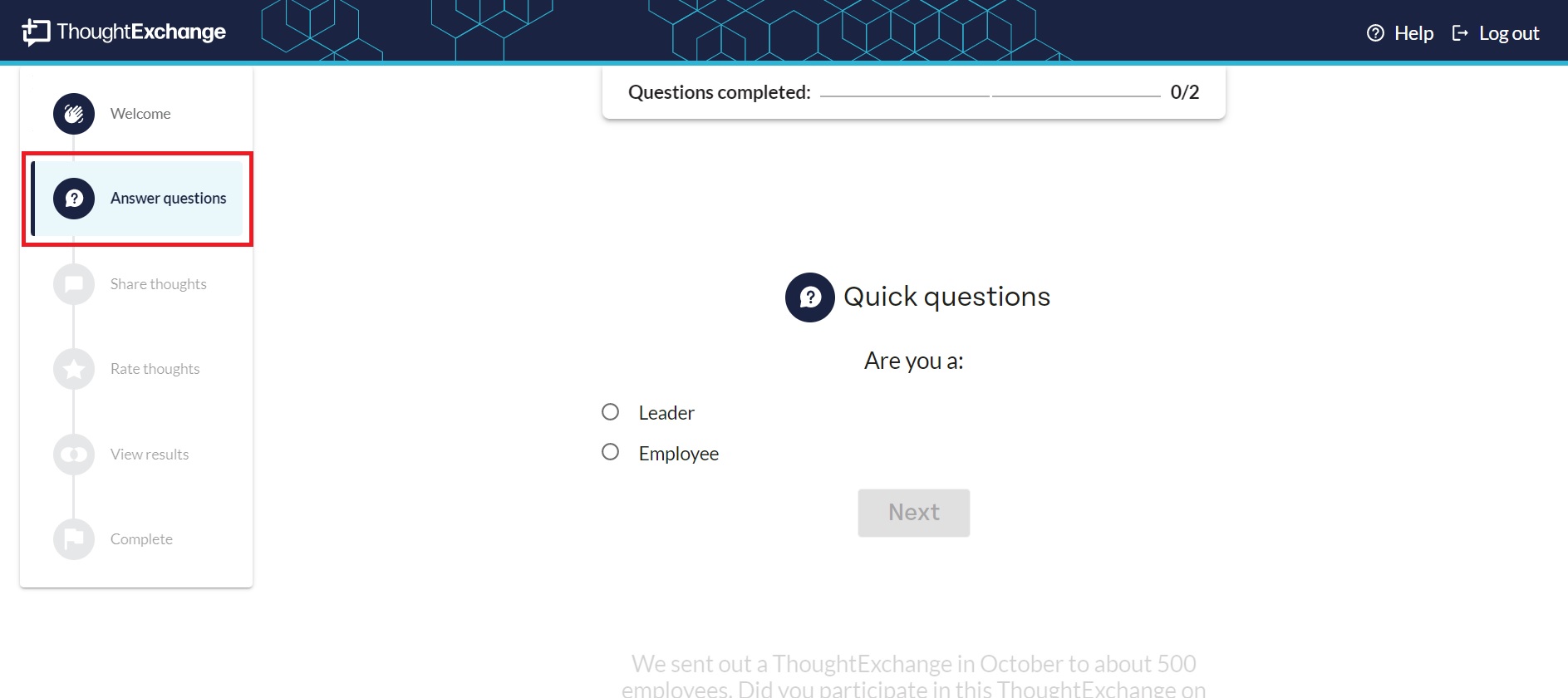 If you have any questions about these or any other features, drop us a line at help@thoughtexchange.com, we'd love to hear from you!