It's that time once again for a new and improved version of ThoughtExchange! We've been very busy building out new features to support classic surveys, and Exchanges via our new landing page, results tools and advanced AI analysis through our secure integration with OpenAI. These new tools are available for version 6.6 which we will be rolling out on Thursday, May 11, 2023 @ 8PM Pacific (the software will be unavailable for about 15 minutes while we make the switch).
New in this update, we've got:
TE Advisor
In this update we're excited to roll out our new AI-driven analysis tool, TE Advisor. TE Advisor uses Microsoft's Azure AI technology to take the legwork out of analysis and reporting by summarizing data, identifying themes, and providing possible next steps. You can also ask custom prompts to find the answers to your most pressing questions and get ideas about how to run your next engagement - all with just a few clicks.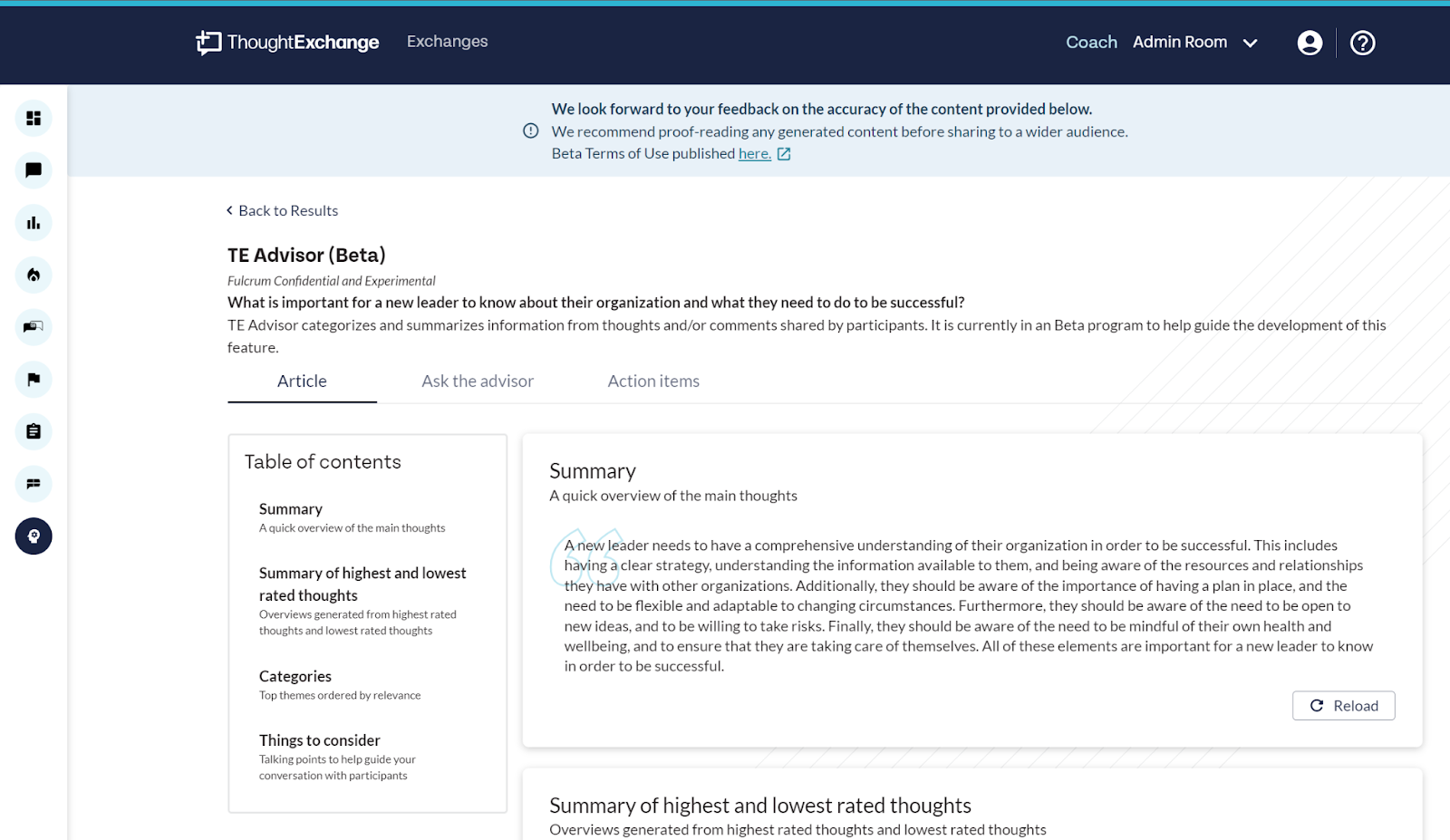 TE Advisor is in its beta-testing phase, and an account admin needs to accept the Azure terms of use to activate it for their account. You can explore the knowledge center in the leader app to learn more about how it works and how to turn it on for your account.
A Sparkling New Landing Page
We've taken feedback directly from leaders and used it to guide the creation of our new landing page, which replaces the old Dashboard and Exchanges views with one comprehensive, easy-to-navigate page.
Right off the top (at the top of the screen, in fact) you'll see two new stats describing participant alignment across your Exchanges and the average time participants have spent in the engagements you are currently viewing. Play with the filters and search by keywords to tailor these stats to a subset of engagements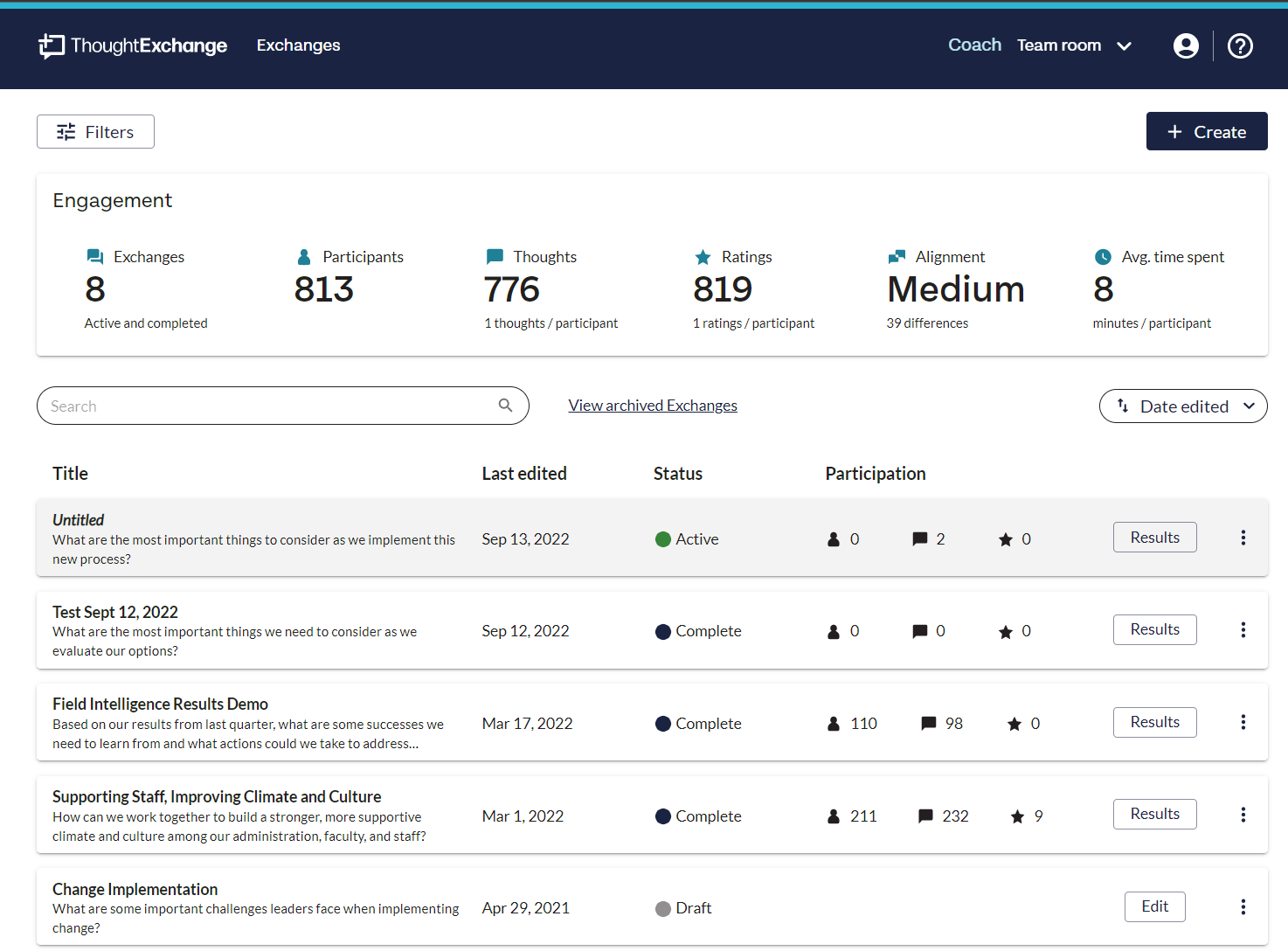 Click on any Exchange to open a side panel with quick access to stats, the invite link, results page, and presenter mode.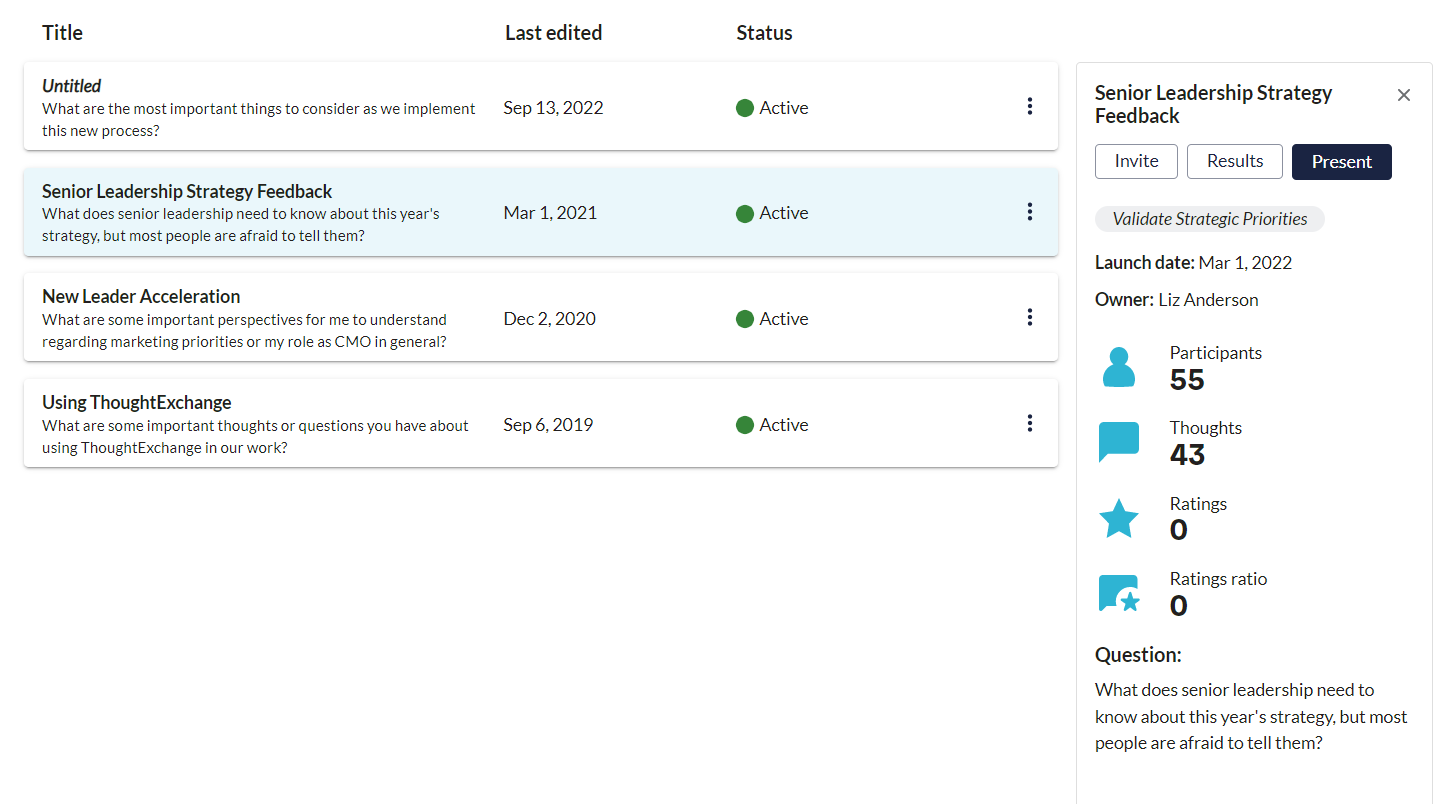 Click the three dots at the right-hand end of the row to access all the Exchange management features you're used to.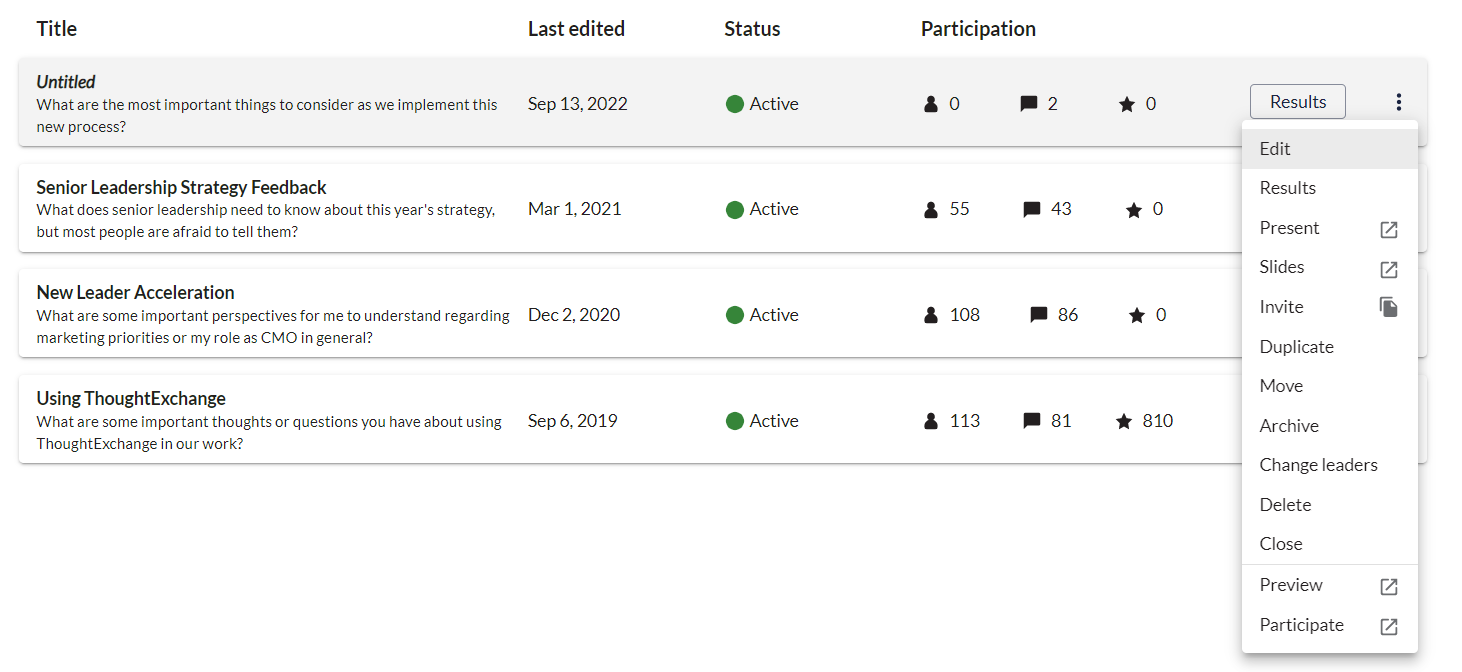 Use the Filters button at the top of the page to filter by Objective, Status, and/or Leader.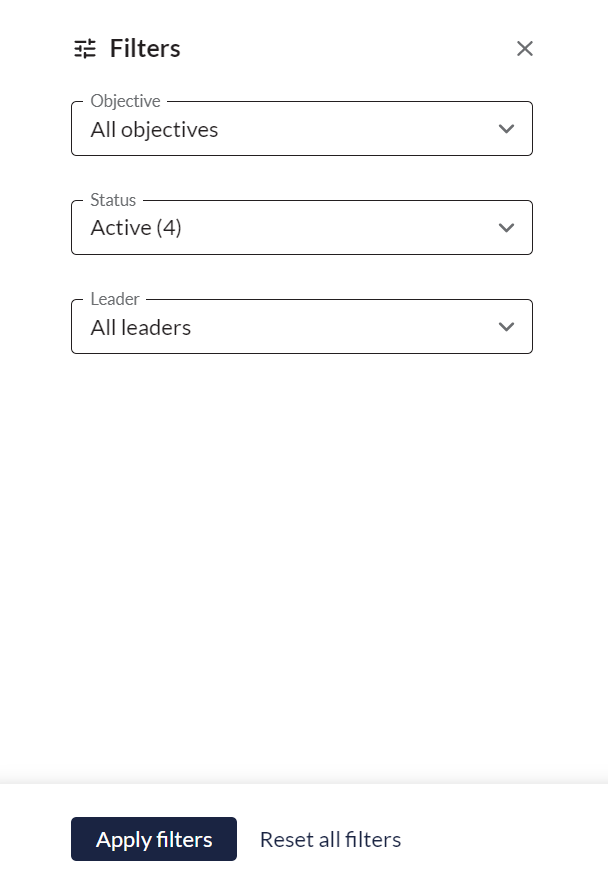 Or click the shiny new Results button to explore our new Results Dashboard (see next section)
The Debut of our Expanded Results Dashboard
You may have explored the new Results Dashboard using the link in the Discover Dashboard available in previous versions of our software, but in this update, we're ready to make it the star of the show.
The Results Dashboard offers all the tools and functionality available in the Discover Dashboard in a simpler, easier format. We've also optimized things based on leader feedback and expanded the capabilities of several of the tools.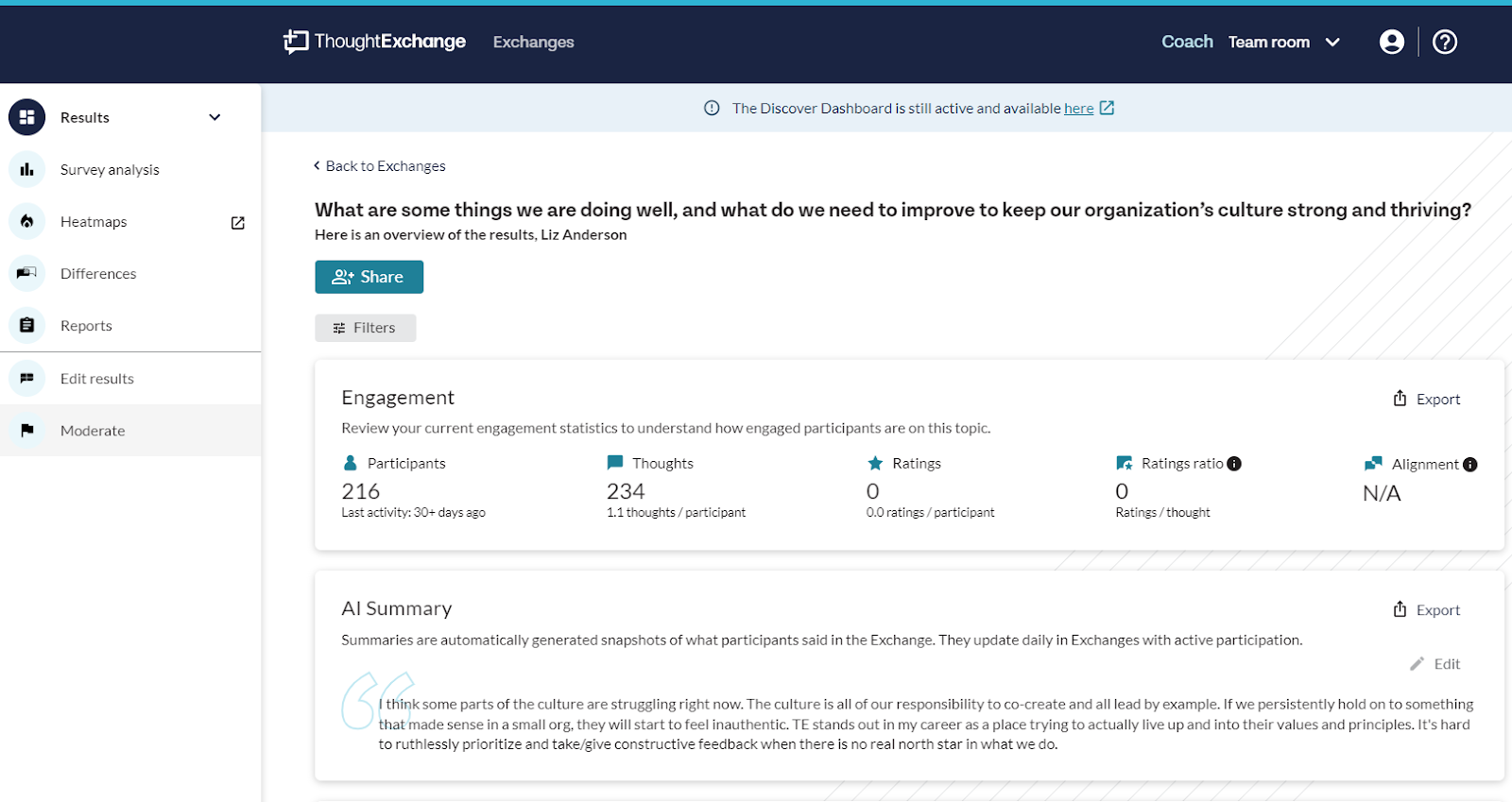 New for 6.6 we've added: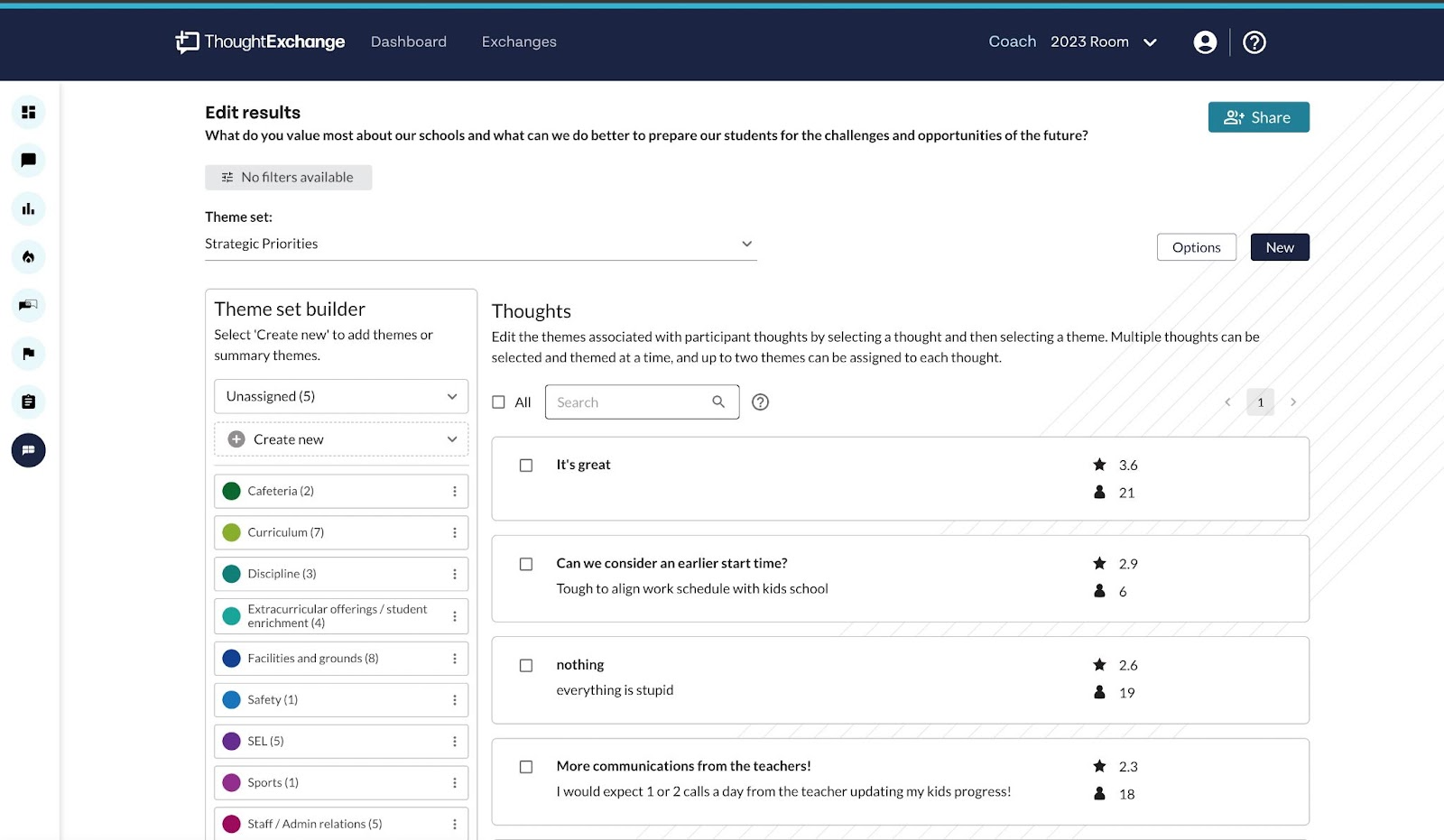 Heatmaps

Get a quick view of how participants responded to different themes based on their answers to your survey questions.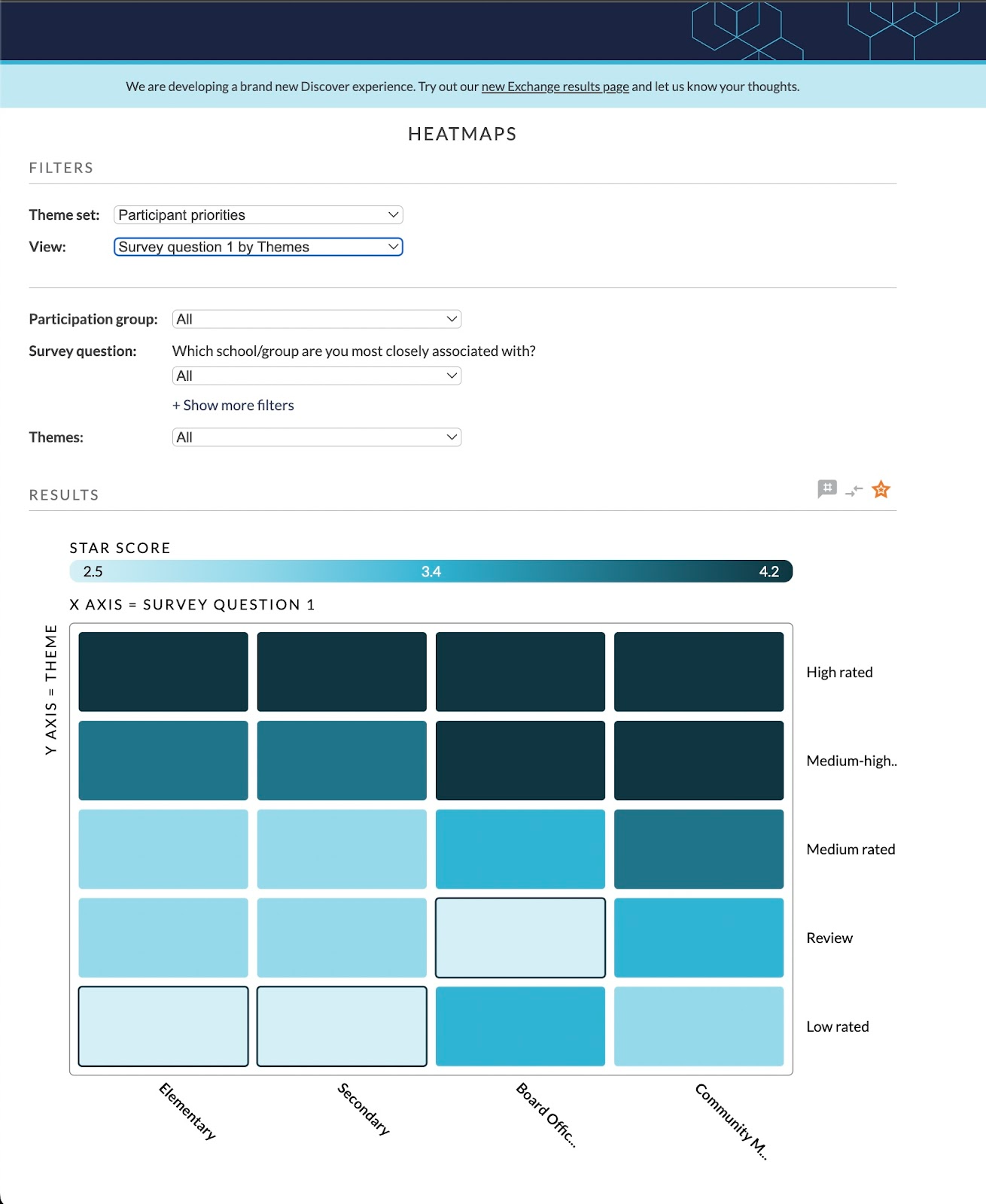 Reports

Create a Thoughts report showing the highest and lowest-rated ideas.
Generate a customized summary report that highlights key results.
Generate a slide deck to display important findings.
Access your Leader insight report.
Download your data.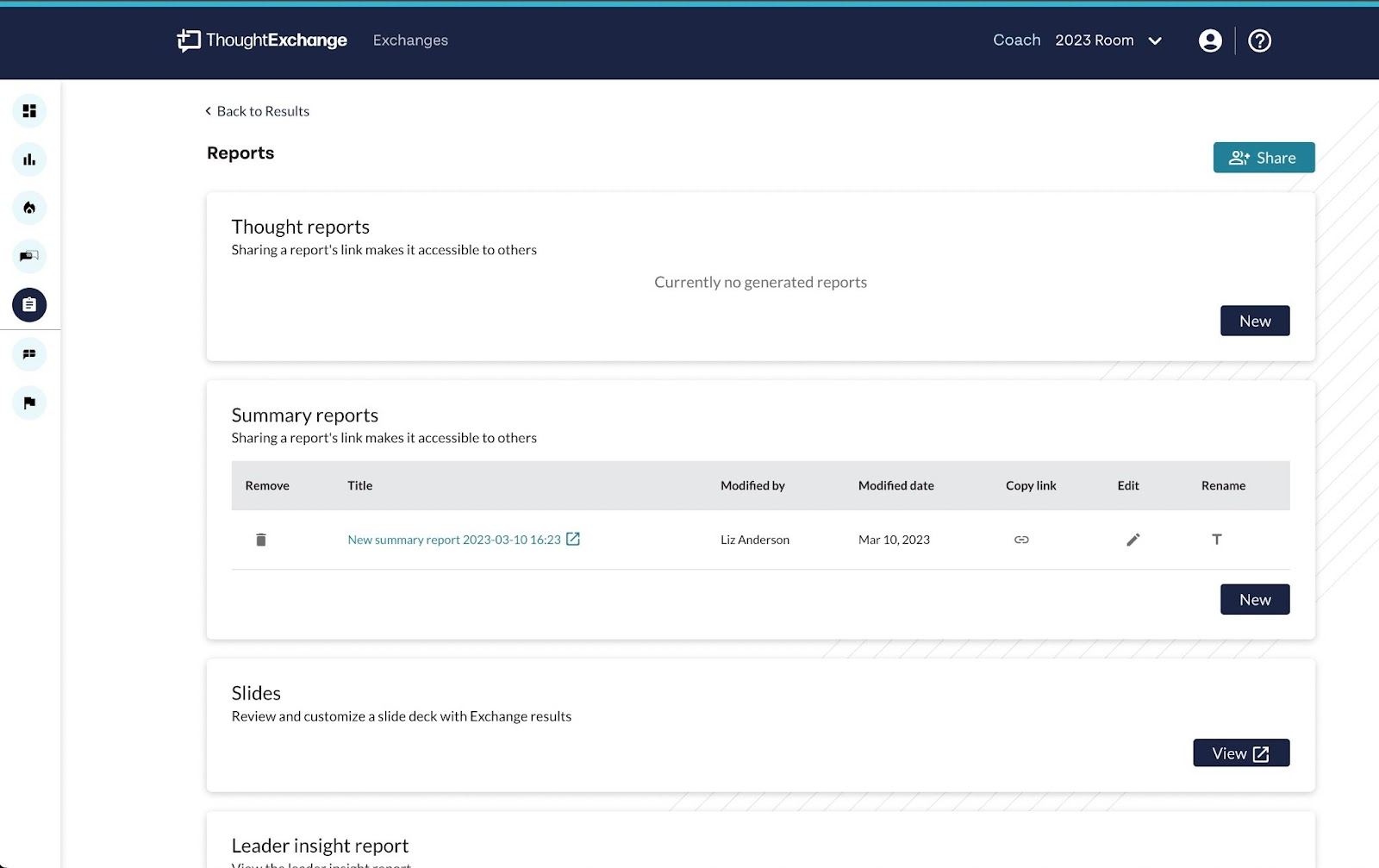 Share

Click the Share button found throughout the Results Dashboard to grant other email addresses access to your results (you can select View or Manage permissions).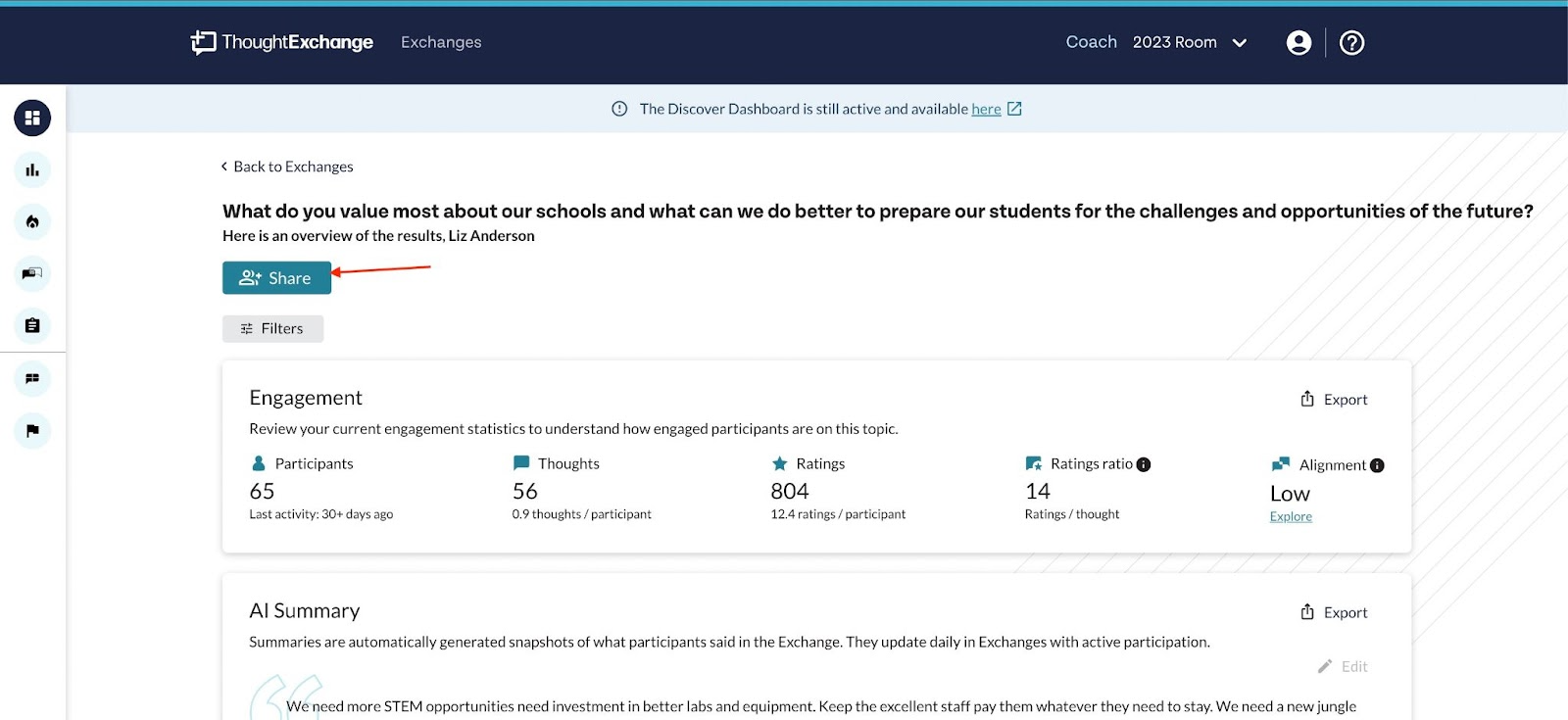 We've also made a few small improvements to the features that were already available in the Results Dashboard, including:
The ability to see the "Thoughts by Rating" information for participants based on their responses to your survey questions simply by clicking on the visualizations in the Survey Analysis tab.
Participation group and language results have been added to the Survey Analysis page (for Exchanges that used those features).
Leaders can filter by multiple participation groups in the Thoughts section.
Improvements to Classic Surveys
To help leaders quickly distinguish between creating an Exchange and a Classic Survey, we've made them separate options that you choose when you click the Create button. You will only see this change if you are working in a room with the Classic Surveys feature enabled.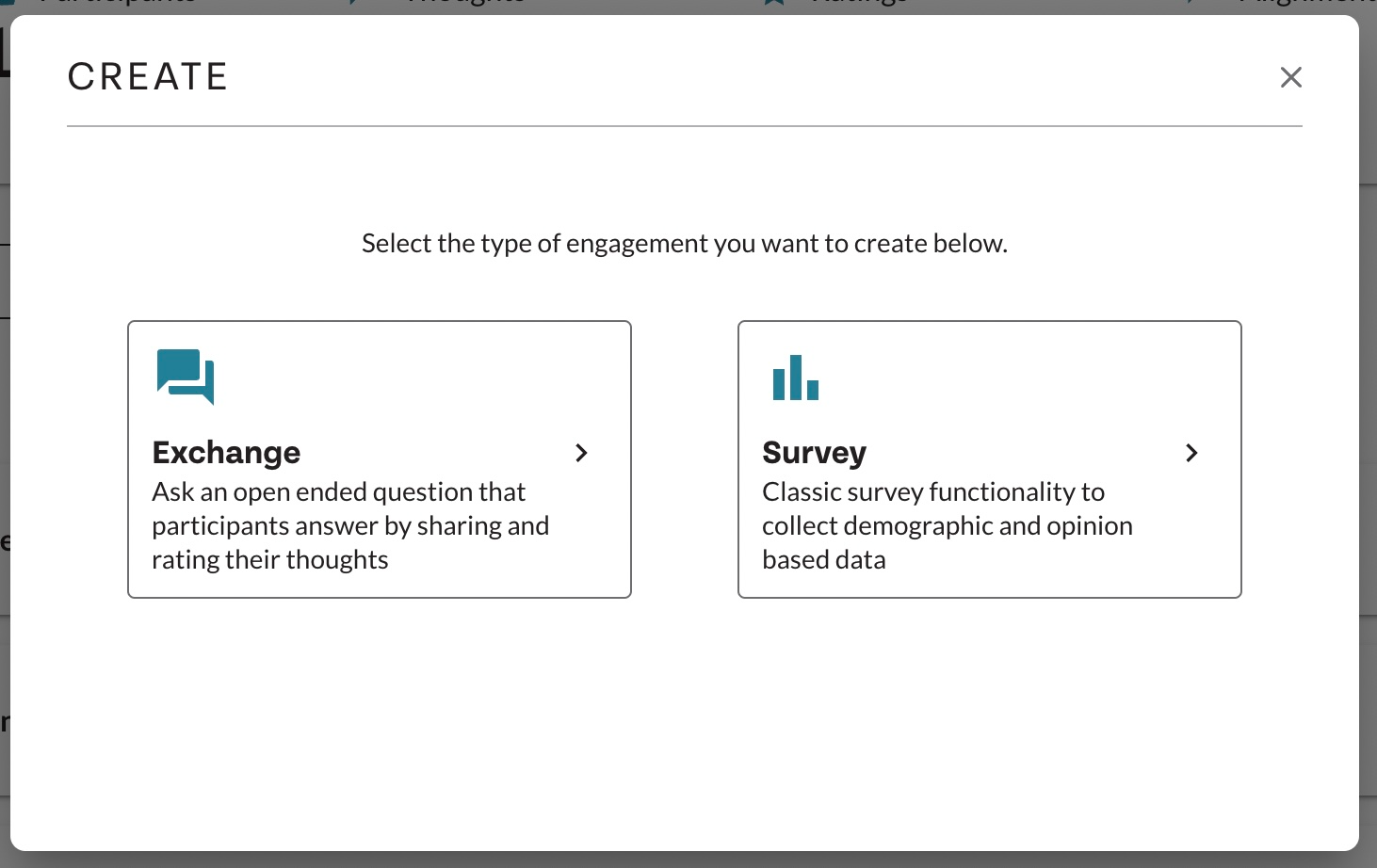 New Language Options in the Participant Experience
Last year, Google added 24 more languages to Google Translate, bringing the total to 133. We've updated our integration so that, following this update, participants can participate in any of those additional languages when multi-language capabilities are turned on for their Exchange.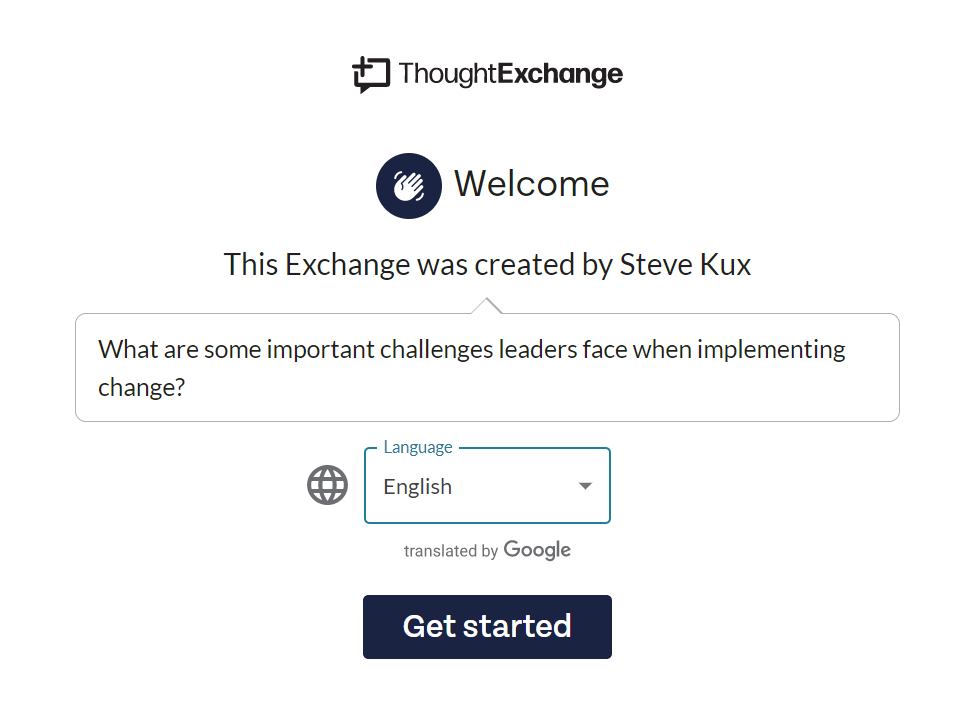 If you have any questions about these or any other features, drop us a line at help@thoughtexchange.com, we'd love to hear from you!