Heatmaps offer a great way to compare how your participants responded to key topics in your exchange. In just a few clicks, you can see how different groups value or prioritize the themes you've identified. This gives you the ability, as an exchange leader, to follow up with different stakeholder groups and ensure that diverse perspectives don't get lost when discussing the important trends.
Whether you're comparing the thoughts of your staff and managers on the skills they need in your next new hire or digging into things that matter to teachers versus parents in your upcoming facilities exchange, Heatmaps can help you find the answers.
Getting Started
Setting up Heatmaps is as easy as selecting the Theme set you want to use and the survey question you'd like to sort by.

The results will show you, at a glance, how different participation groups (defined by your survey question) rated the major themes in your exchanges. The darker the color, the higher the average star rating.
You can also quickly compare the number of thoughts different groups rated within each theme by selecting the Number of Thoughts view.
Feel free to switch back and forth between views using the Average Star Score and Number of Thoughts buttons:

Hovering over each cell will give your three pieces of information:
The number of thoughts from the chosen theme rated by a particular group.

The number of participants in that group who rated thoughts in the chosen theme.

The average Star score (Bayesian) assigned to thoughts in the chosen theme by participants in the corresponding group.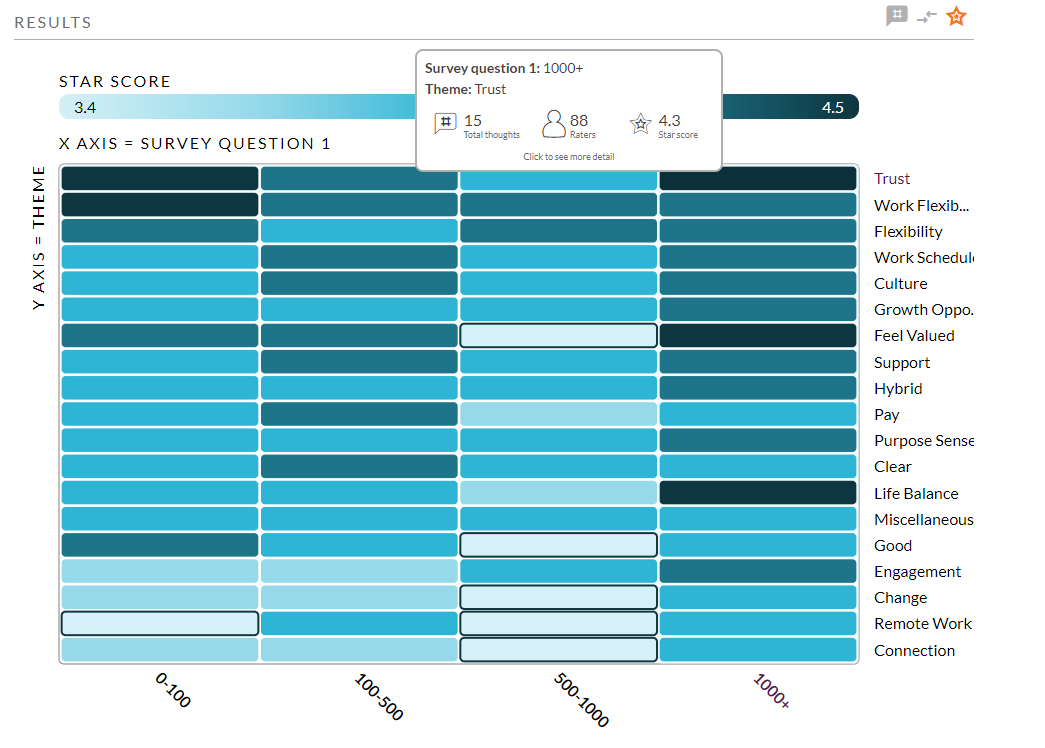 For example, in the image above, four participants who selected "1000+" as a survey question response rated 15 thoughts in the "Trust" theme and assigned an average Star score of 4.3.
By clicking on the cell, you can view the list of thoughts and see how each was rated by participants in each group, and even create a report of that data by selecting the Print option.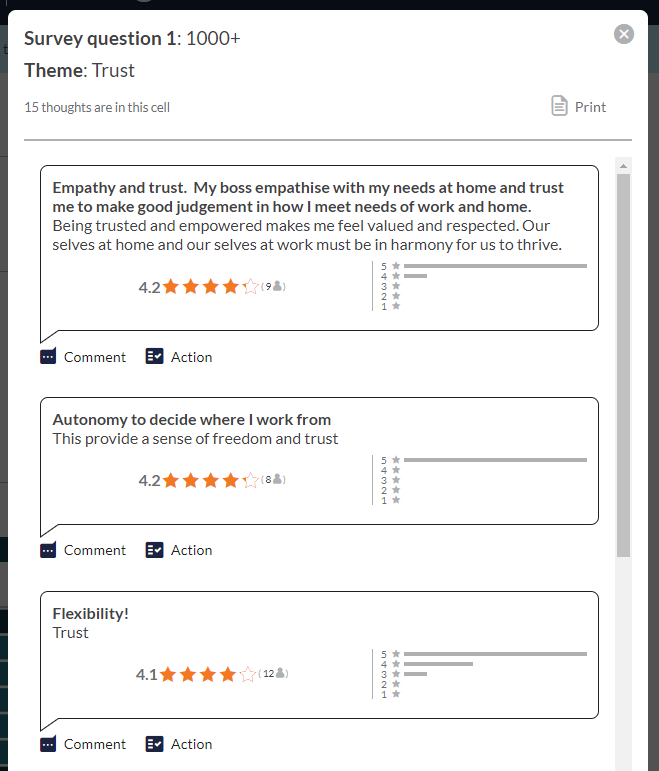 Filtering Groups and Themes
You can customize Heatmaps by choosing which themes and survey question groups to include and exclude using the filters labeled Survey question and Themes. Simply click or unclick the checkbox next to the options you want to include or exclude.


If you have any questions about this or any other feature, drop us a line at help@thoughtexchange.com. We'd love to hear from you!