The Survey Analysis tool in the Results Dashboard is where you can explore responses to the closed-ended questions you asked your participants. Responses can be filtered by any of the response options you provided using the Filters button at the top of the page. The Survey Analysis tab includes two sections: Responses and Compare. Responses provides a straightforward breakdown of your participants' responses and Compare lets you map those responses onto one another across questions (more details below).
Survey Responses
Survey Responses displays the results summary for each of your Survey Questions. The way that data is presented is determined by the type of question asked (please note that not all question types may be available on your account. Click here to learn more).
Multiple Choice, Dropdown, and Checkbox
Multiple Choice, Dropdown, and Checkbox style questions are always presented using a bar chart with "Other (specify)" options listed at the bottom. Click any of the groups to see the thoughts they rated highest and lowest.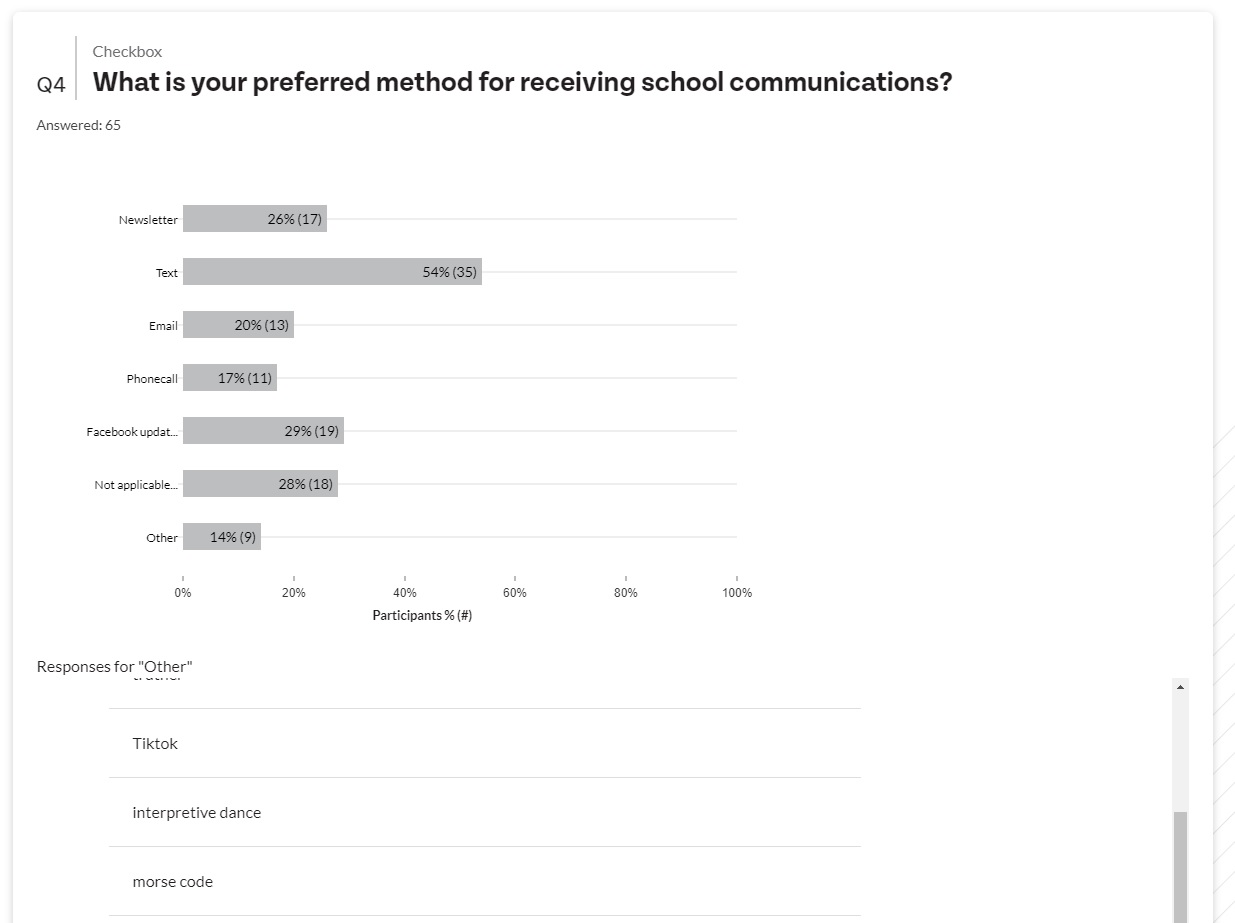 Satisfaction Score
Satisfaction Score questions provide an automatically-calculated score along with a bar chart breakdown of responses. The satisfaction score is based on an industry-standard metric named NPS (Net Promoter Score).
Participants answering this question will fall into one of three categories:
Satisfied (9 or 10)– Typically loyal and enthusiastic participants willing to promote us.

Passives (7 or 8)– Participants that are somewhat content with your service but not enough to be Satisfied.

Dissatisfied (0-6)– Participants who have had negative experiences. These participants are at risk of churning/quitting, leaving negative online reviews, etc.
From there, we calculate the score by
Getting the [% of participants that are Satisfied]

Getting the [% of participants that are Dissatisfied]

Calculating [%...Satisfied] - [#...Dissatisfied]
Use this score to measure how well you are doing. Use it over time to measure if you are getting better or worse.
This score is great for understanding how well you are doing, but it doesn't really tell you what you can do to improve. Use a combination of Likert scale questions and thought analysis to better understand why participants feel a certain way about various themes influencing satisfaction (for EDU, questions can be about class sizes, mental health, curriculum, etc.).
Say you want to better understand the views of Dissatisfied participants. Simply Filter results by participants that answered [0,1,2,3,4,5,6] to a Satisfaction Score question to see how they answered likert scale questions, and how they rated thoughts.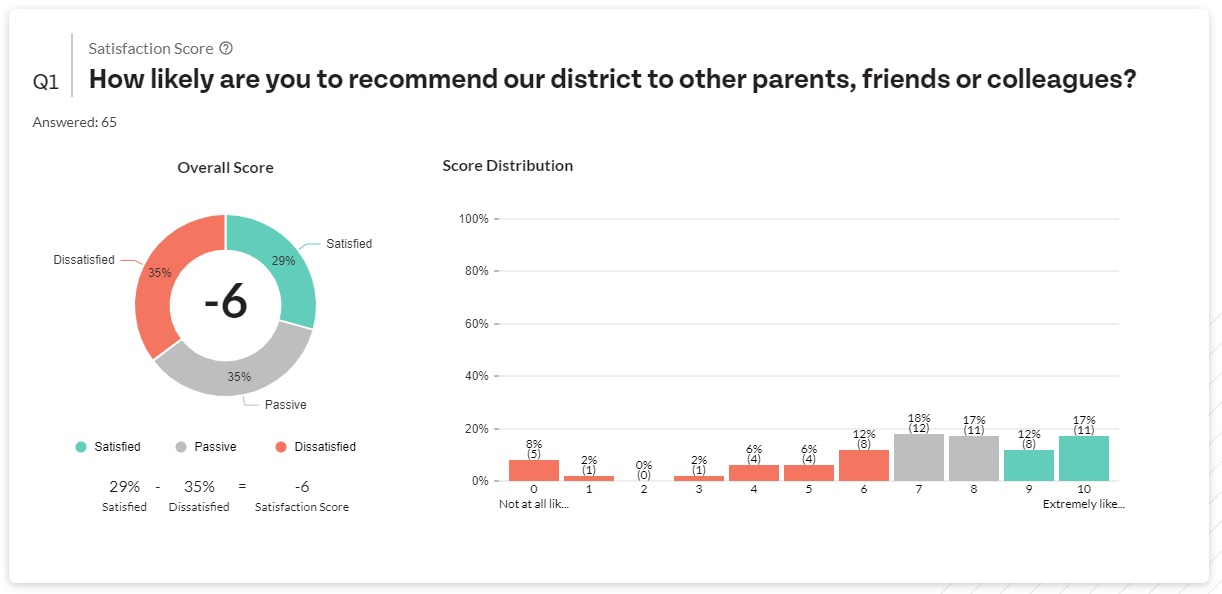 Likert-scale
Likert-scale responses are presented in a bar chart by default, but you can switch to a pie chart, if you prefer. Click any of the groups to see the thoughts they rated highest and lowest.
If you would like to combine any of the response groups to get an overall favorability score, use the drop down menu on the right-hand side of the page to select the relevant groups. Learn more by clicking the heading below.
Using the Likert Favorability Score
Here are a couple of key reasons why tying a favorability score to Likert scale question can be beneficial:
Quantity results: By assigning a favorability score to Likert scale question results, you introduce a quantitative measure to evaluate responses. This allows for a more precise and objective assessment of the overall sentiment or opinion expressed by the respondents. Instead of relying solely on qualitative interpretations, you can quantify and compare the level of favorability across different questions or survey participants.
Standardized Comparison: When Likert scale responses are converted into favorability scores, it becomes easier to compare and contrast results across demographics (department, school, role, gender, ethnicity, etc.) or survey iterations. By aggregating and analyzing the favorability scores, you can identify trends, patterns, and areas of strength or weaknesses more effectively.
Simplified Visualization: Representing favorability scores derived from Likert scale responses allows for intuitive and concise visualization of data. While a bar or pie chart can help show a breakdown of responses, they fail to provide an easy answer to the main reason why the likert scale question is being asked in the first place ("how well are we doing on this topic?")
Goal Setting: This enables you to evaluate current performance against past results or a certain future target/goal. Tracking these scores becomes a valuable tool for monitoring progress, identifying areas for enhancement, and measuring the effectiveness of interventions or initiatives.
Decision Support: Favorability scores derived from Likert scale responses can serve as decision-support tools. When making data-driven decisions, having a quantitative metric allows you to weigh the level of favorability for different aspects of a product, service, or experience. By considering favorability scores alongside other relevant factors, you can make more informed choices that align with the preferences and satisfaction levels of your target audience.
Overall, tying a favorability score to Likert scale question results provides a structured, measurable, and interpretable approach to capturing and analyzing respondent sentiment. It enables objective comparisons, simplifies visualization, supports benchmarking and goal setting, and enhances decision-making processes.
Comment Box
Responses from comment box type questions can be viewed either as a wordcloud of the most commonly used words in participants' responses or using the full list view (which shows each response in full). Toggle between these options using the buttons to the right of the question.
Wordclouds can be edited to remove unwanted words. Simply click the Edit button in the top right corner of the wordcloud and click any words you would like to remove. When you are finished editing, click the Done button below and to the right of the wordcloud. You can view the thoughts that used each keyword by clicking the relevant word (provided the Edit function is not active).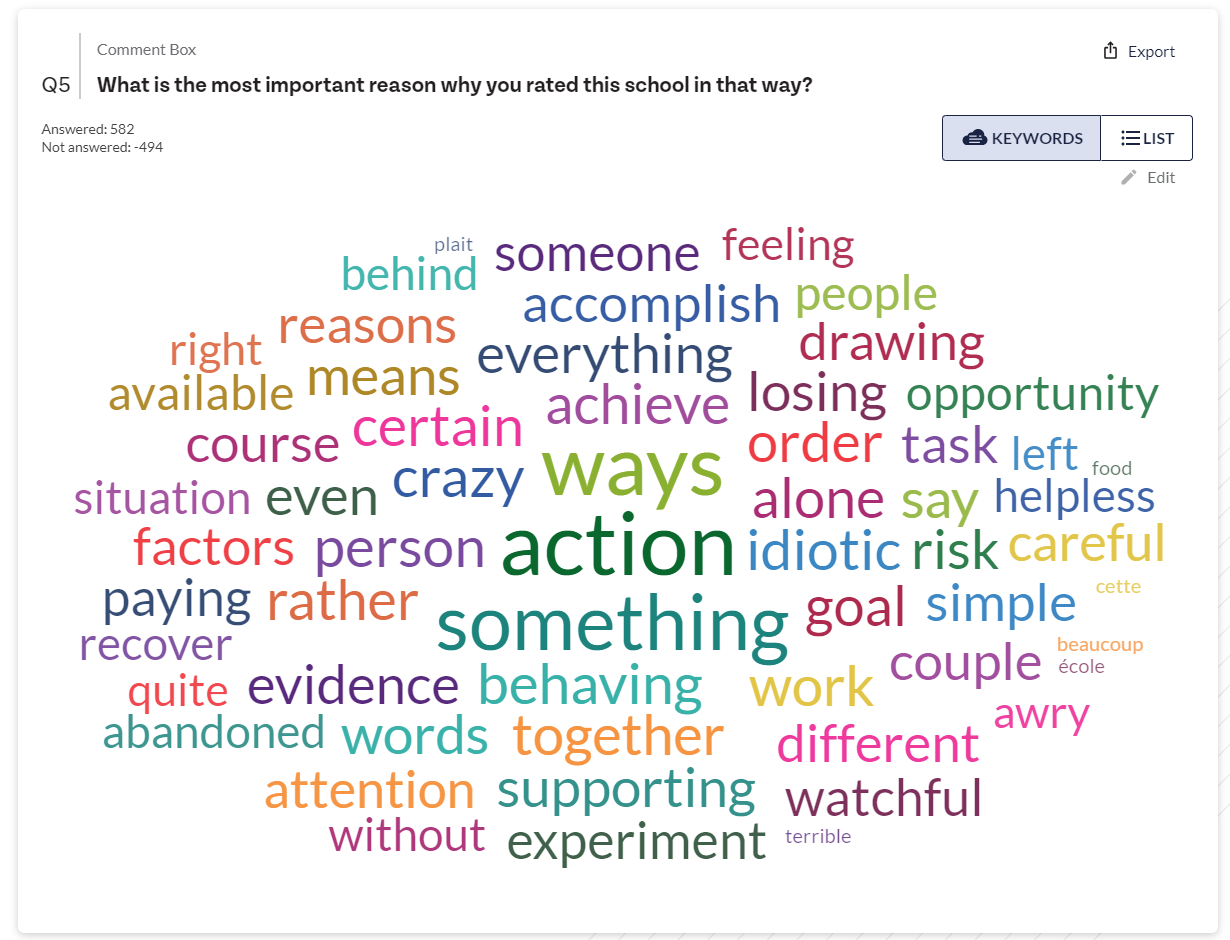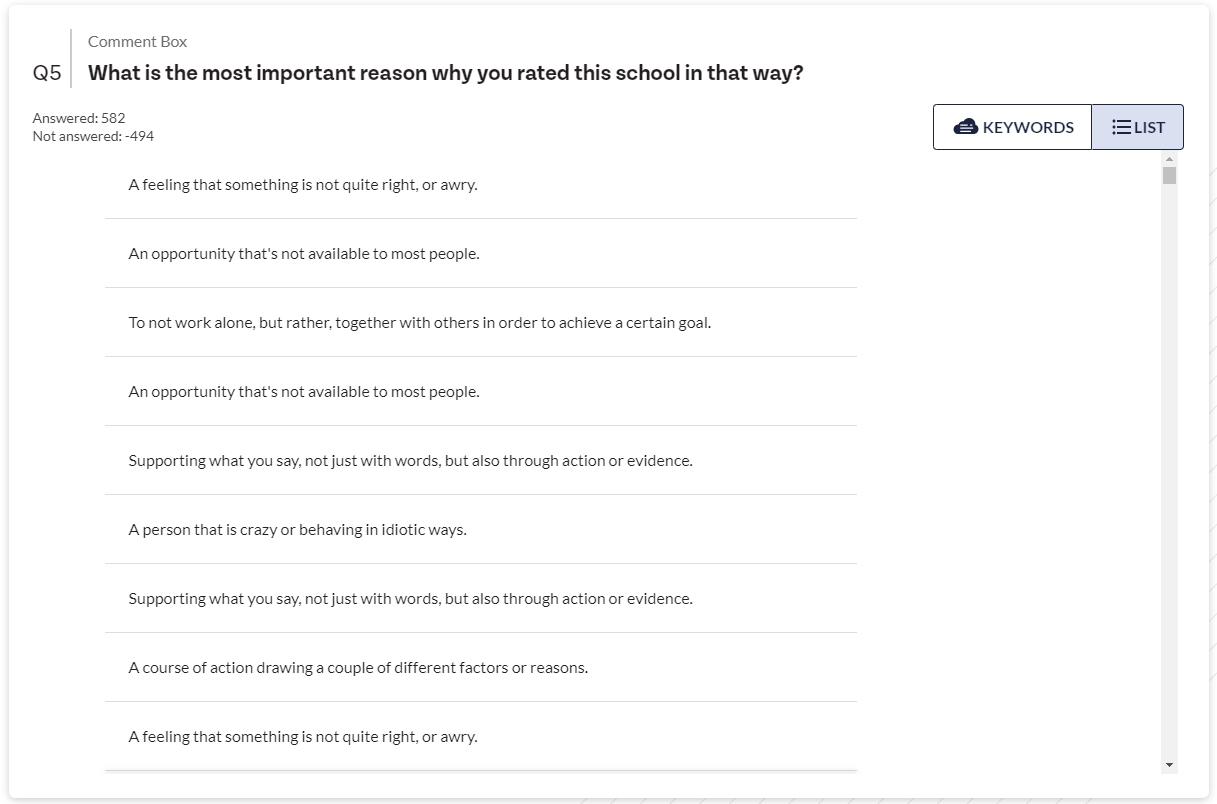 Survey Question Matrix
When analyzing results, matrix questions are grouped together in a stacked bar format:
And leaders can take a closer look at each question (and define favorability scores, if applicable) by clicking any of the questions or bars:
Compare
The compare tool allows you look at two Survey Questions at the same time to see how results map onto one another. Simply select the two questions you would like to compare and a table will automatically populate showing the count and percentage of participants who fell into each possible combination of responses. Use the Heatmap option in the upper right corner to layer on colors to help you quickly see the relative sizes of each group. You can even use the Filters button in combination with the Compare tool to look at more than two questions at once.
Note: Groups with fewer than 5 participants will not display to protect anonymity.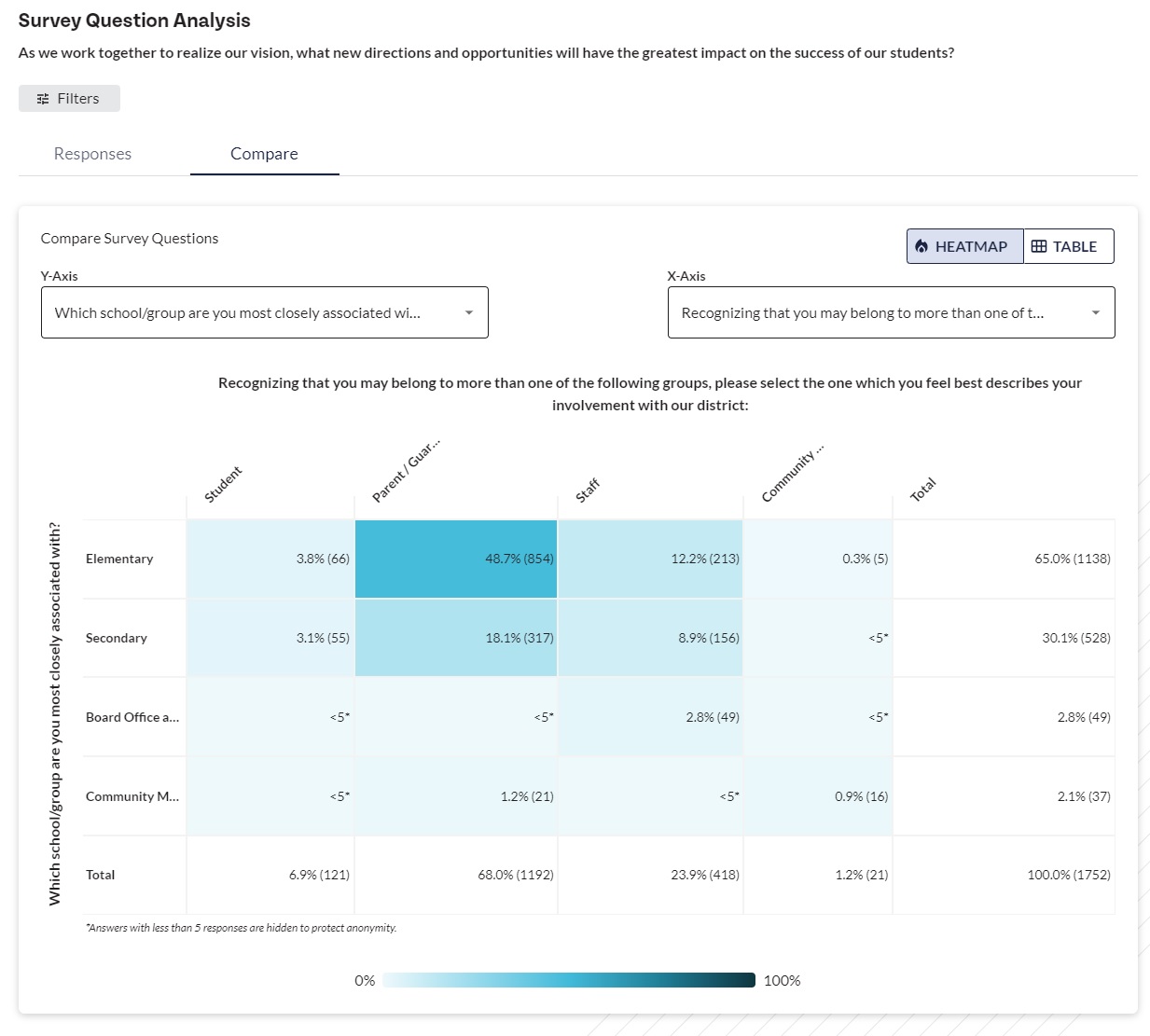 We've recently launched an Advanced Survey Question Comparison Tool, which is in beta testing. Click here to learn more.