The Survey Analysis tool in the Results Dashboard is where you can explore responses to the closed-ended questions you asked your participants. Responses can be filtered by any of the response options you provided using the Filters button at the top of the page. The Survey Analysis tab includes two sections: Responses and Compare. Responses provides a straightforward breakdown of your participants' responses and Compare lets you map those responses onto one another across questions (more details below).
Survey Responses
Survey Responses displays the results summary for each of your Survey Questions. The way that data is presented is determined by the type of question asked (please note that not all question types may be available on your account. Click here to learn more).
Multiple Choice, Dropdown, and Checkbox
Multiple Choice, Dropdown, and Checkbox style questions are always presented using a bar chart with "Other (specify)" options listed at the bottom. Click any of the groups to see the thoughts they rated highest and lowest.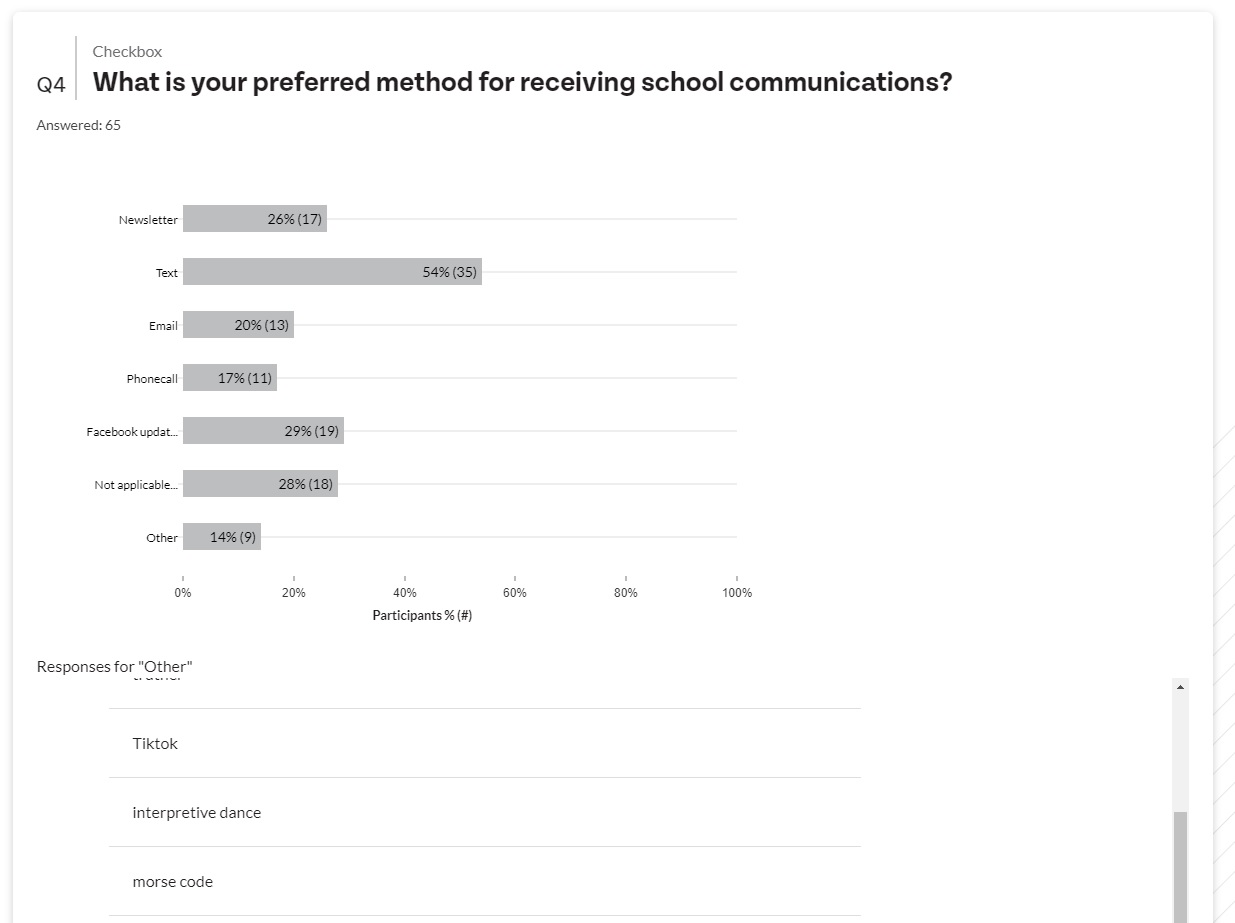 Satisfaction Score
Satisfaction Score questions provide an automatically-calculated score along with a bar chart breakdown of responses. The satisfaction score is based on an industry-standard metric named NPS (Net Promoter Score).
Participants answering this question will fall into one of three categories:
Satisfied (9 or 10)– Typically loyal and enthusiastic participants willing to promote us.

Passives (7 or 8)– Participants that are somewhat content with your service but not enough to be Satisfied.

Dissatisfied (0-6)– Participants who have had negative experiences. These participants are at risk of churning/quitting, leaving negative online reviews, etc.
From there, we calculate the score by
Getting the [% of participants that are Satisfied]

Getting the [% of participants that are Dissatisfied]

Calculating [%...Satisfied] - [#...Dissatisfied]
Use this score to measure how well you are doing. Use it over time to measure if you are getting better or worse.
This score is great for understanding how well you are doing, but it doesn't really tell you what you can do to improve. Use a combination of Likert scale questions and thought analysis to better understand why participants feel a certain way about various themes influencing satisfaction (for EDU, questions can be about class sizes, mental health, curriculum, etc.).
Say you want to better understand the views of Dissatisfied participants. Simply Filter results by participants that answered [0,1,2,3,4,5,6] to a Satisfaction Score question to see how they answered likert scale questions, and how they rated thoughts.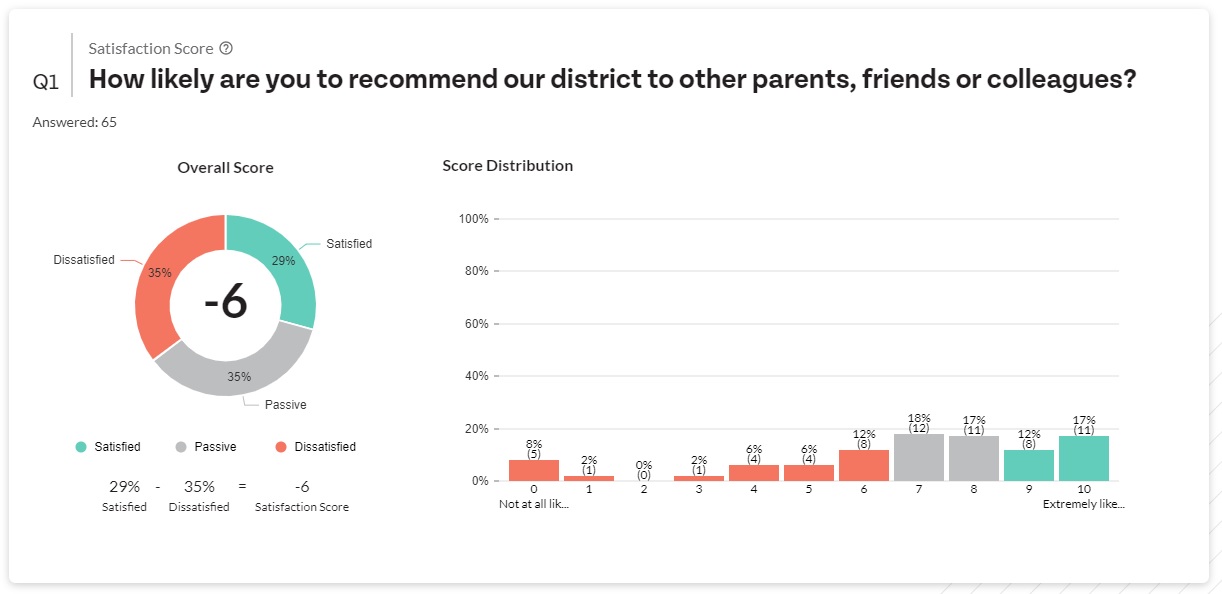 Likert-scale
Likert-scale responses are presented in a bar chart by default, but you can switch to a pie chart, if you prefer. Click any of the groups to see the thoughts they rated highest and lowest.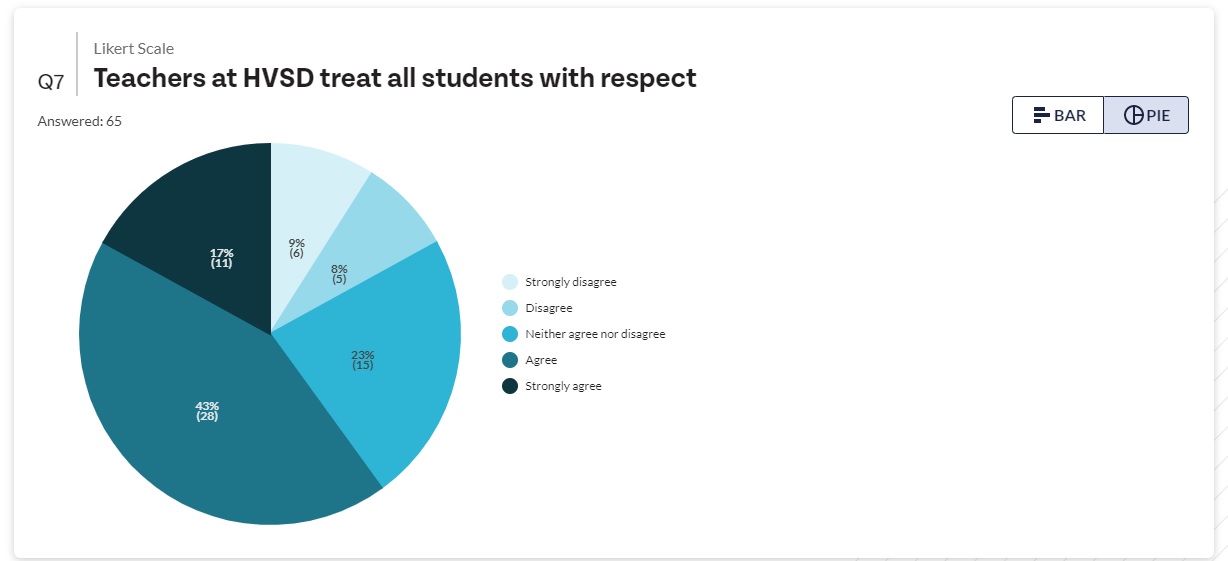 Compare
The compare tool allows you look at two Survey Questions at the same time to see how results map onto one another. Simply select the two questions you would like to compare and a table will automatically populate showing the count and percentage of participants who fell into each possible combination of responses. Use the Heatmap option in the upper right corner to layer on colors to help you quickly see the relative sizes of each group. You can even use the Filters button in combination with the Compare tool to look at more than two questions at once.
Note: Groups with fewer than 5 participants will not display to protect anonymity.