It's that time again! The gears of innovation are churning here at ThoughtExchange and we've put together a suite of improvements that are sure to come in handy as you prep for your next big Exchange. ThoughtExchange version 6.1 will be rolling out on August 23, 2022 @ 11PM Pacific Time and will include:
Action Planning in the Discover Dashboard
One of the most important parts of running an Exchange is taking what you hear and turning it into on-the-ground actions. In the past, theming and leader comments have been the main tools at a leader's disposal to plan and communicate about next-steps following an Exchange, but in this update we've added another arrow to the quiver: Actions.
Now, any user with access to the Discover Dashboard for an Exchange will be able to add follow up actions to any thoughts shared in the Exchange (they can also edit and delete existing actions). Actions will appear alongside the option to add a comment to a thought and provide leaders with the ability to churn out an itemized to-do list linked to the actual ideas that inspired a course of action.
Actions is a brand new feature that we would love to hear your feedback on. Please don't hesitate to reach out to product@thoughtexchange.com to share your experience with us.
Leader App Improvements
We've spruced up the main leader app with an eye to helping you keep tabs on the results of your Exchanges. First up, we've expanded your options for filtering your Exchanges to include highest ratings, most participants, most thoughts, and rating ratio so you can quickly and easily see how much engagement different topics have generated for you.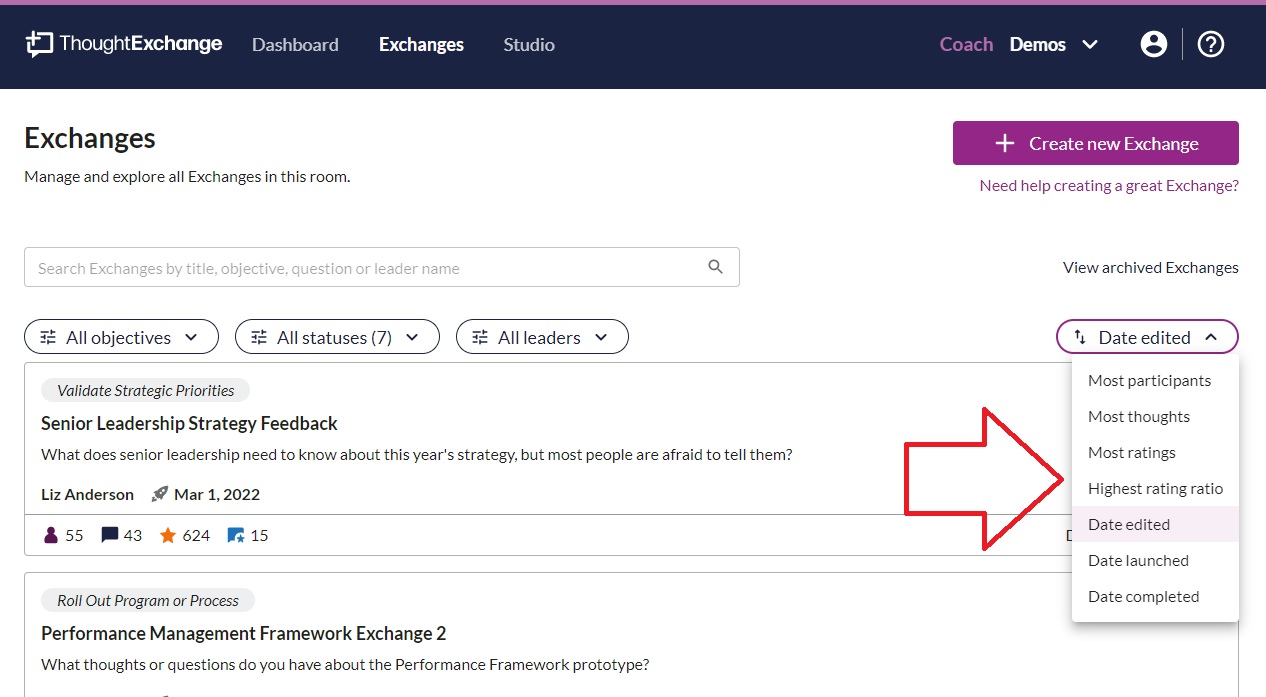 Sorting by statistics is only the first step in moving your results to the forefront. We will also be adding a whole new results summary right in the main leader app in the coming weeks that will allow leaders to simply click the option on any Exchange card to see the high-level results for that Exchange.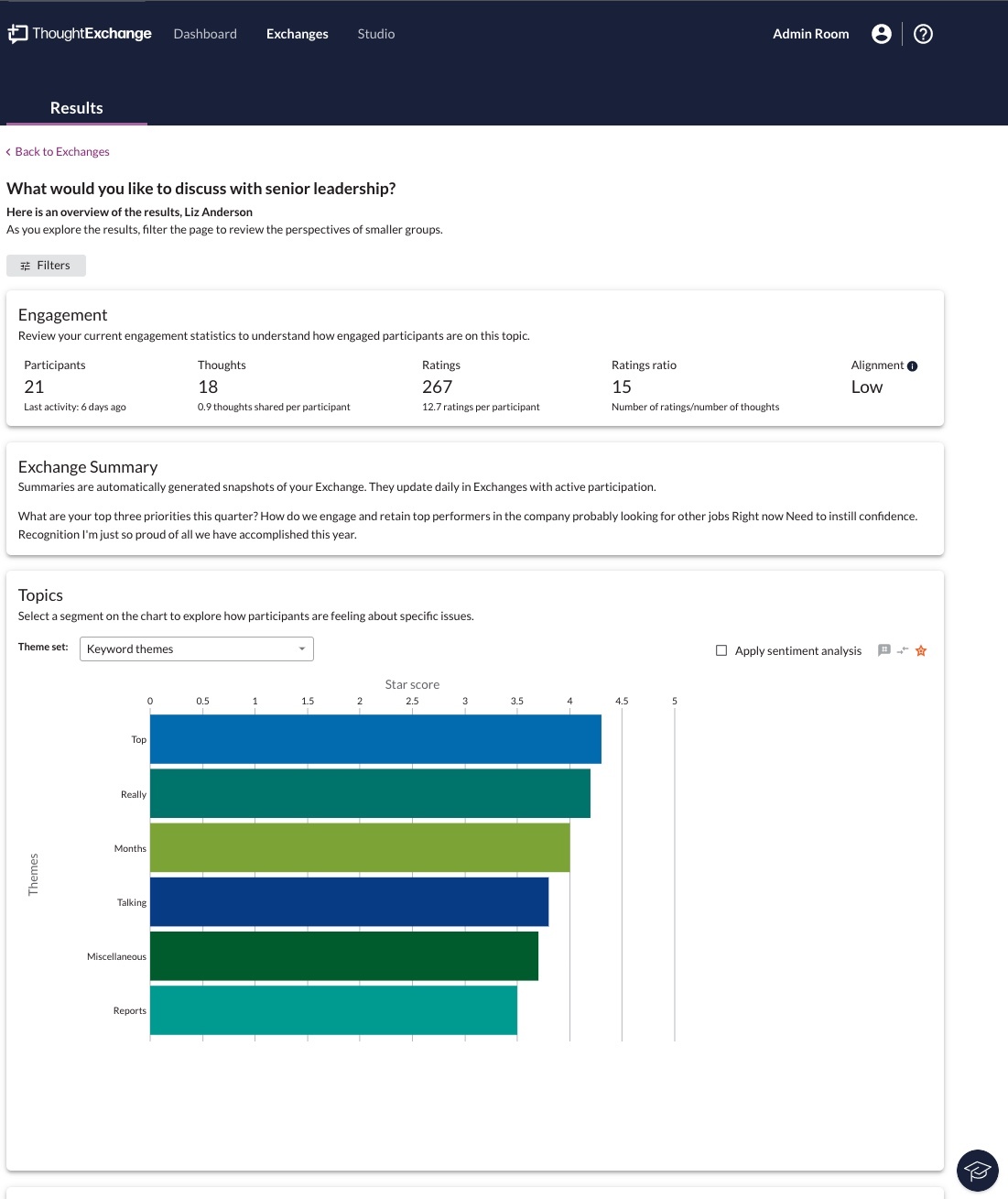 Copy Theme Set Templates Across Rooms
The recent release of Theme Set templates has generated a lot of excitement among folks who build and analyze Exchanges. They provide a fast and consistent way to sort the thoughts your participants share into categories you can take a deep dive into. In this update, we've improved the shareability of those templates so that leaders working across rooms on an account don't need to recreate a handy theme set that exists somewhere else. Now they can simply copy it into the space they are working in by clicking "Add template" and choosing the "Copy from" option.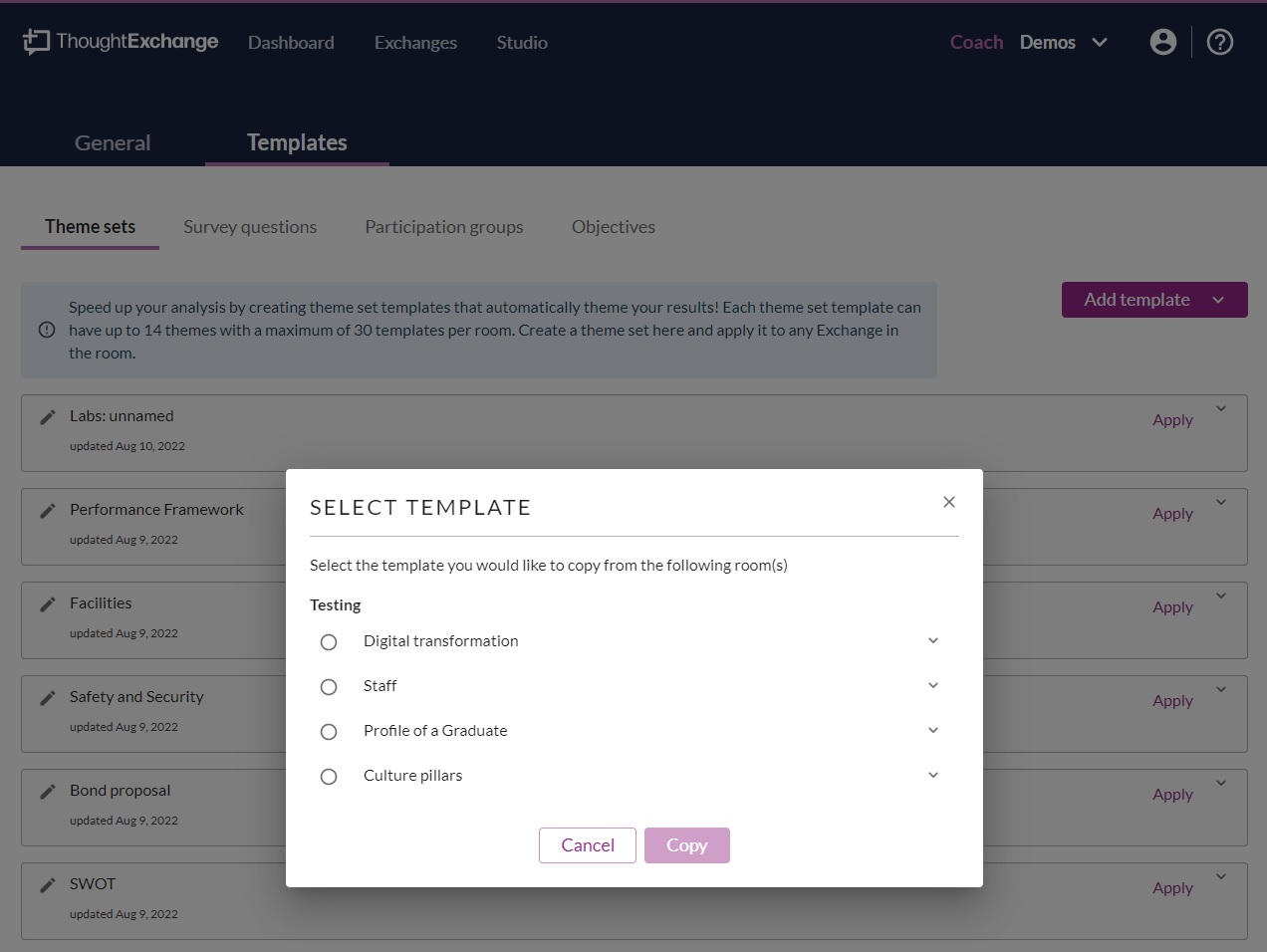 Leaders with the ability to manage the templates for a particular room will be able to see and copy any theme set that exists in another room on the same account - as long as the theme set wasn't marked "Private" by its creator.
Integrations
We have a new software version with a new design. It includes access to integrations and some other features we are excited for you to try. We are gradually rolling out access to our customers so stay tuned for more information on how to get access.
Slack Integration
In this release we've expanded the ability to automatically send invitations and reminders to participants for Exchanges created using our new design. Leaders can now integrate ThoughtExchange with Slack to send targeted invitations and reminders to Slack channels they have defined under the Integrations tab of the Profile Settings menu.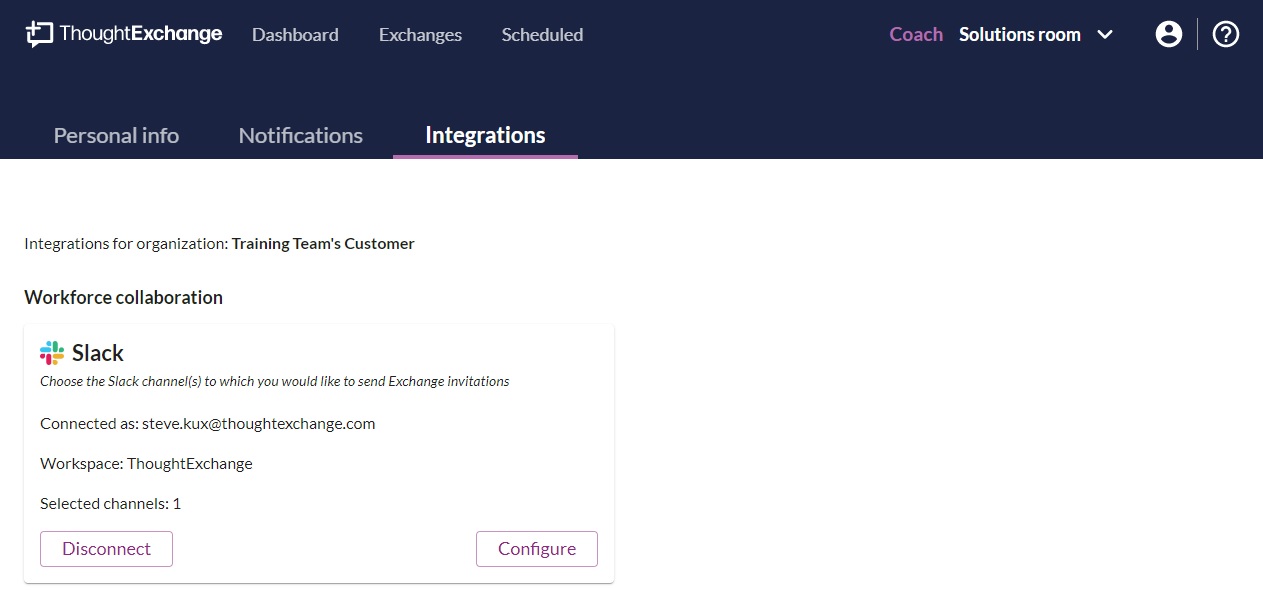 Once the integration is set up, all you need to do is select the channels you want to include on the invitation when creating the Exchange.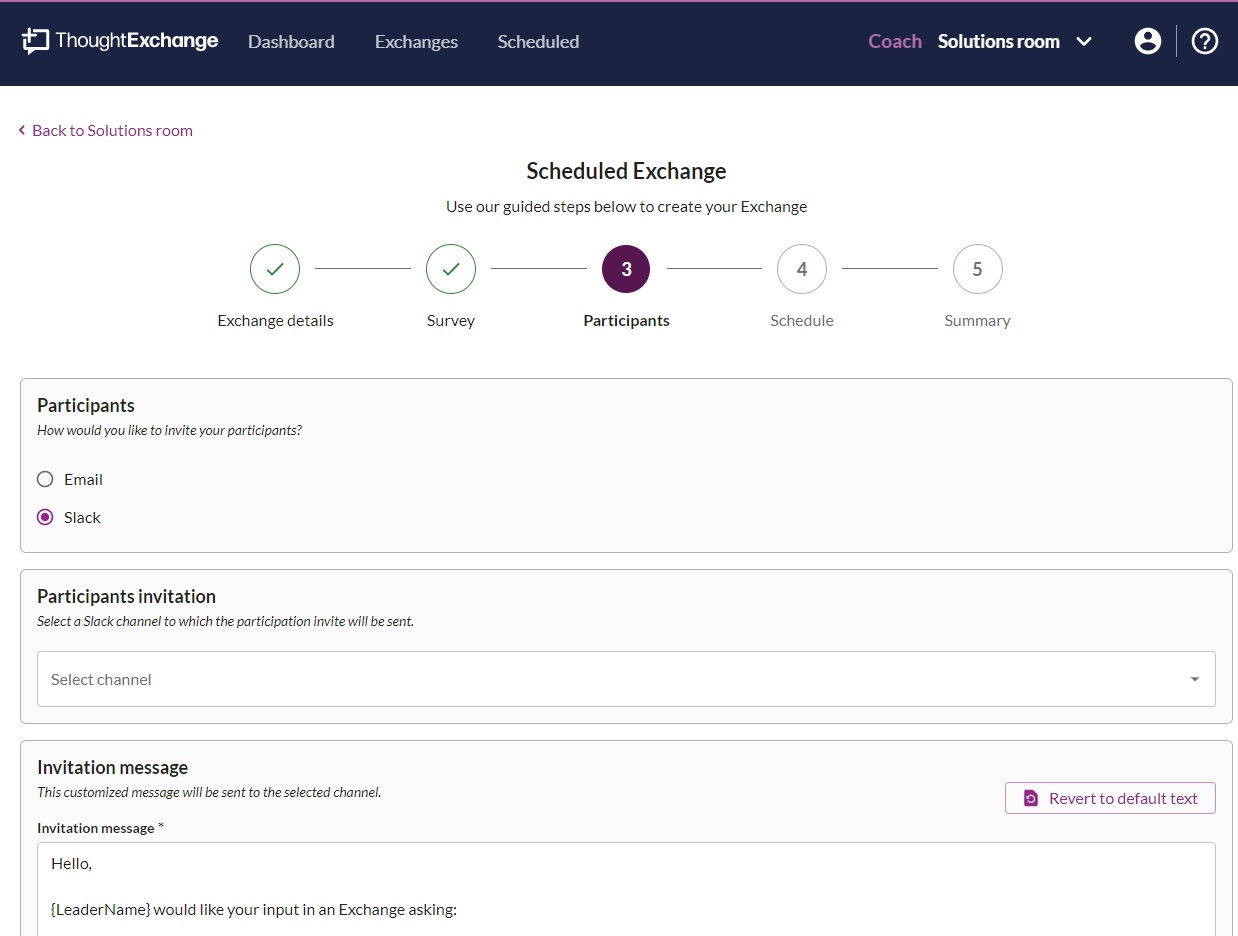 Outlook Integration
We've also added the ability for leaders using the new design to sync an Outlook Calendar with ThoughtExchange to track and be reminded of Exchanges that are scheduled, including recurring and custom cadences. Calendar reminders are created for the launch and deadline dates of each Exchange.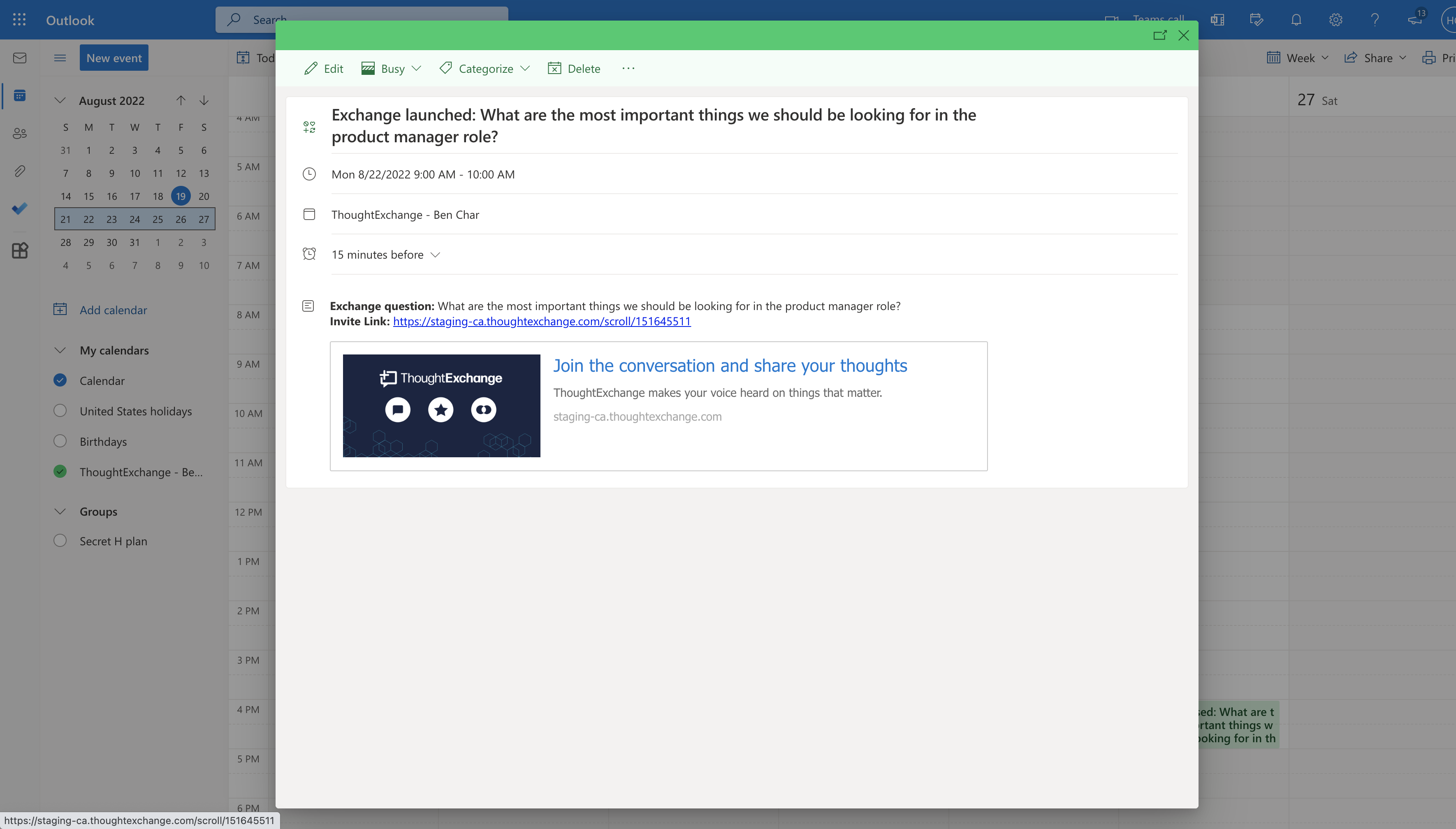 Discontinued Features
Anyone with kids or just too much junk in their house understands that as you add things, you need to subtract them too - lest you get trapped under an avalanche pile of old newspapers. In this update we're ending support for Internet Explorer (in keeping with Microsoft itself ending support for it). We are also ending support for the ability to log in or change your password using a phone number.
Cookie and Privacy Policy Updates
Finally, we've made some changed to our Cookie and Privacy Policy. Click hear to stay up to date.