If our last product update was a major renovation filled with lots of new features, our update to version 6.0 (happening on June 28 @ 8PM Pacific) is about smoothing out the edges on a few things and upgrading to soft-close cabinets.
New for this update:
Additional Permissions for Administrator Roles
We've heard from the folks administering accounts and rooms that it would be helpful for them to have access to the Discover Dashboards for the Exchanges in the spaces they manage. Ask and you shall receive! In this update, anyone with either room admin or account admin permissions will be able to view the results for Exchanges in their rooms or entire accounts, respectively. These roles will automatically receive View access to the dashboards, not Manage access.
We've also opted to give admins the ability to create templates in the spaces they manage by default because this update is all about making things easier.
Copy Templates Across Rooms
Templates are becoming an essential feature for folks who run a lot of Exchanges. Over the past couple updates, we've added the ability to create templates for survey questions, participation groups, objectives, and theme sets. In this update, we're making sharing survey question, participation groups, and objectives templates between rooms possible (theme sets isn't available at this time). All templates are visible across an account but some can be made private, if you prefer. We're hoping that this feature can help ensure consistency between rooms and cut down on the work of creating new templates for leaders.
When you click the button to add a template, you will be asked if you want to create a new one or copy an existing one from another room. Templates copied from other rooms are also fully editable.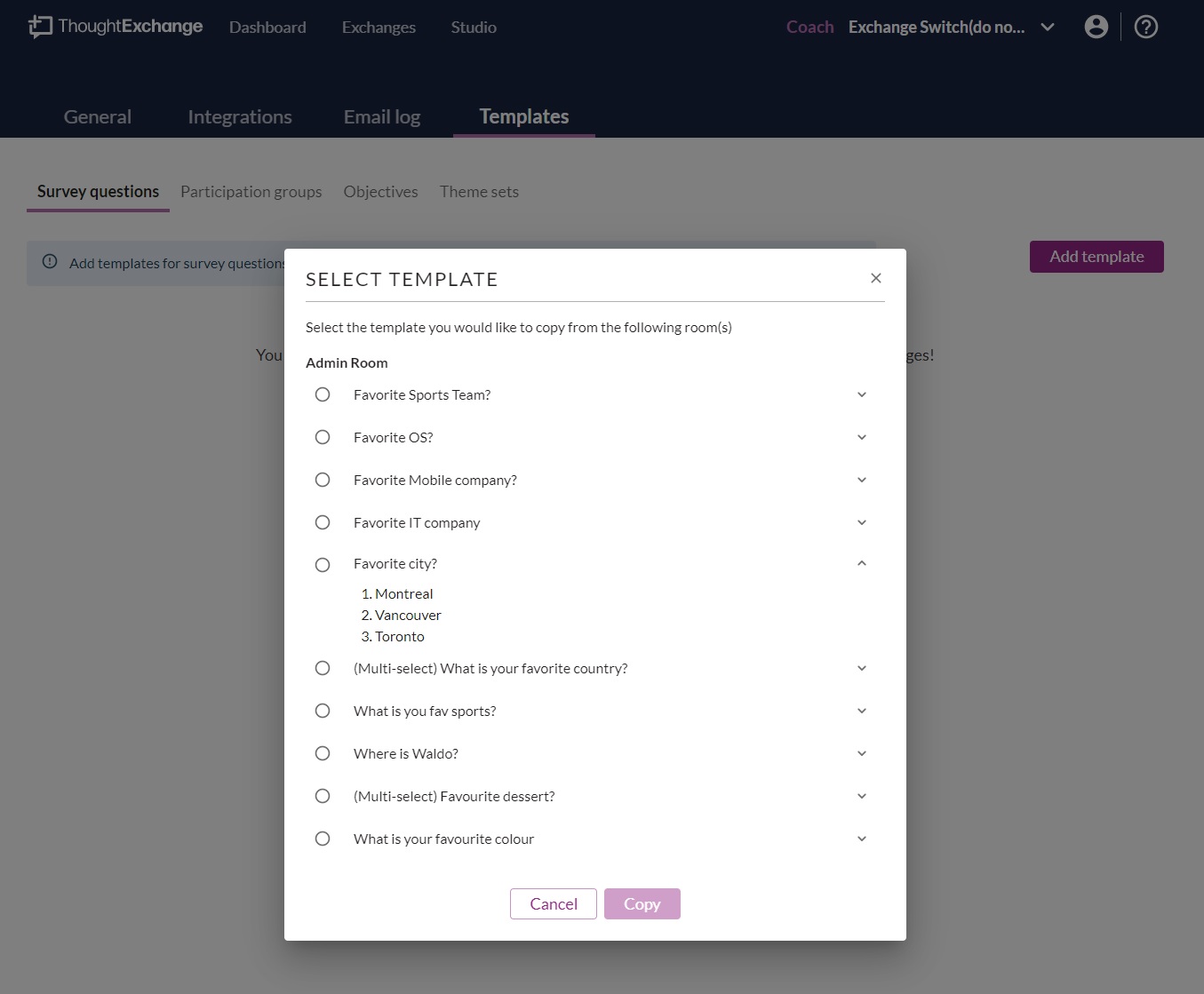 Add Participation Groups and/or multi-language functionality to a Scheduled Exchange
In our last update we added the ability for leaders to create Scheduled Exchanges that automatically launch on a specific date and time. In this update we're tweaking that feature to make it a little more flexible by allowing leaders to edit multi-language capabilities or to add or edit participation groups after the Exchange is Scheduled.
Note: as with any other Exchange, multi-language features and participation groups cannot be added after an Exchange has launched.
Participation Groups in Summary Reports
We've made a small change in this update to help leaders share participation stats more effectively. Now, when creating a summary report for all participation groups (in an Exchange containing participation groups, of course) you will have the option to show or hide a chart outlining the number of participants in each group. The chart will be hidden by default.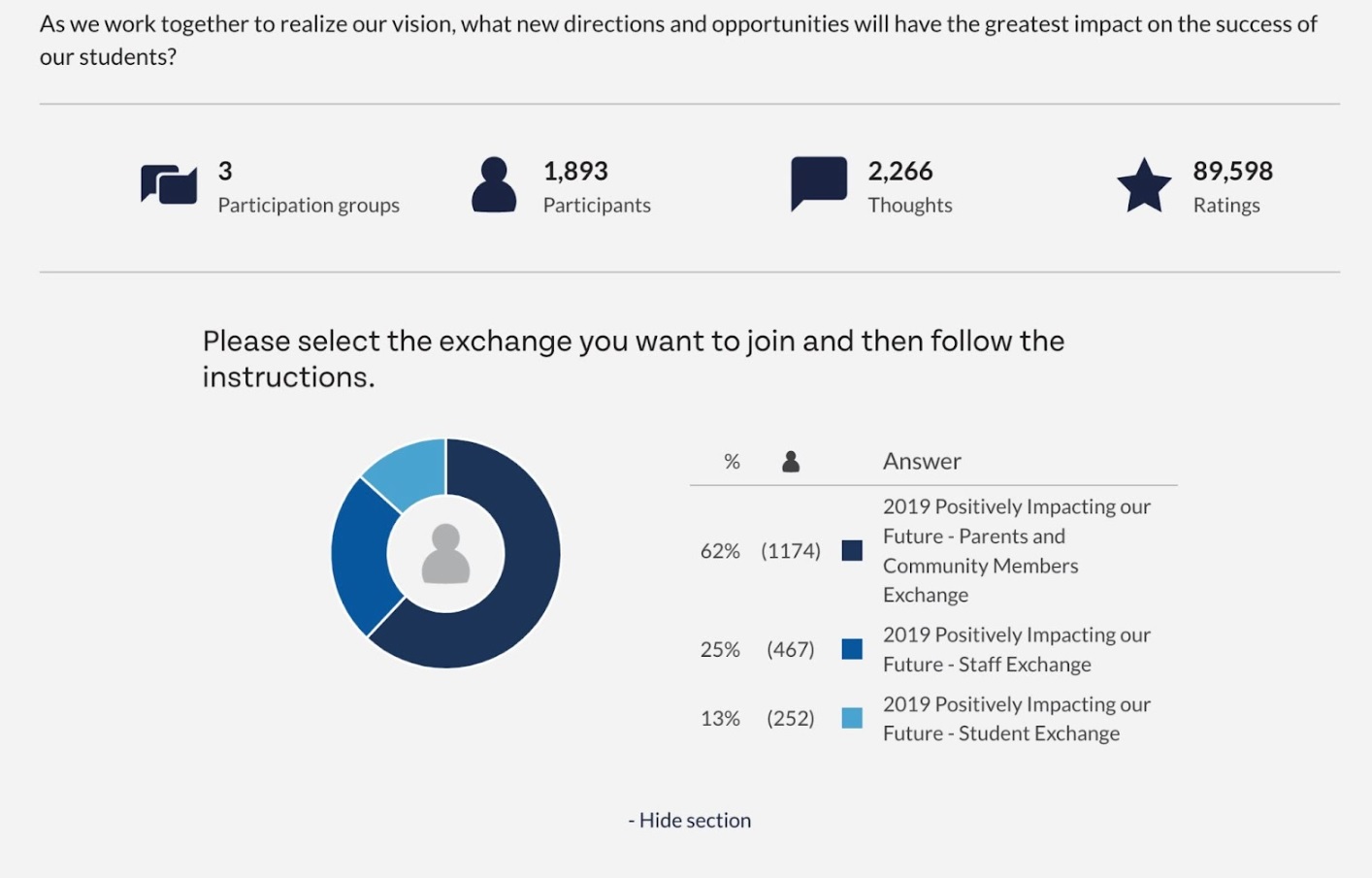 Add a User on the Fly while Commenting
Continuing on with our revamped approach to leader comments, in this update we've added the ability to create new users on the fly in the comments section of a thought or theme. Leaders, and Discover Dashboard managers will have the option to create a new free user if the person they are trying to tag in a comment doesn't have the access they need. It's a quick and easy way to get others involved without having to leave the page you are working on.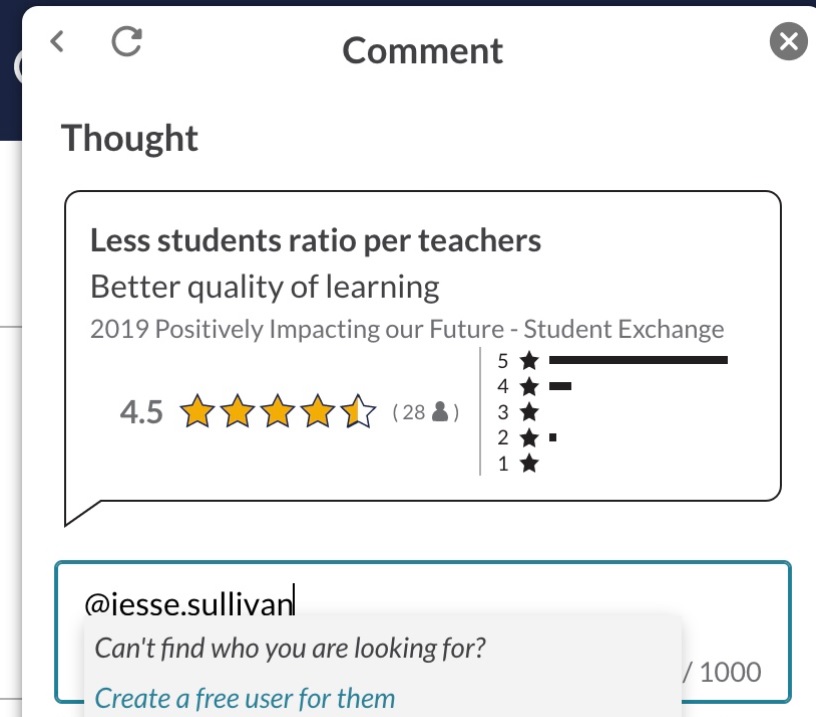 Solutions Updates
Accounts making use of ThoughtExchange Solutions will also see some exciting improvements in this update:
Microsoft Teams Integration
ThoughtExchange can now share Exchange invites and reminders in the MS Teams channels of your choosing, making it faster and simpler to include the right people in an Exchange. Simply connect ThoughtExchange with MS Teams in the profile settings menu and select the channels you want to communicate in while setting up your Exchange.

Once you set up the integration, you can select your linked MS Teams channels under the Participants step of the Exchange creation workflow.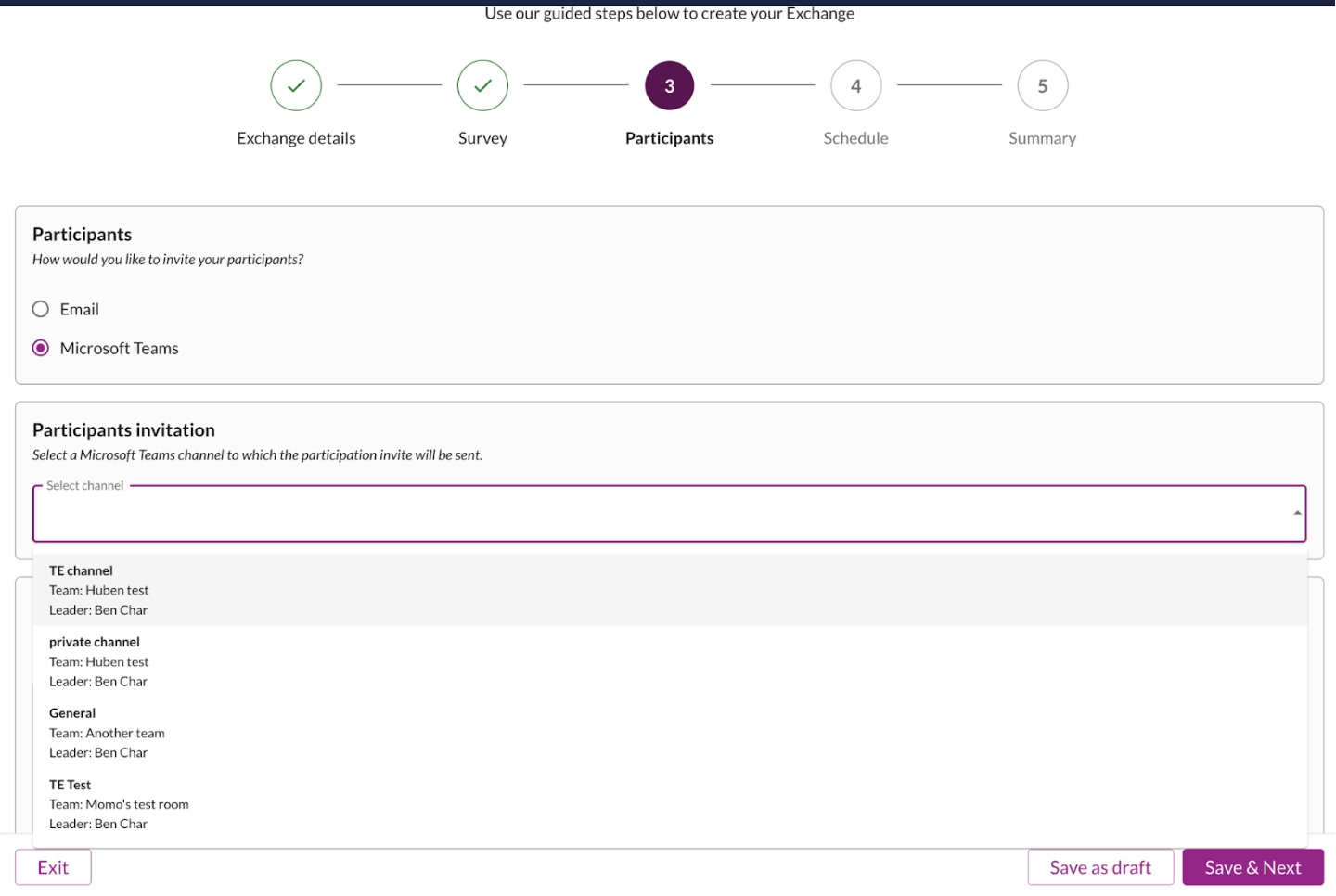 Schedule Custom Cadences
To improve the flexibility of scheduling recurring Exchanges, we've added the ability to select the launch dates for each Exchange within the cadence . Meaning you can now accommodate any cadence that makes sense for your organization.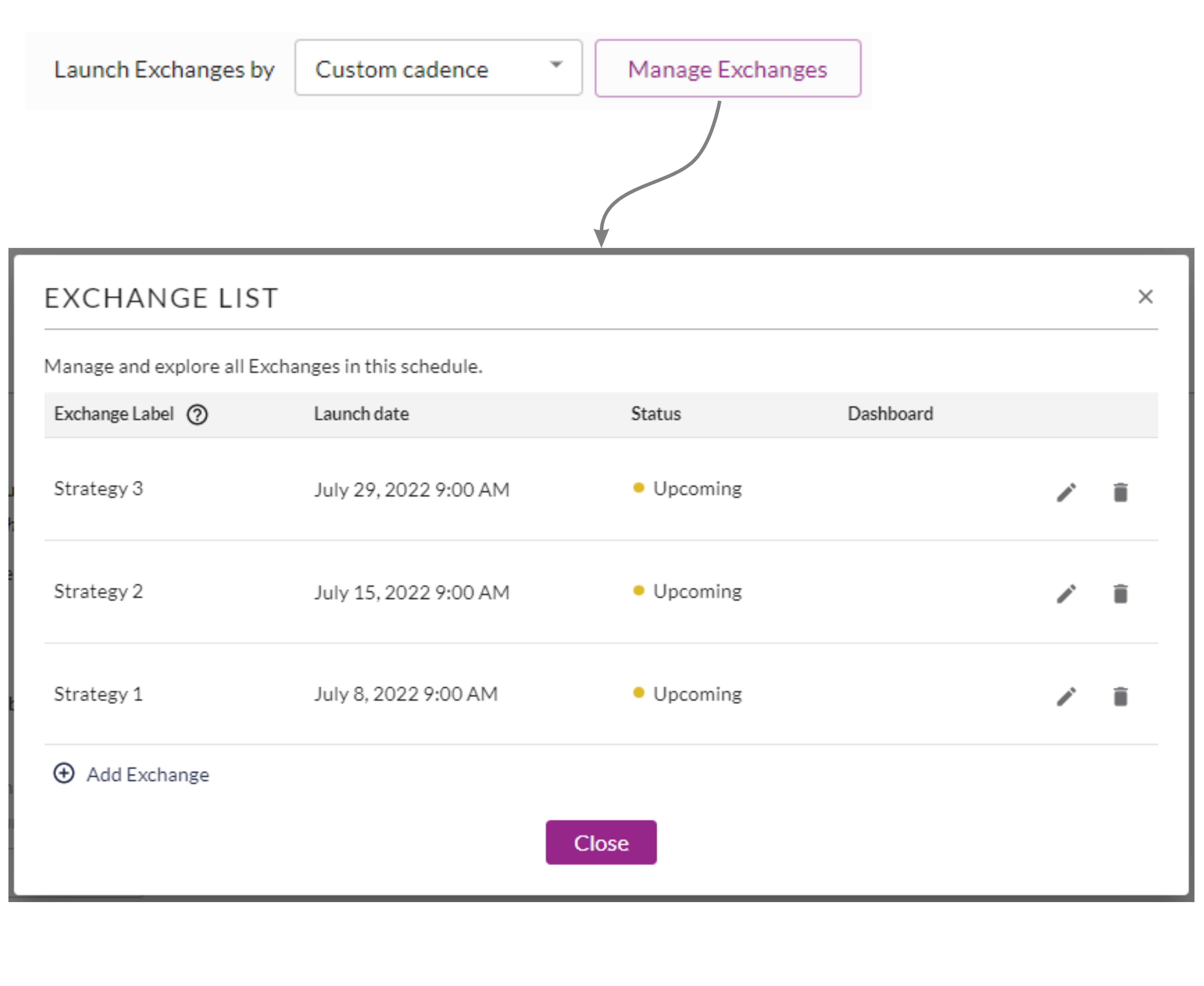 Features that are riding off into the sunset
We're getting ready to phase out a few features as well. Those include:
Logging in with only a phone number (ending with our update to version 6.1 in August).

Google and Outlook calendar integrations.

As of August 15, 2022 we will no longer offer support for Microsoft Internet Explorer, as support for this browser is being discontinued by Microsoft.

Read more here.
If you have questions about this update or anything else ThoughtExchange, please don't hesitate to reach out. We love hearing from you.