As the global lockdown to halt the spread of COVID-19 continues, the need for dialogue between physically separated groups (large and small) has never been greater. Over the past month, we've seen a dramatic increase in the number of organizations using Thoughtexchange to share updates and gather feedback. Now we're happy to announce several new features we hope will make these conversations even easier to facilitate.
We'll also be hosting a virtual event to present the new features on May 7th at 12 pm PT. Click here to register.
New features:
Leader Help - When and where you need it
Participants can delete their own thoughts
Improved Scrolling User Experience
Get help, right in the app
We've heard and felt the need for quicker, easier, and more accessible answers to some of the most common questions we get from leaders.
We've now made our help site accessible in the Lead view of our software. When you click the handy question mark in the top right corner of your screen, you'll be able to see and read a list of recommended Help articles without leaving your exchange. Better still, we've been working to expand our library of video tutorials which you can now view directly in the Help widget.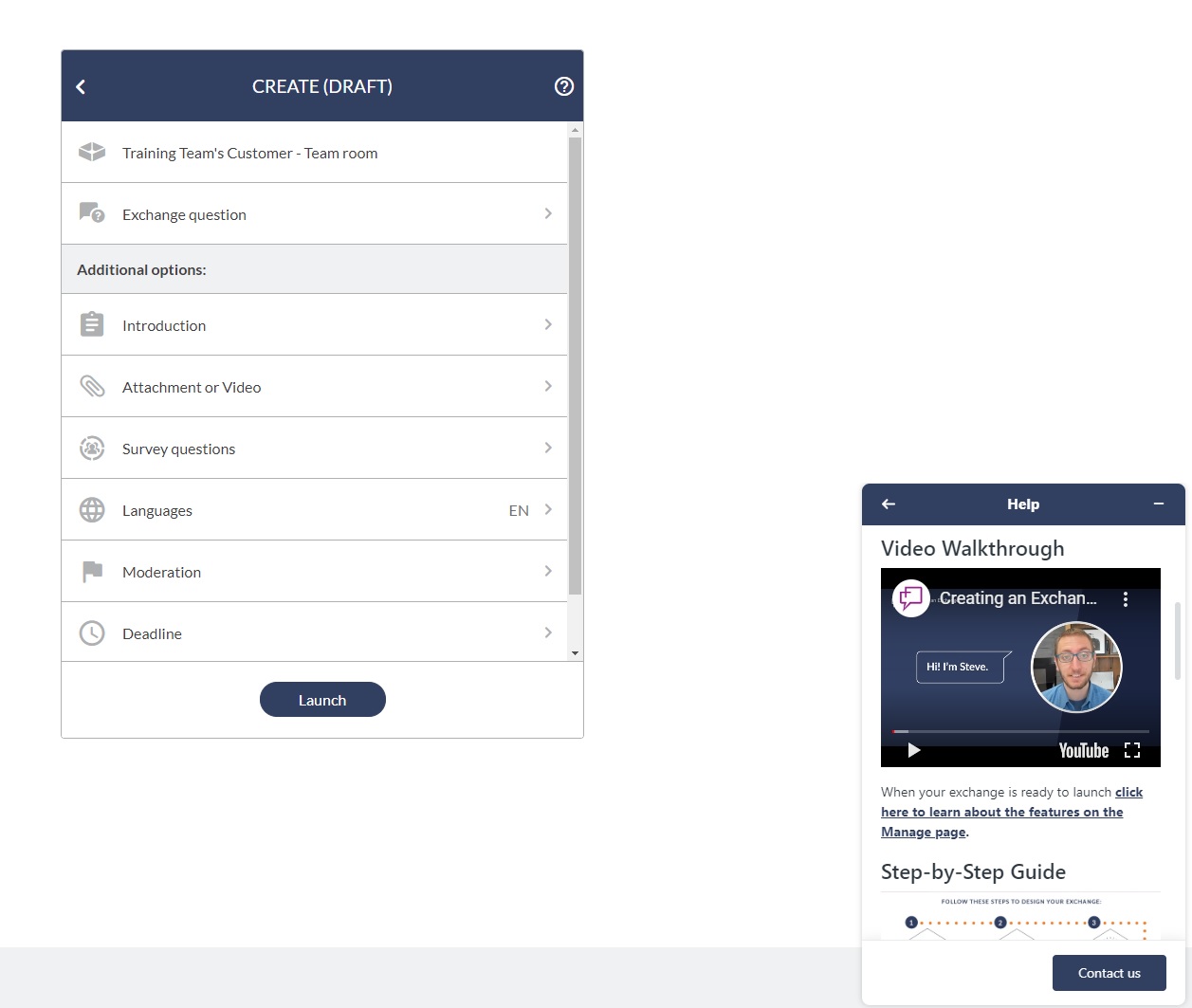 Didn't find the answer you were looking for? No problem. Use the pop-up window to submit a request for one-on-one support with our top-notch team.
Differences 2.0
The Differences tool in the Discover Dashboard is an amazing resource for identifying areas where people agree and disagree. With a single click, you can see groups of participants who share common perspectives, find the action items that most people agree on, and identify the most contentious topics in an exchange.
For this release, we've given Differences a facelift to make comparisons easier and more intuitive. All the information is now on one screen, and a Venn diagram shows the size of each group and the ideas that resonated most with them.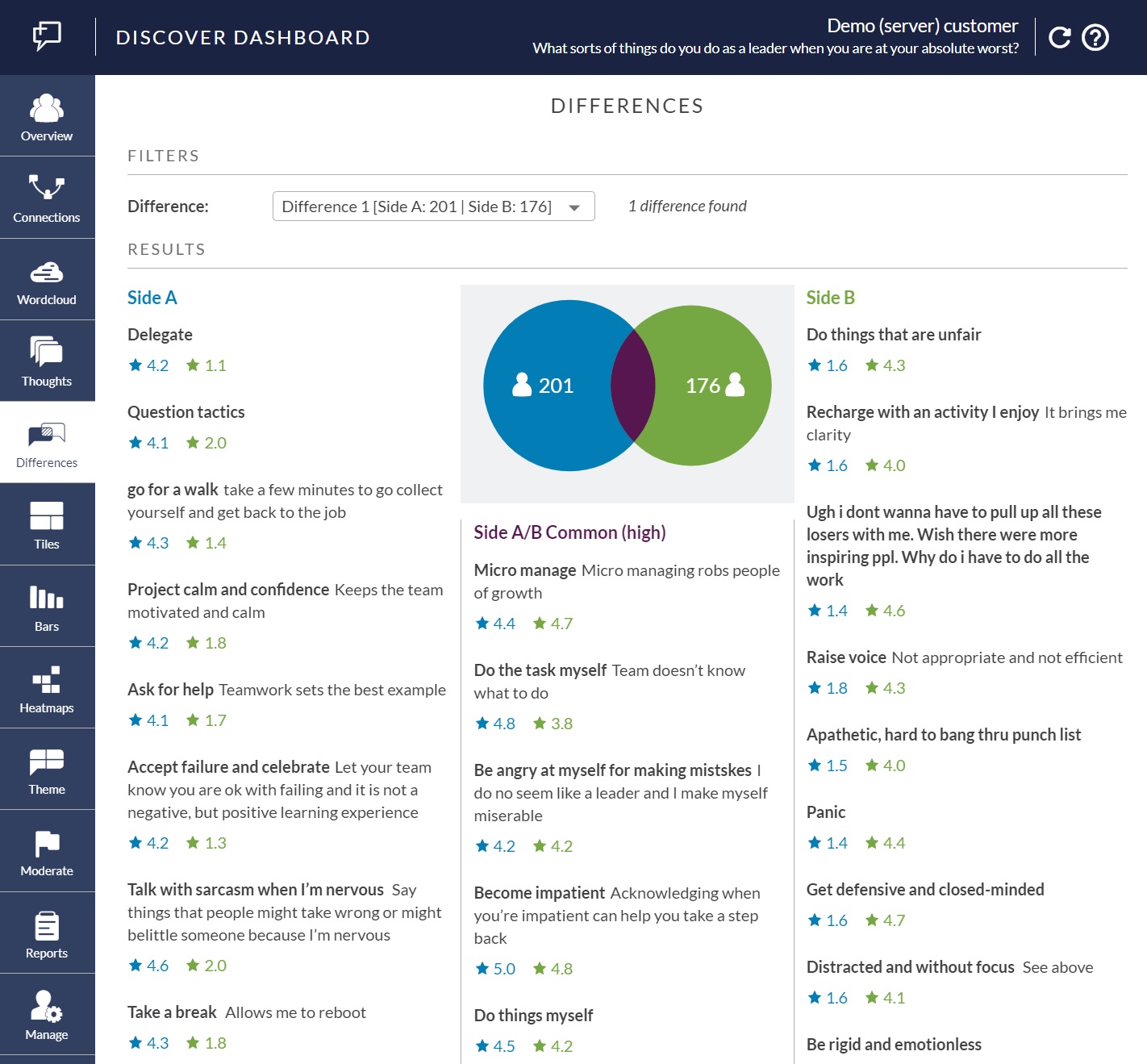 Participants can delete their own thoughts
Sometimes people just want to invoke the sacred right of takesy-backsies. And now they can!
By clicking the three dots in the upper right corner of a thought bubble of the Share screen, a participant can choose to delete a thought they have shared from an open exchange. Deleted thoughts are completely removed from all views, including the Discover Dashboard. Once an exchange is closed, this ability goes away to preserve the results.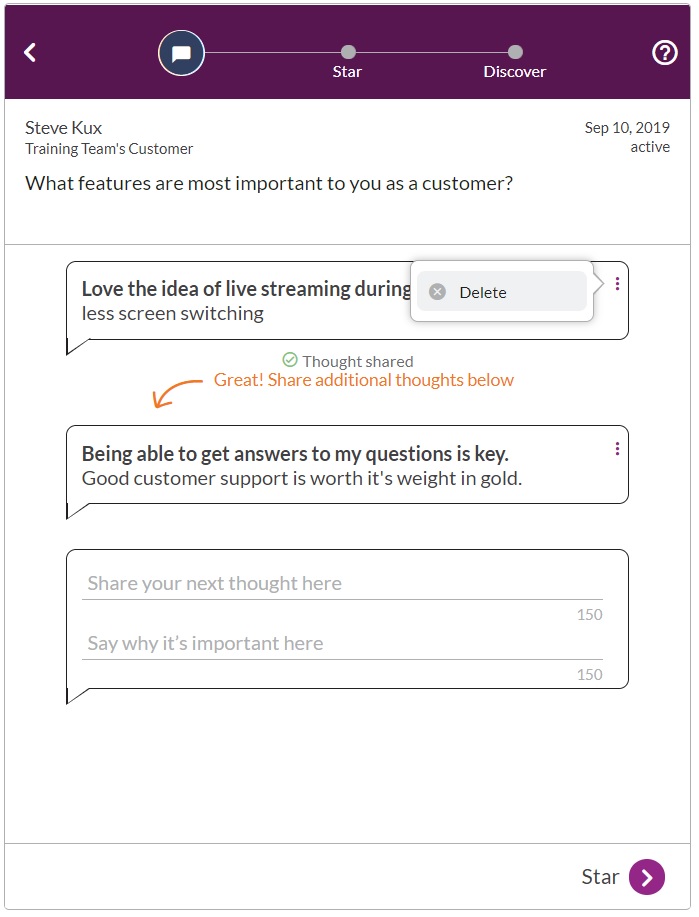 Improved Scrolling User Experience
Our Scrolling User Experience is an alternative to the traditional screen-by-screen participation method. It comes with built-in Google Translate capabilities that allow for participation in over 100 languages.
For this release, we've made some upgrades to the overall flow that will encourage participants to share and rate more thoughts.
Each time a participant shares a thought, they will automatically see a new, empty thought bubble below, encouraging them to share another thought. Additionally, when a person has rated 15 thoughts (and every 10 thoughts thereafter) we prompt them to move to the Discover step to explore the top-rated ideas in the exchange.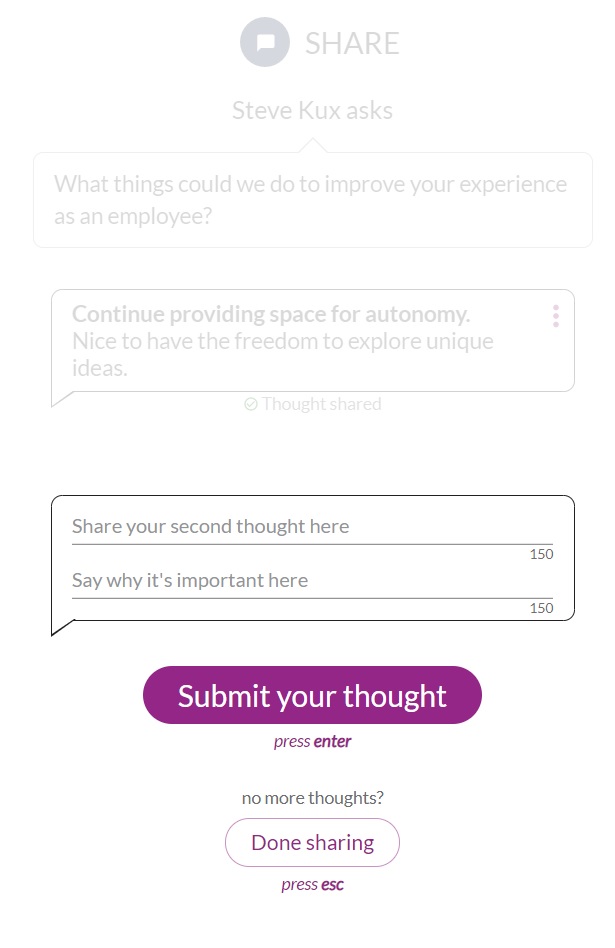 If you have any questions about these or any other features, we'd love to hear from you! You can register for our virtual event about version 4.6.7 to get a live tour of these new features. You can also check out our help site or drop us a line at help@thoughtexchange.com.