We've got some good news and some bad news for you. The bad news (always start with the bad news) is that we've entered the longest stretch of the year without any holidays to look forward to. The good news is that your friends at Thoughtexchange got you a little something anyway: Version 4.6.6!
Our latest update includes some exciting new features that will make moderation a cake-walk, help your Summary Reports shine and more. It might just be enough to help you put off using those vacation days for a few more weeks.
We will be hosting a virtual event about all the new features on Wednesday, March 4. Click here to register.
Room-Level Registration Settings
More Options for Summary Reports
Machine Moderation
Machine moderation is a handy feature that automatically reports inappropriate thoughts. We've made machine moderation available for all exchanges and added some fine-grained controls for leaders.
Now, as you build your exchanges, you can choose whether you want machine moderation on or off for toxic thoughts (that contain inappropriate language) and for identifying thoughts (that name people or locations, for example). You can also choose whether machine moderated thoughts will stay visible to participants or be removed from the exchange while they wait for your review.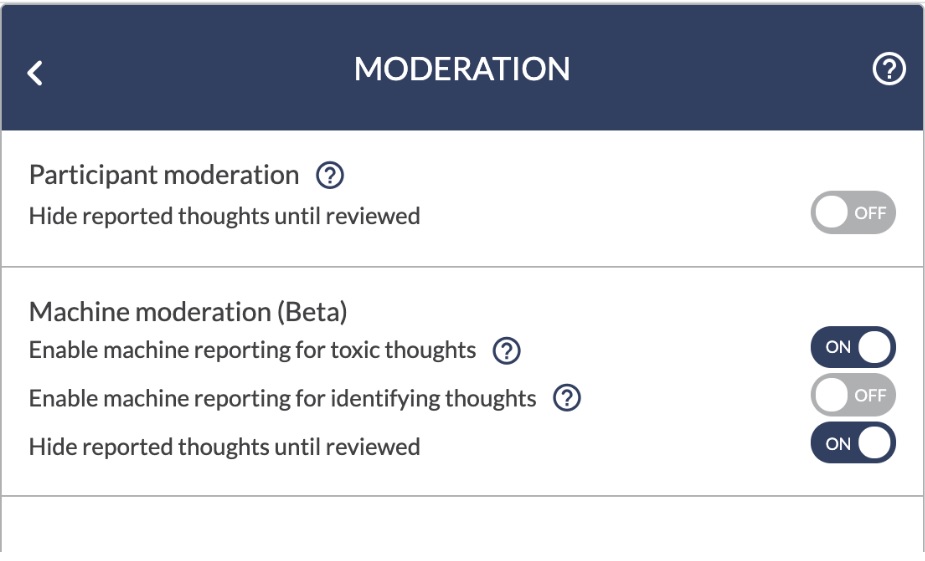 Note: Machine moderation, like any feature that relies on artificial intelligence, can make mistakes. It is not meant to replace the decision-making power of a person, only to make moderation easier.
Room-Level Registration Settings
Another new feature that is available by request is Room-Level Registration Settings. Sometimes workplace policies mean that certain settings have to be the same for all exchanges. Whether you need to restrict participants to people with a certain email domain or you need all your leaders to turn registration on or off for their exchanges, now you can choose those settings for all the exchanges in your Room.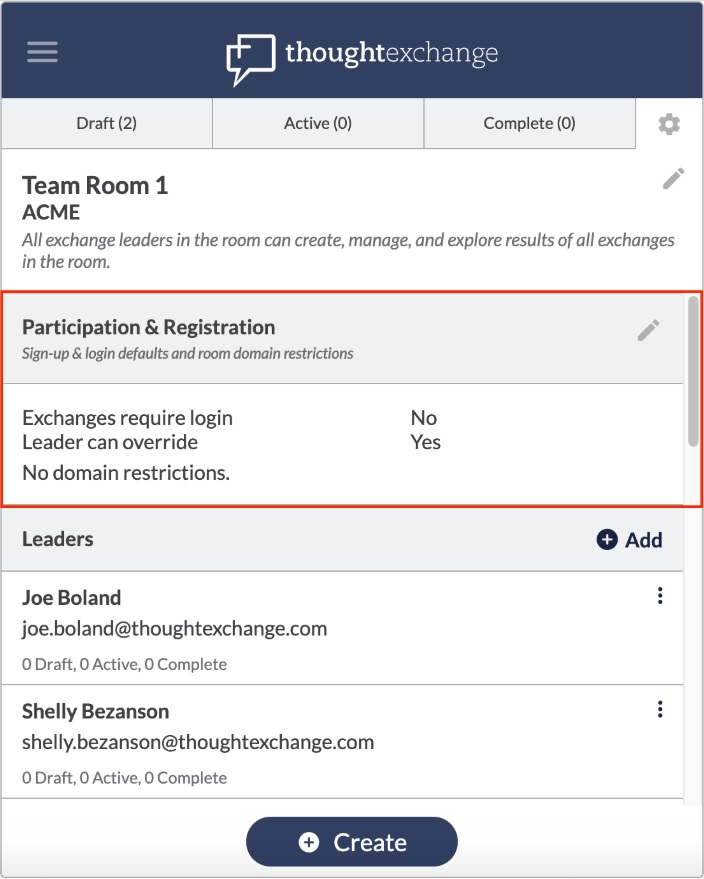 More Options for Summary Reports
Last but not least, we've given leaders more control over the content of their Summary Reports. Now you can choose whether to hide or show a logo in your report (if available) and include a summary of the language and Survey Question groups from your exchange. These features help you share a bit more detail about your exchanges and add some flair to your reports if you choose [insert Office Space joke here].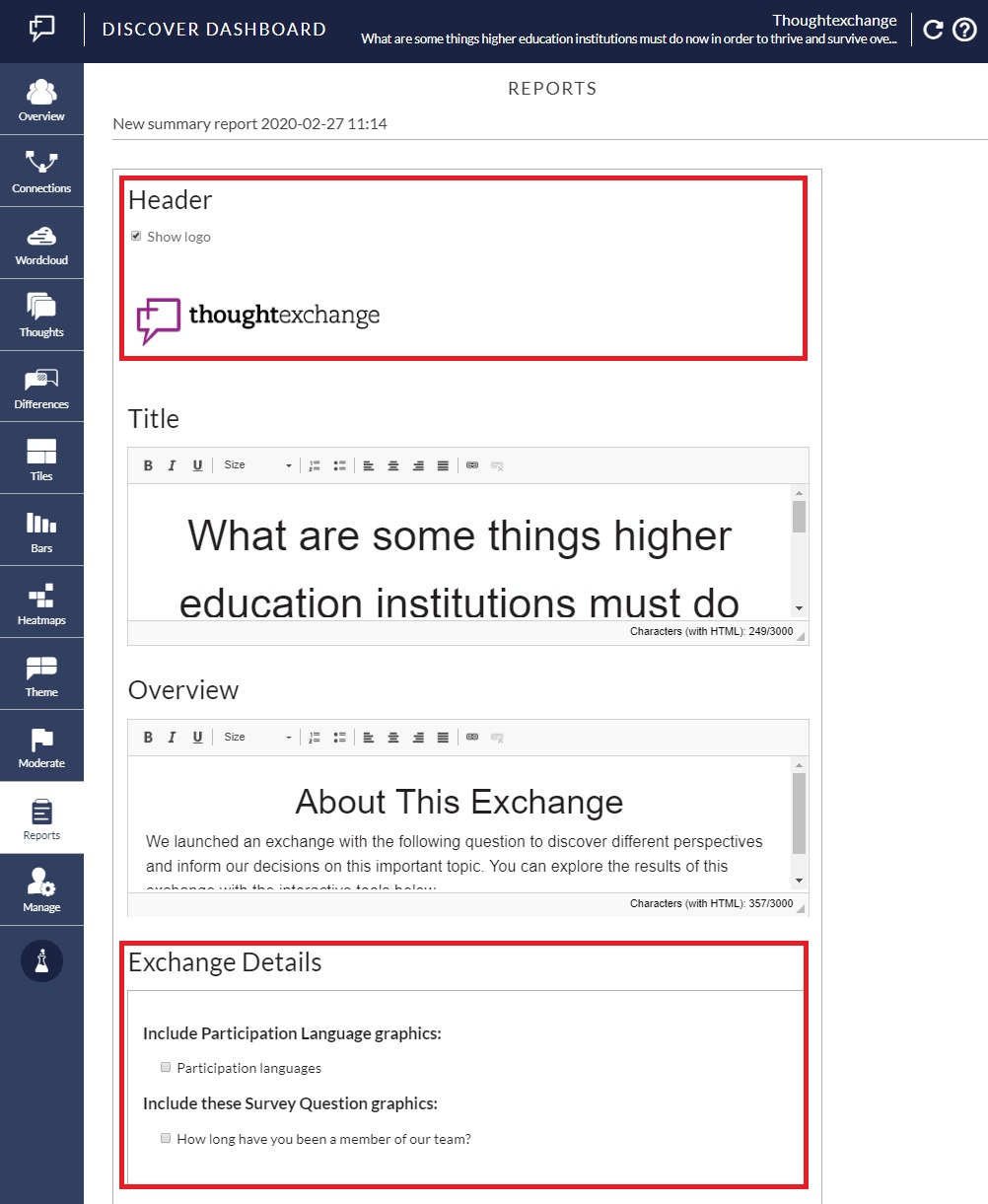 Presenter Mode
Presenter Mode is a beta feature that will soon be ready for testing by our customers. If you would like to be part of the beta-testing program, please get in touch with us at help@thoughtexchange.com.
Presenter Mode will make running live exchanges easier than ever. This upcoming feature includes an audience-facing view where you can share your link, exchange code and a QR code for your exchange. It also has a view for presenters that lets you control and display a participation timer, display visualizations, and highlight results.
The best part? The audience-facing page can be controlled from the presenter's device. It's ideal for when you're up on stage and your computer is hooked up to a projector at the back of the room.

Presenter Mode is perfect for running exchanges at meetings, conferences or town halls. If you'd like to volunteer to help test it when it's ready, let us know and we'll add you to the beta program.
If you have any questions about these or any other features, don't hesitate to reach out. We would love to hear from you! You can register for our virtual event about version 4.6.6 by clicking here. Also, feel free to can check out our Help Site or drop us a line at help@thoughtexchange.com.