Double, double toil and trouble. It's time once again for a new and improved version of Thoughtexchange. The changes will take effect on the evening of October 31 and, just in time for Halloween, this release is all treats and no tricks. Like the house on the block with the fancy decorations and full-sized candy bars, we've gone a little overboard jamming this release full of exciting new features to make your exchanges easier than ever.
Video tutorials of these new features are from our Release 4.6.3 Virtual Event on November 6, 2019.
Survey Questions
Something we've heard from a number of customers is the need to include closed-ended survey questions to complement the feedback they get from their main exchange question. Well, ask and you shall receive. We've expanded the limit from five to 10 and renamed the Demographic Questions section of the Create page to Survey Questions! Now you can conduct a survey and an exchange all in one place, rather than needing multiple tools to get feedback from your organization or community.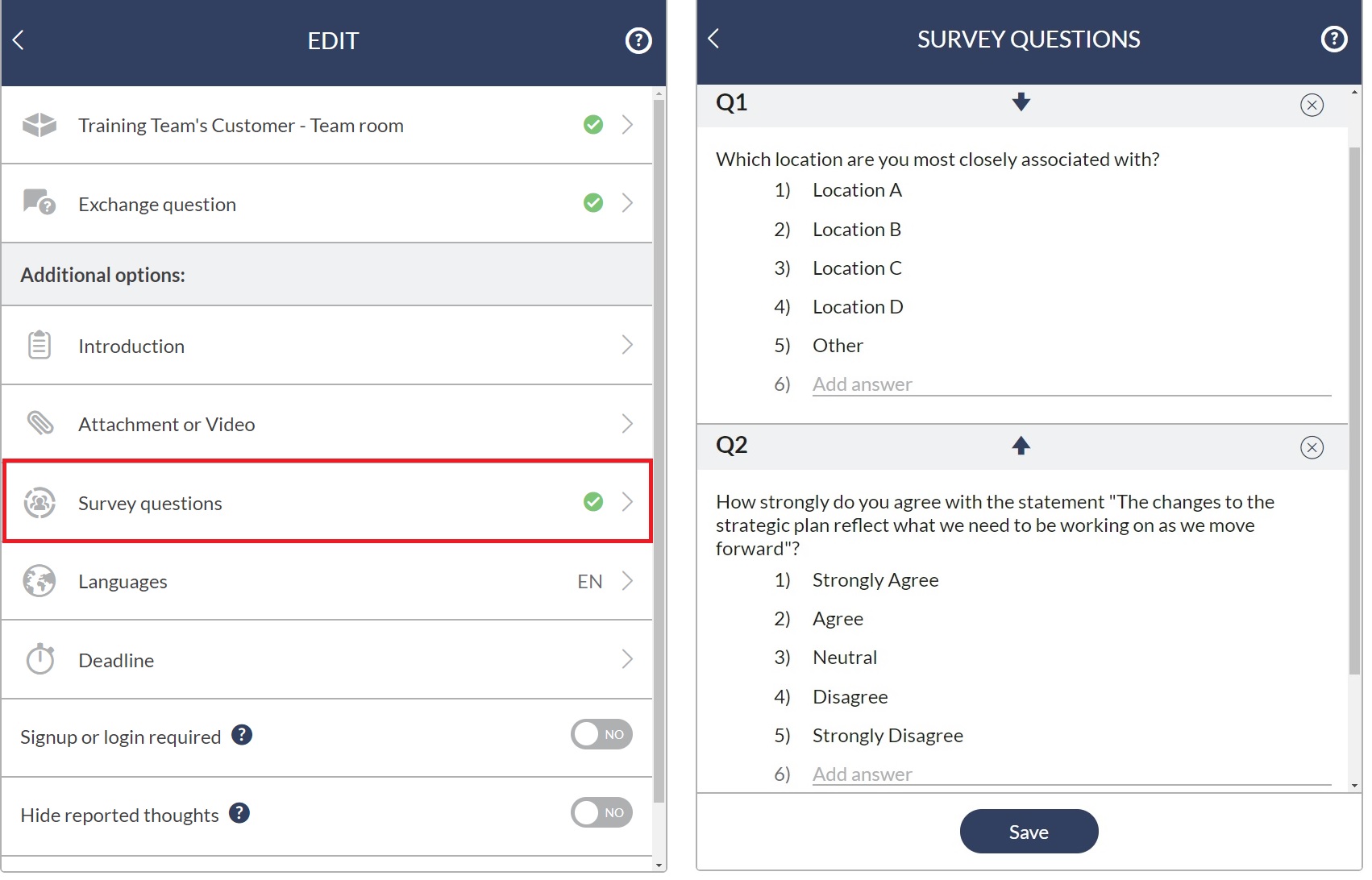 Exchange Date Stamps
After you've run a lot of exchanges, finding the one you need can be as tricky as locating the last peanut butter cup in a pillowcase full of candy corn. Well, with this release, we've made things simpler by adding date stamps to exchanges. In the Draft tab exchanges are listed by the date they were created, in the Active tab by the date they were first launched, and in the Completed tab by the date they were closed. Finding the exchange you need is now quick and painless.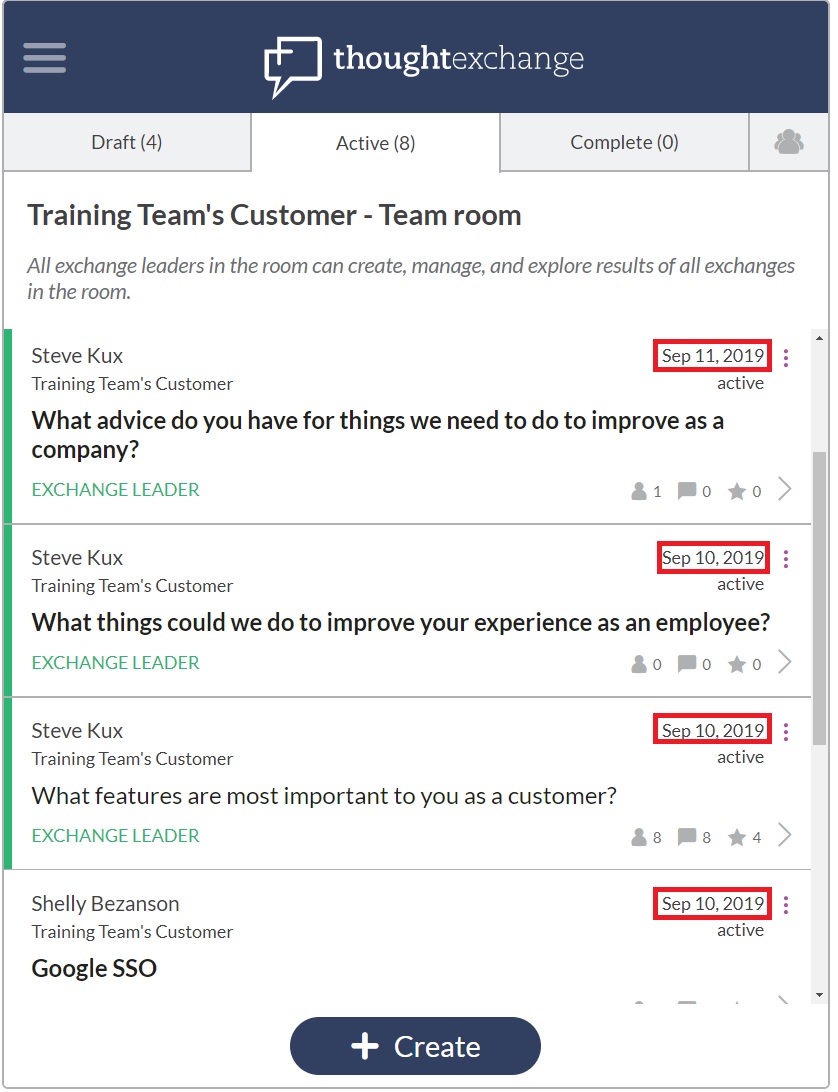 Help is on the Way
Whether you're an avid user or a curious first-timer, everyone needs a hand now and then. In 4.6.3 we've made it easy and intuitive to get answers to your burning Thoughtexchange questions by adding a handy "?" icon to the top right-hand corner of the software. Click the icon and choose between quick access to our Help Site or contacting us directly.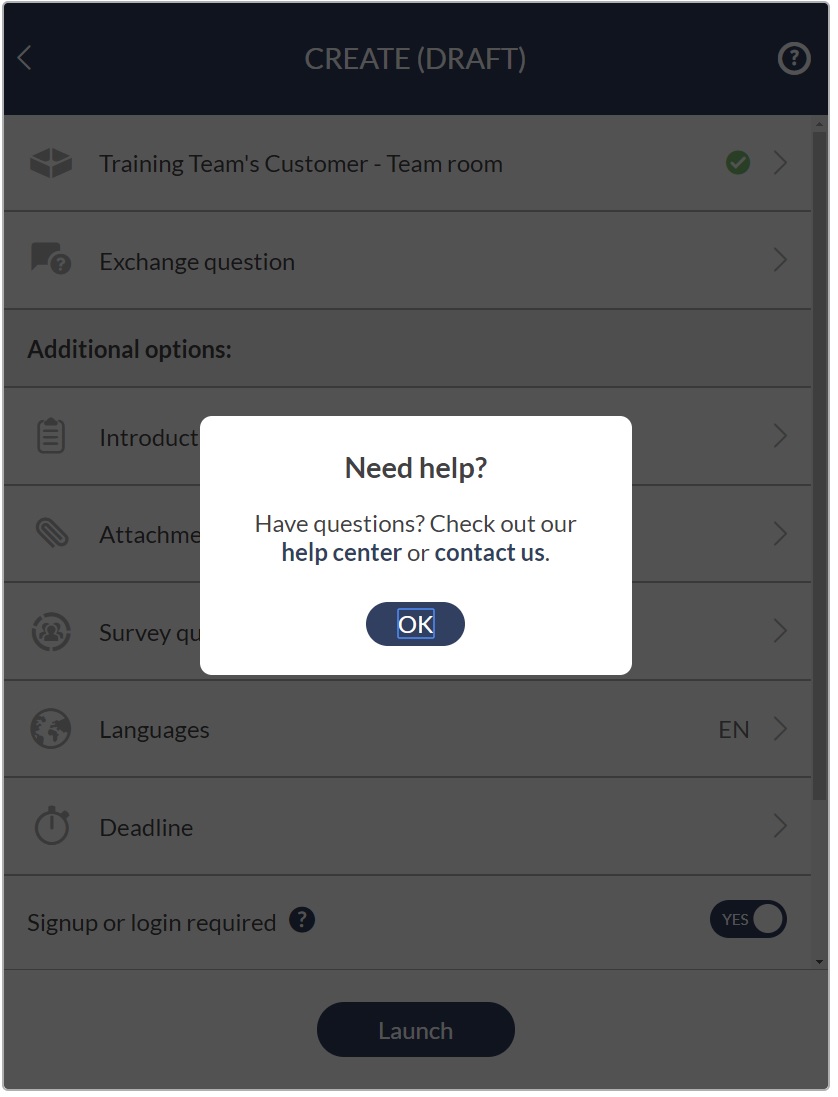 Discover Dashboard
We made some upgrades to familiar analysis tools in the Discover Dashboard and even added a whole new visualization option to capture your participants' feedback.
Overview Tab
We streamlined the Discover Dashboard by combining the Participants and Demographics tabs to form the stylish new Overview tab. It's the same great information, now all in one place.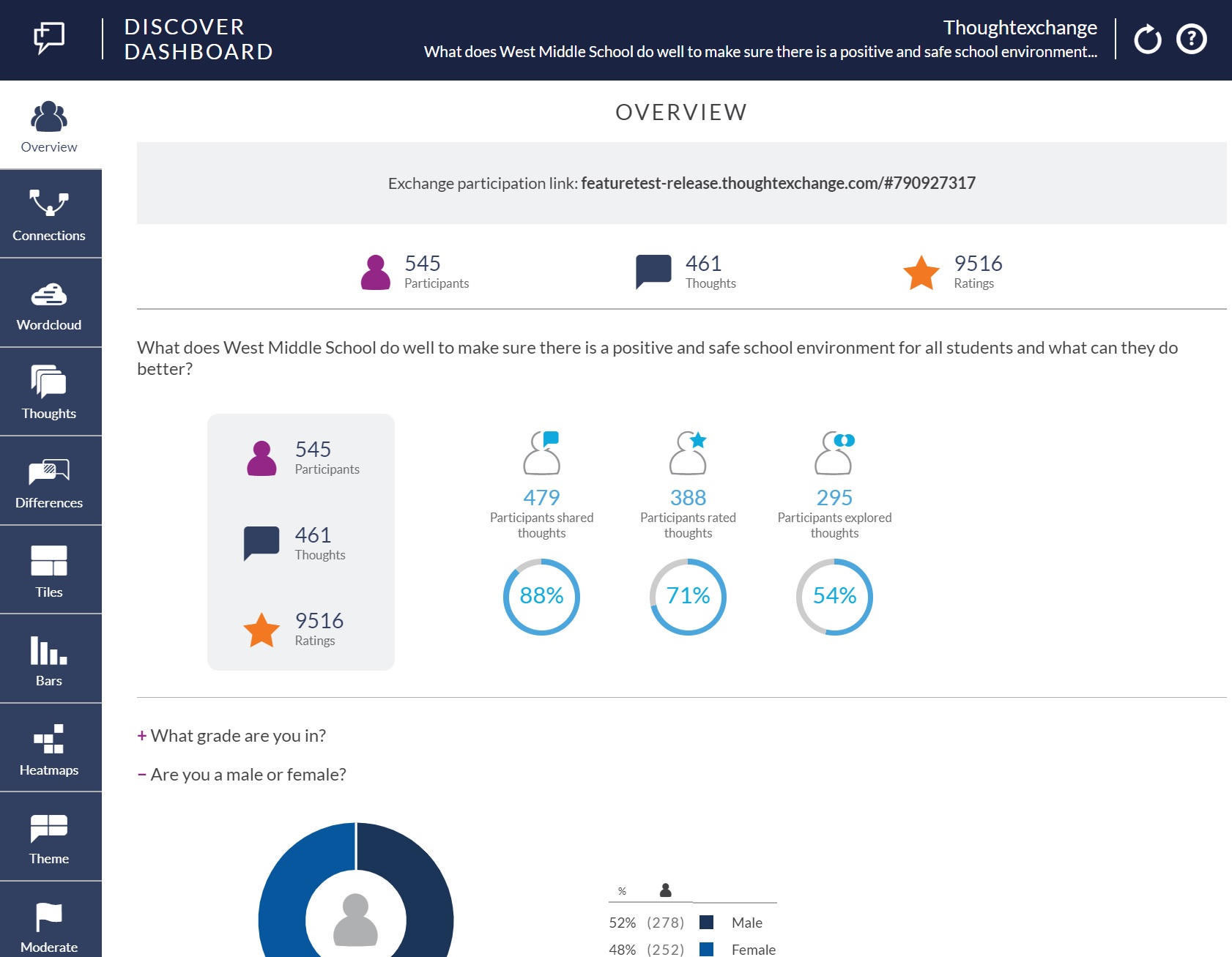 Reports Tab and Data Download
Formerly known as Publish the new Reports tab is still the place to find and create shareable Summary Reports. But we've added a handy new Data Download capability. Now, with a couple of clicks, you can generate a compressed file containing all the data from your exchange in .CSV format (CSV = comma-separated values).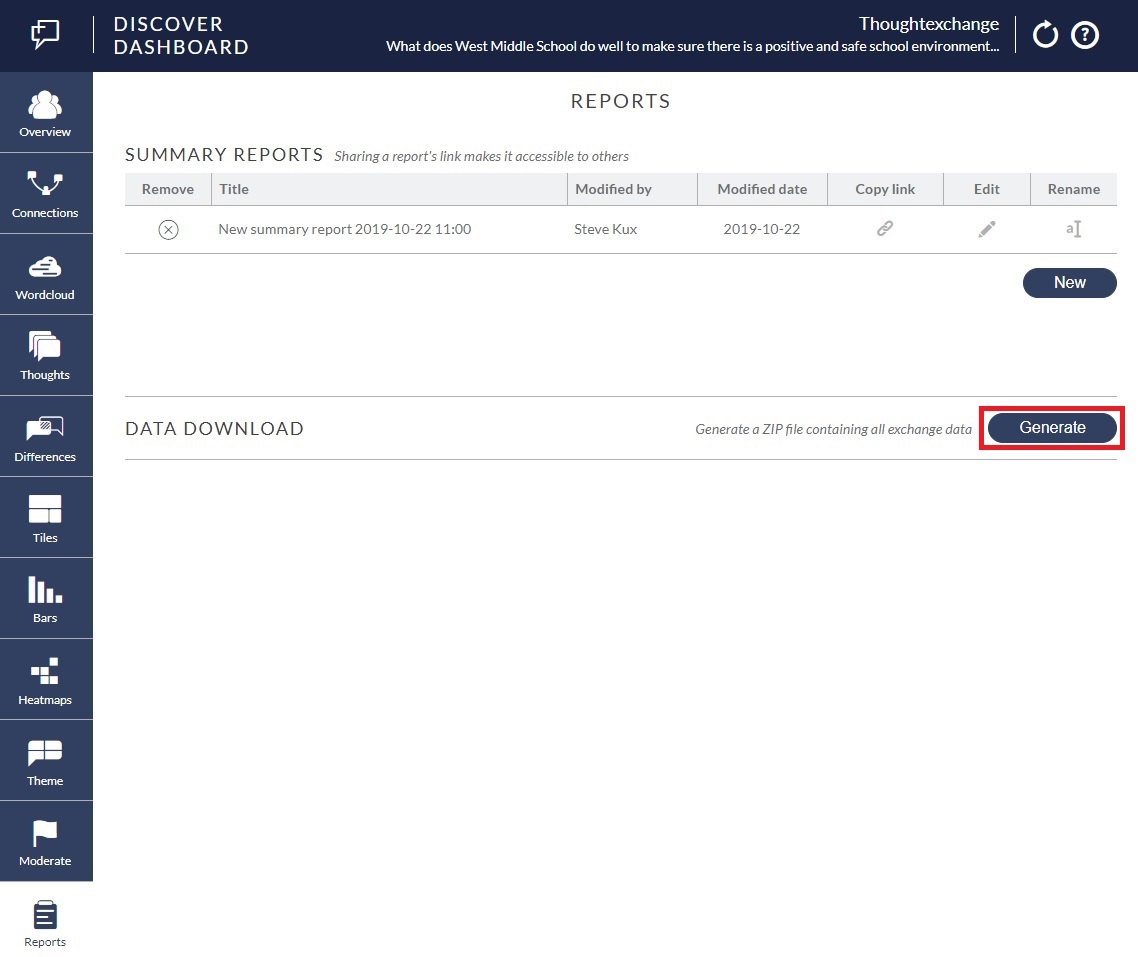 Wordcloud
One of our most popular visualization tools made the leap from Thoughtexchange Labs to the Discover Dashboard: Wordcloud! Now you can quickly see the words and ideas coming up in an exchange and share the Wordcloud with your community to encourage even more participation. Words can be sized by number of thoughts or average star rating and colored by theme or not. The choice is yours.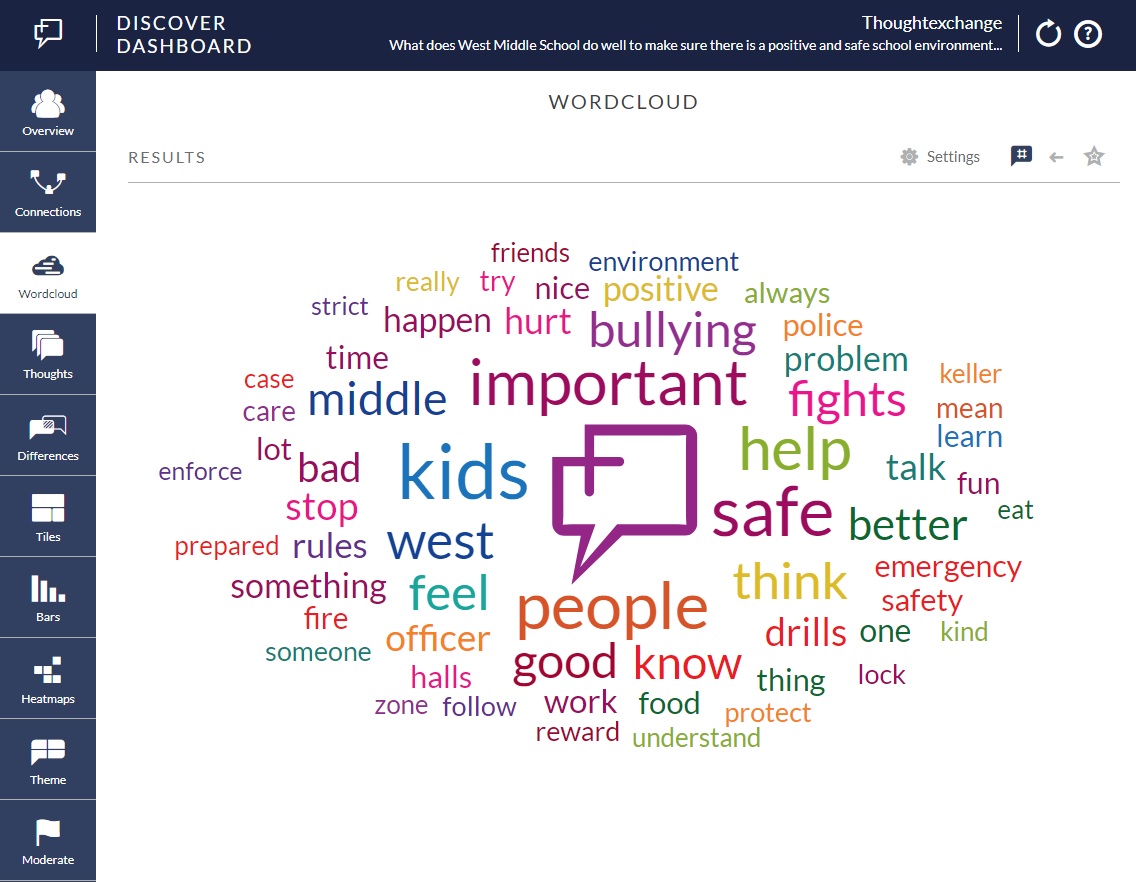 Themeset Templates
Have you ever sat down to put your thoughts into themes and found yourself scratching your head about where to start? We've all been there. But now, with Themeset Templates, themer's block is a thing of the past. Choose from six themesets, including Action, Impact, and Discovery or quickly generate ten customizable themes. Happy theming!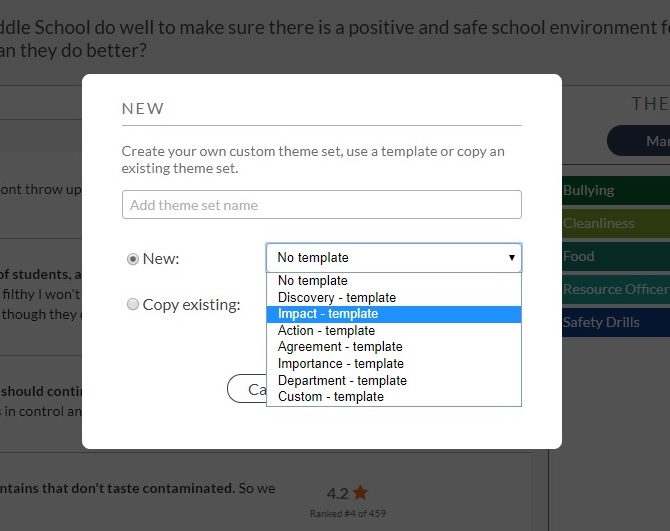 Improved AI-Generated Themes
In our last release, we unveiled AI Generated Themes and in 4.6.3 we've added the ability to add real-time AI-Generated themes to your Summary Reports at the click of a button. Now, when you can share a Summary Report while your exchange is still live, the themes will update as new thoughts roll in. It doesn't get much cooler than that.
If you have any questions about these or any other features, don't hesitate to reach out. We would love to hear from you! You can check out our Help Site or drop us a line at help@thoughtexchange.com.