Introducing Thoughtexchange Rooms
Collaboration is king (and queen) in this release, which includes our new Thoughtexchange Rooms feature.
What are Rooms? They're collaborative workspaces where Exchange Leaders can create, manage and run exchanges together using a shared dashboard. Did your colleague recently run a really successful exchange that you want to replicate? With Rooms you can see what they did and use it to inspire your own exchanges.
Another huge plus with Rooms is that Exchange Leaders can step in and manage each other's exchanges. That means anyone can step in and make sure things go smoothly, even if the Exchange Leader gets pulled out of the office (or slips away on vacation when no one is looking).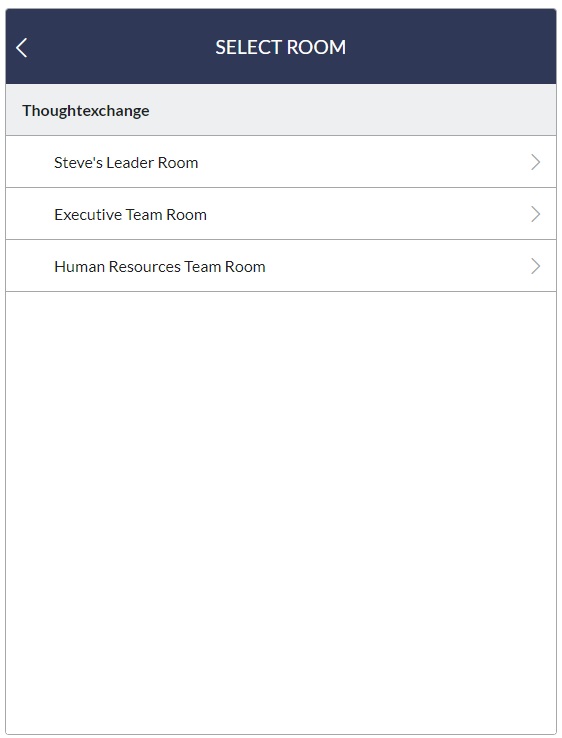 Not seeing Rooms anywhere in your software interface? The transition to Thoughtexchange Rooms is going to be a gradual one and you might not notice anything different after we make the update. Feel free to reach out to your Client Success Manager to learn more!
Draft Exchanges in Rooms
Create and manage your Exchanges in your Room before sending them to your participants using the Draft tab. Your Draft area lets you get things just right before hitting the Launch button and will be visible to other leaders in the Room. It's a great place to plan out your follow-up to a live exchange that's generating awesome feedback.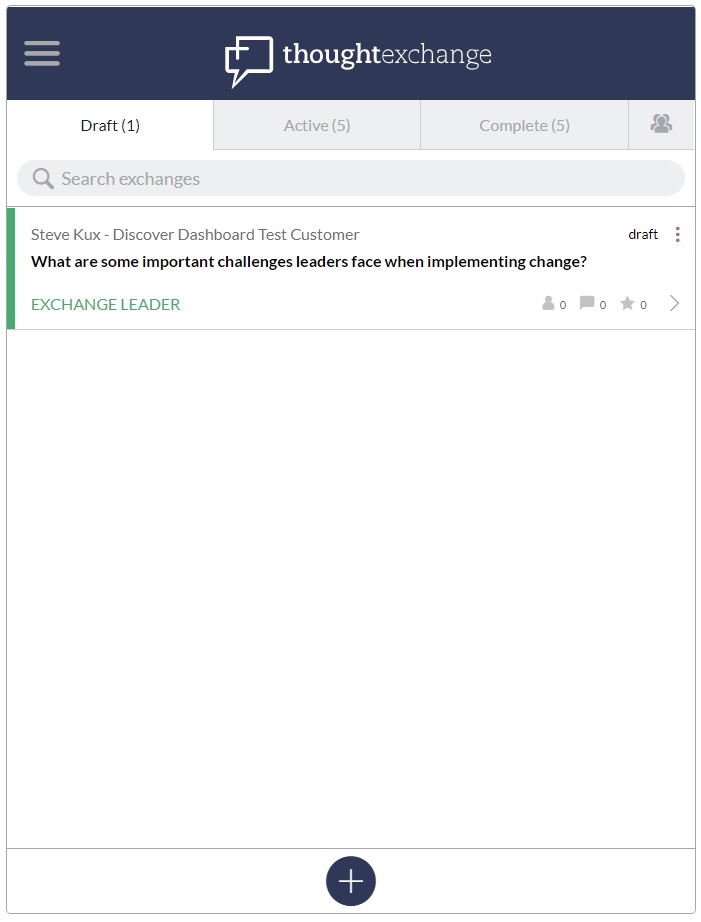 Display All Thoughts Everywhere
Ask and you shall receive! One of our latest updates was requested by many of our customers – that all thoughts appear in every Discover tool. In the past, thoughts with fewer than five ratings didn't appear in some dashboard views, but now you will see them all, regardless of the number of ratings. Every voice matters and we want to make sure they are on display wherever you might need them.
Streamlining the Participant Experience
As the weather warms up, we've gone into full spring cleaning mode to make the participant experience even easier. Now, when participants enter simple exchanges (one question with no demographic questions), they will jump right from the introduction into the share step. Less clicking equals more sharing!
We've also removed the training wheels for folks who know their way around a Thoughtexchange. If you have recently participated in an exchange, you won't see the "how to" dialogue boxes for the Share, Star, and Discover steps. Don't worry though – if it has been a while since your last exchange, they will reappear. Our software is smart like that.
TeLabs Features (Experimental)
Back in the lab where new features are developed, we are improving Word Clouds to help you explore ideas even deeper.
Now, not only can you build your Word Cloud around the number of times a word was mentioned, you can re-sort it by the average star rating of the thoughts, which ideas came out as potentially divisive (using Differences), and which ideas generated the most passion from your participants. Simply toggle the icons in the top right-hand corner to explore the different options. Staring at clouds has never felt so insightful!