What's new
Stuff for participants
Introducing Introduction (we'll give you a sec to wrap your head around that)
We're introducing a new Introduction screen for exchanges. Based on your feedback, it makes more sense to have a single landing point for participants to learn more about the exchange.
For

Standard

exchanges, the

Background

has been renamed to

Introduction

.

For

Advanced

exchanges, we've merged both the

Welcome

and

Background

into the new

Introduction

page.
Multi-language support in SMS
Participants can now engage in over 100 different languages via SMS!
SMS participants can either enter the name of the language (eg. Somali), or text 'hello' in the language they'd like to participate in (eg. Zdravo).
Simplified skip
Previously, we'd ask participants for a reason for skipping a thought. While it seemed a good idea that offered additional insights, the novelty of this approach wore off pretty quickly for participants faced with several thoughts they wanted to skip. We've now simplified the skip dialog to make the process less of a chore.
The new Star dialog
People would often ask us: "What's the meaning behind the stars, anyway? Do they indicate how much I agree? Do they show how important I think the thought is?"
As it turns out, some of us had the same question! So we sat down, decided together what the stars really mean to us as participants, and included that message in the exchange for others.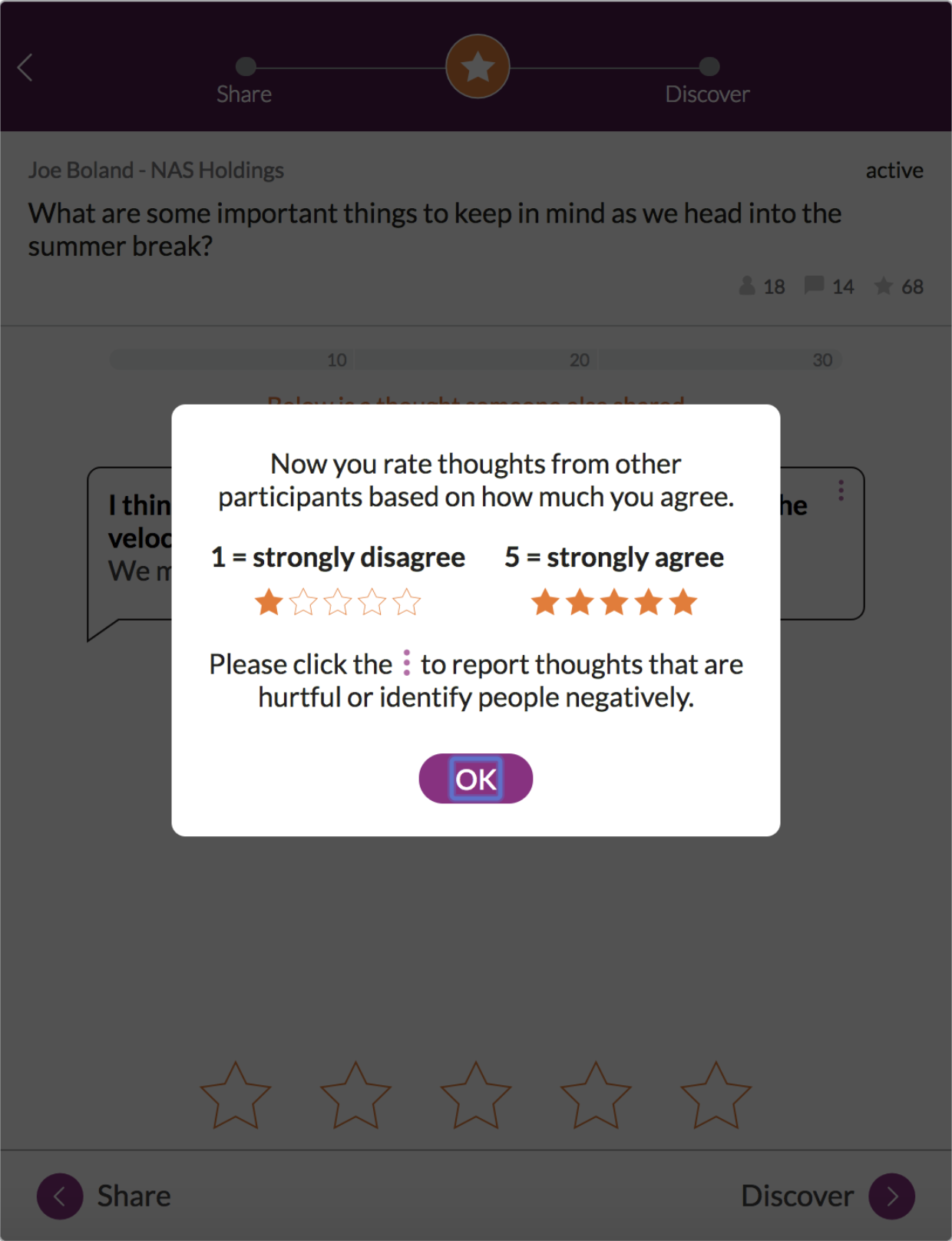 Stuff for leaders
New introduction section
Just to keep things consistent, we've renamed the Background section to Introduction in the Edit section of the Manage Exchange screen.
We now support YouTube links in your introduction
Whether a budget proposal or an exchange meant to inspire change to your workplace culture, we now support YouTube links as an attachment option in your introduction.
Hot topics for Leaders
We've replaced the Mixed thoughts tab with our new Hot topics tab, so the experience is aligned for both participants and leaders. Beneath this tab, you'll find thoughts that were considered interesting or highly engaging to groups of participants but didn't necessarily make it to the top of the Top thoughts list.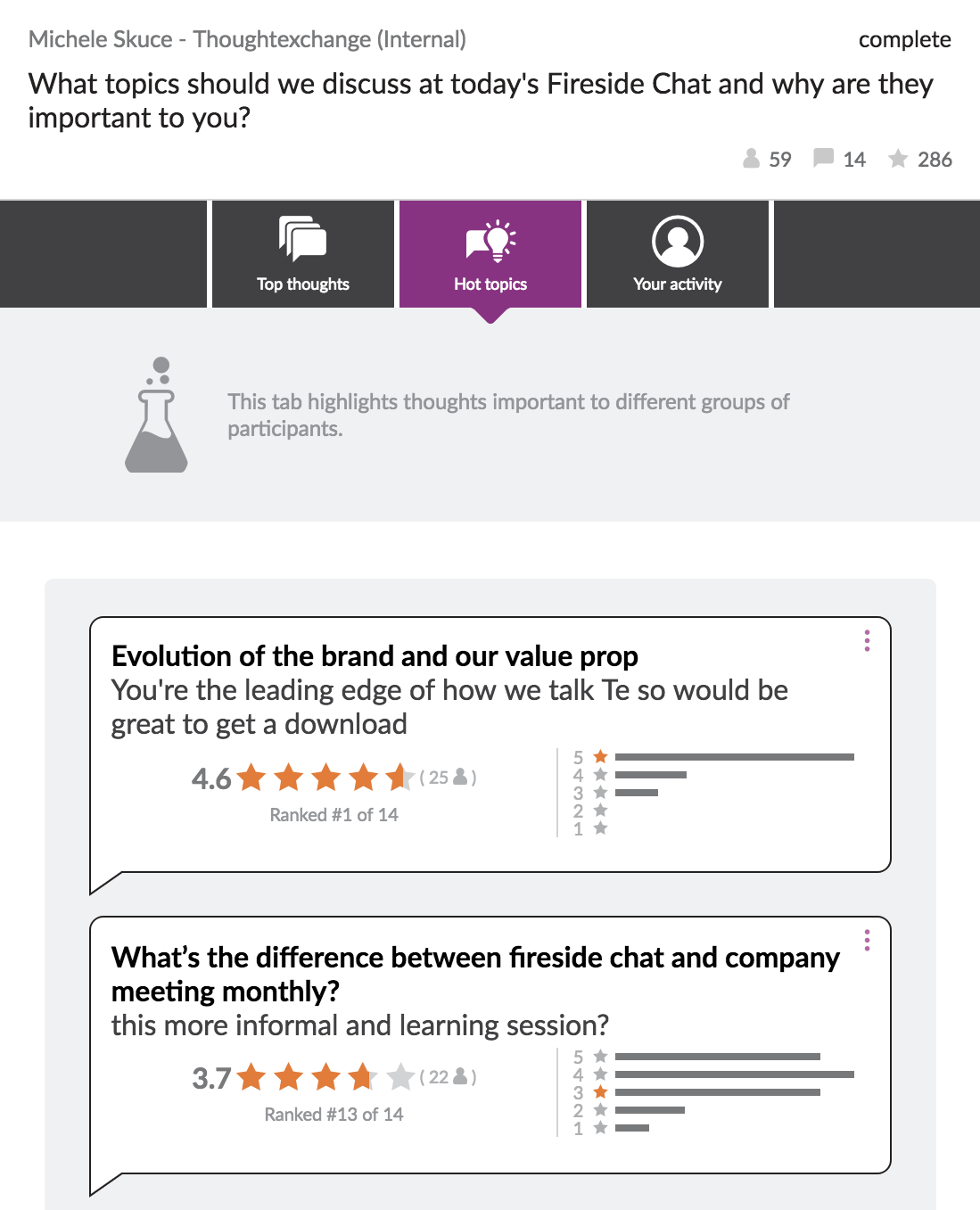 Copy thought text now available
You asked for it! You can now copy thought text from within the Discover step for use in presentations, social media posts, or any number of other things.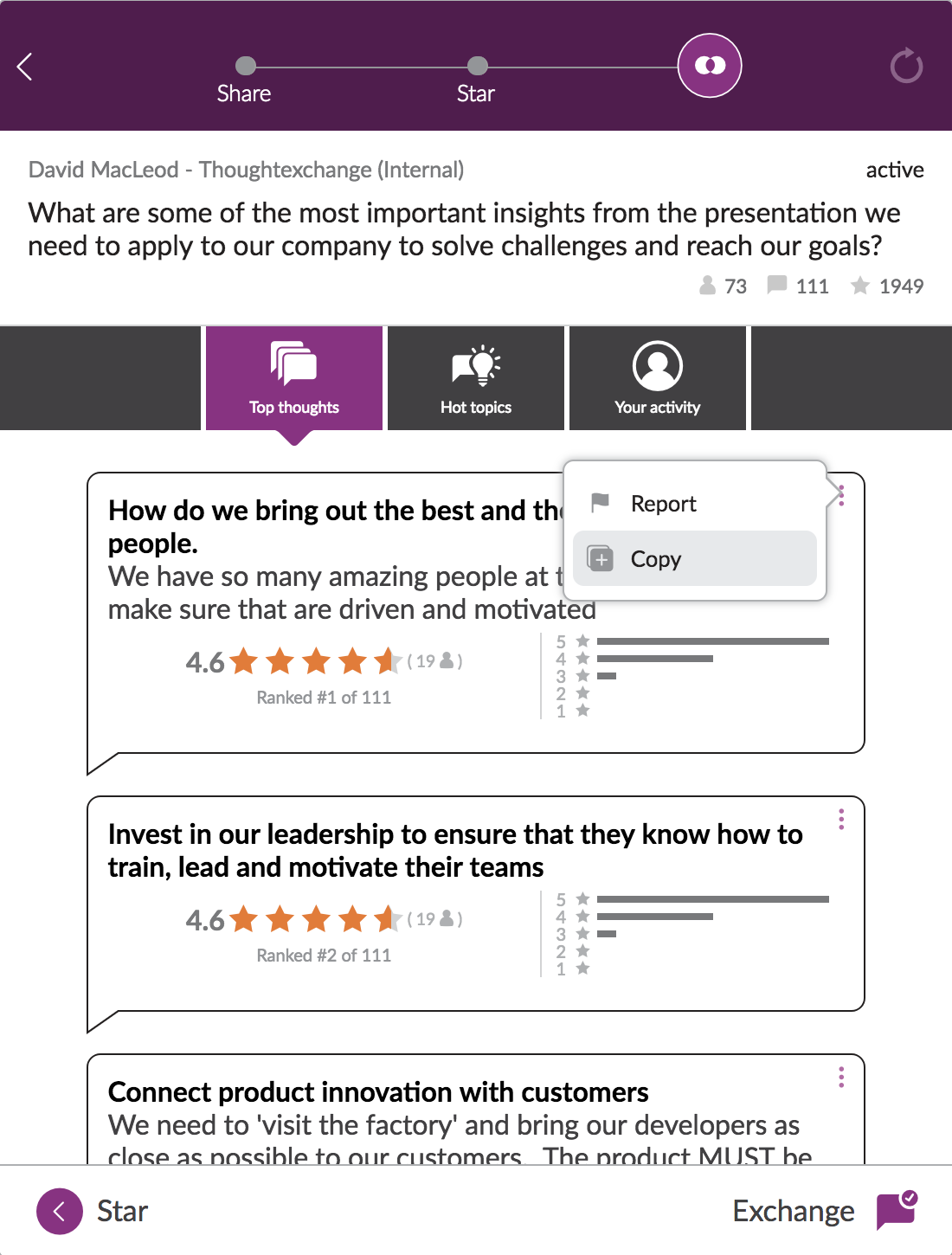 Accessibility improvements
We made some tweaks to accessibility, focusing on skipping, reporting, and translating thoughts.
Fixes
We found a few bugs and fixed them, but they're fairly uninteresting reading material and we'd rather not brag.