Big ticket items
Text-based participation with SMS is here! (Beta)
In the modern age of flashy apps and sites, this might seem like less of a headliner and more of a head-scratcher to some. So why is it here? Ease of use is not only of great value to our customers in its ability to bolster engagement within their exchanges; it's a fundamental part of our philosophy. Our goal is to lower (and, ideally, eliminate) as many barriers to entry as we possibly can. Everyone should have the means within which to have their thoughts known and voice heard. Needing access to a computer or smartphone are two such examples.
Some quick details:
SMS is currently

in beta

, and access to lead and participate via SMS is by request. While we've not only been testing but using our SMS integration internally (and are quite happy with it, we might add!), user experience may vary as we continue to iron out the minor details.

SMS is available for both Advanced and Standard exchanges.

SMS will add to, and not replace, our existing site and iPhone app. We love them too much.

SMS is currently available for

US participation only

, and we're putting the finishing touches on expanding SMS to include Canadian participants (sorry for the delay, eh?).

SMS is currently available for

English participation only

. As excited and eager as we are about it, we thought it best to get one language down pat before moving on to others.
The new Hot Topics tab
We've seen time and again in our new "Interest Analysis" tool that certain thoughts can bring people together or divide a group. Currently Interest Analysis is only available in TeLabs (ask to see it if you haven't yet!). While the full feature isn't available yet we thought that putting some initial insights into the hands of participants would make a great addition to our software.
A new Hot topics tab is now available in the Discover step, and displays up to 12 common and diverse thoughts as calculated by our patent pending interest analysis algorithm that analyzes starring patterns. Hot topics go beyond just the average star rating of top thoughts to show another view of important thoughts shared by the group.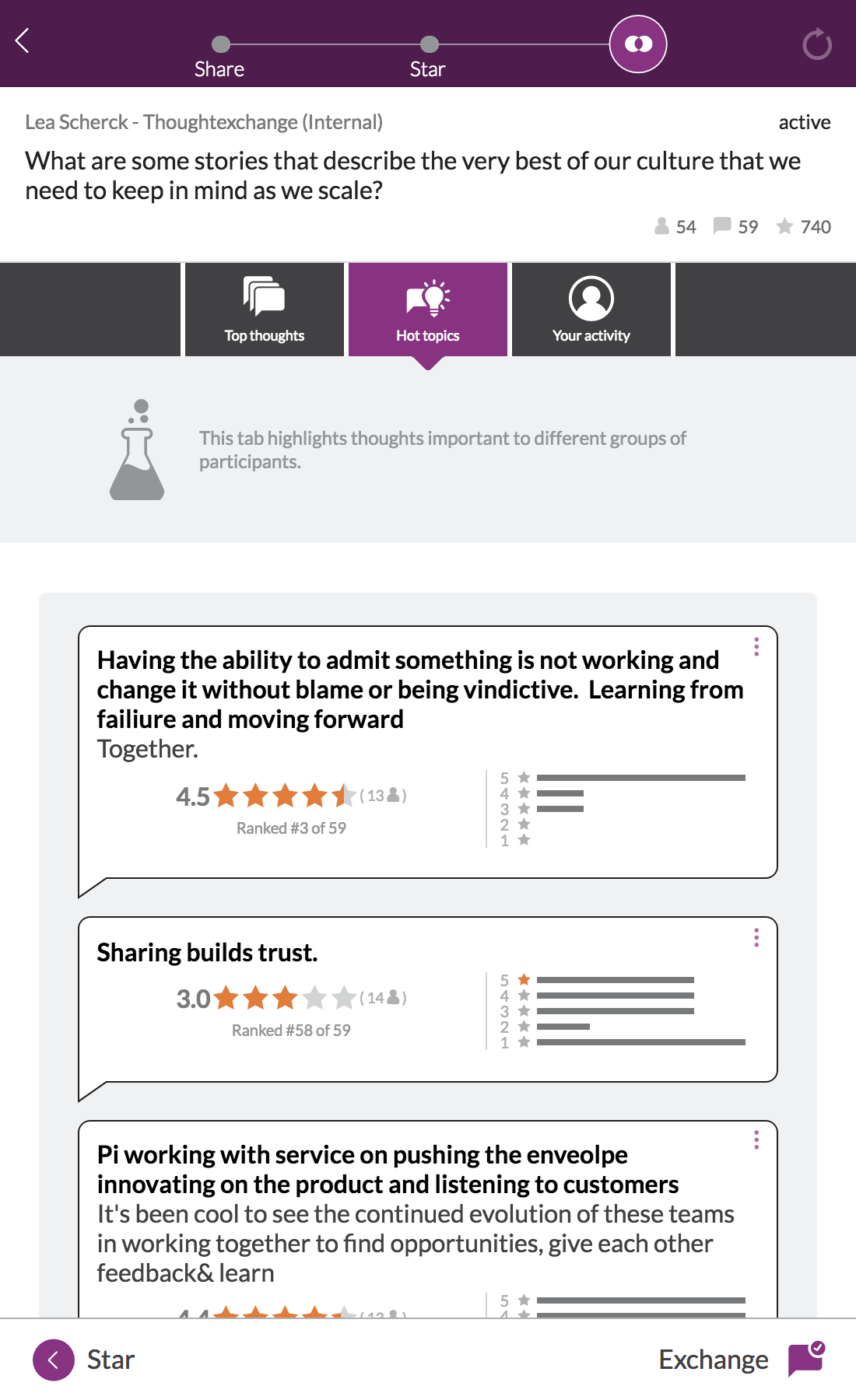 The new Hot topics tab in action. Participants can now see the thoughts that matter to diverse groups of participants.
Language options (EN/ES/FR) now available in the Settings menu
Our initial offering of multi-language support was a great first step, and this is the second. No longer will participants need to tinker with their browser settings to change the language they navigate the exchange in. They can now do so via the Settings menu.
Note: Background text, questions, and thoughts will only appear in the selected language if it has been set up that way when the exchange was created. Otherwise, all of these fields will default to English.
New project-level link and landing page (Advanced)
We've introduced a single landing page for leaders and participants who have been invited to a conversation spanning multiple exchanges. The feedback we received from participants was loud and clear: invitations to concurrent exchanges got a little confusing (and maybe even felt a little spammy). That's now been addressed with a single pre-launch site where participants can sign up with their email address, and a landing page where they can choose which exchange(s) to participate in once the exchange is live.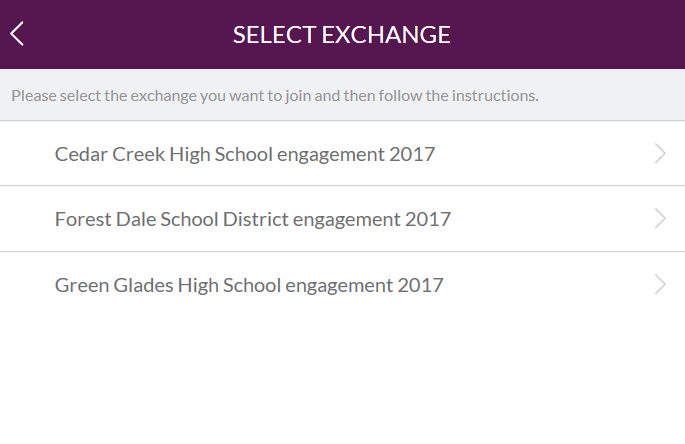 The new participant landing page.
New invitation options dialog
We've included a new screen presenting the invitation options for leaders. Clicking either of these handy buttons will copy the invitation instructions to the clipboard for use as you see fit, such as an email invitation or social media post.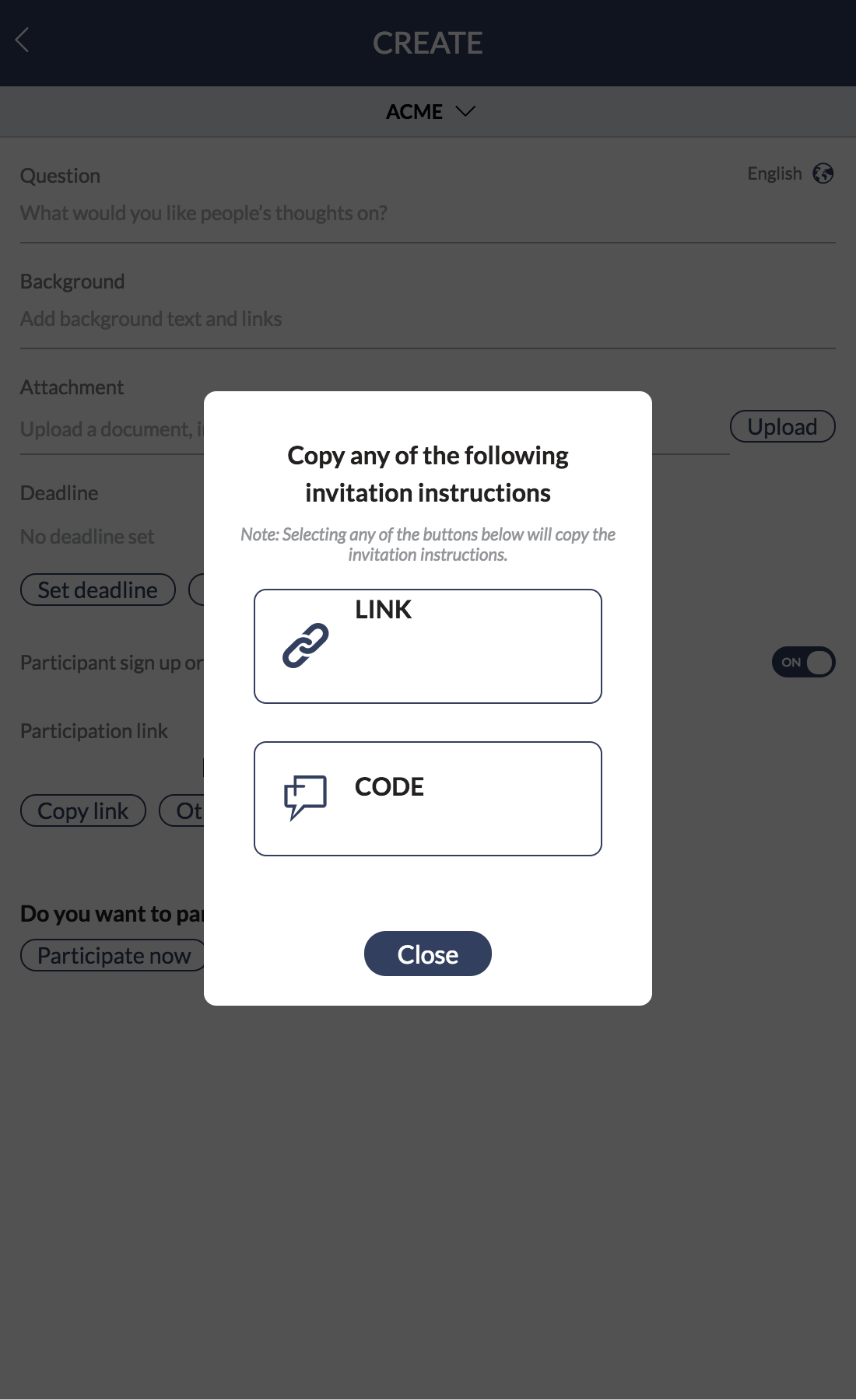 The new invitation instructions screen.
Housekeeping items
Spring is here, so we got the wax and polish out. We've made a couple of small tweaks and buffed out a couple of minor blemishes in the interface.

When signing up while participating in an exchange, we'd forget to migrate your current participation activity into your new account. We tied a string around our finger so we'll now remember (this will go for SMS participation, too!). You'll now be able to see your participation activity - on both mobile and desktop - in one convenient place.

Some ever-nebulous-but-also-accurate "performance enhancements and bug fixes".