You know that great feeling you get when you peel the protective plastic off the screen of a new phone or laptop? That's what everyone at ThoughtExchange is feeling right now. Our latest release (version 5.0) marks a significant milestone on our mission to build, manage, analyze, and participate in Exchanges better, easier, and more fun.
New in this release:
Full access to our new ThoughtExchange Leader Application, including:

Our new Room Dashboard
A new interface for building and managing Exchanges
The new and improved Exchange Studio
Exchange Planner

A brand new experience for participants
The New Experience for Exchange Leaders
All the features you know and love are right at your fingertips, along with some new ones we think you'll be a fan of, starting with…
Room Dashboard
The first thing you will see when you log into your ThoughtExchange Room will be our new Room Dashboard. The Dashboard gives you a complete overview of everything going on in your Room. You can view current Exchanges and look back on what's happened over the last few months or quarters. This makes it easy to coordinate and strategize with leaders in your Room about past successes and next steps. You can also make sure you have essential Exchanges scheduled for any important upcoming milestones.
At a glance, you can see:
Launched and Planned Exchanges for the period selected.
Statistics for all the Exchanges launched in the Room.
A list of recent Exchanges and the statistics for each of them.
A list of your Planned Exchanges.
Links to Exchange Studio resources to help plan your next Exchange.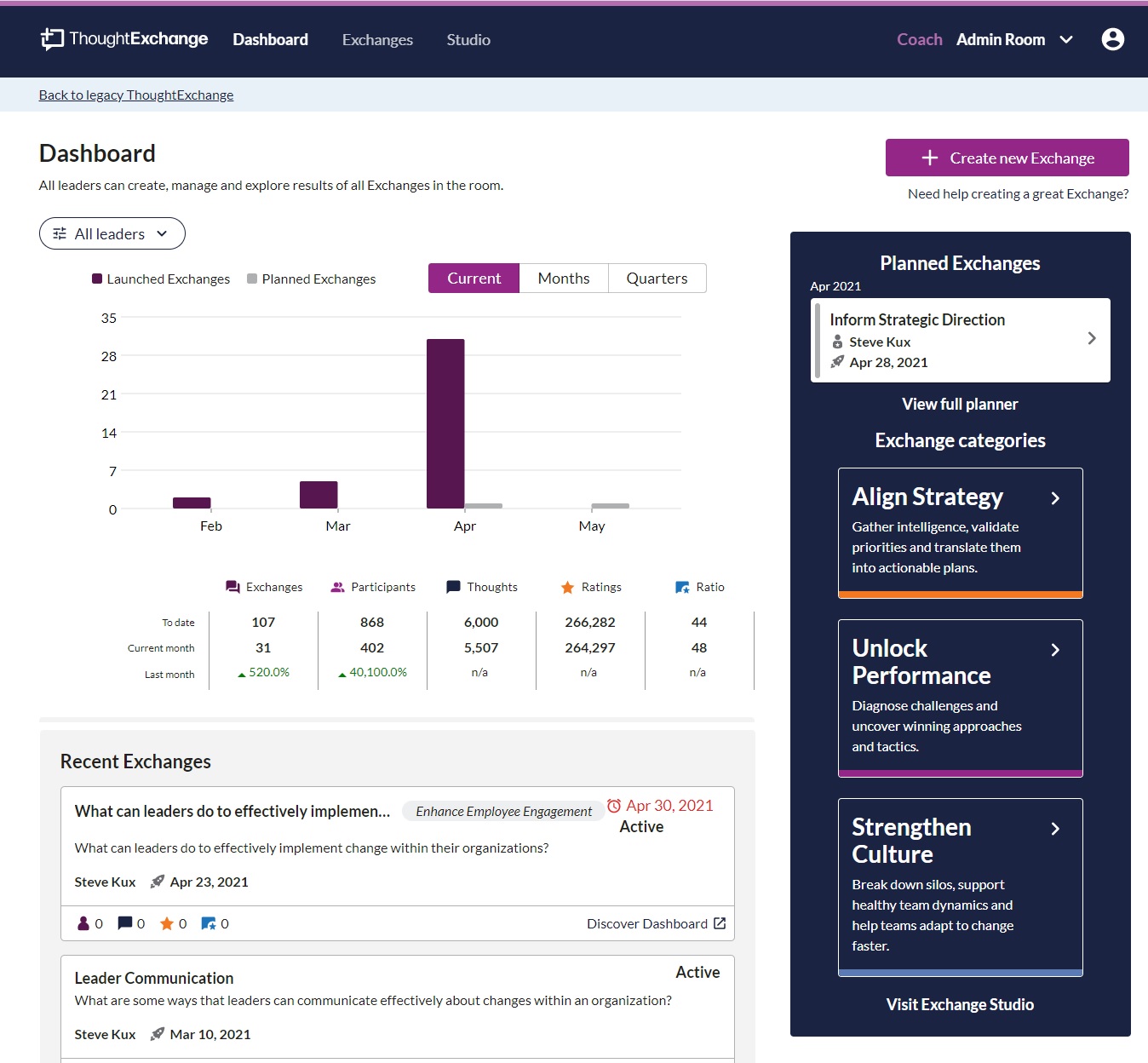 Exchanges
The Exchanges view gives you an overview of all the Exchanges in your Room in an easily sortable, searchable format. It allows you to quickly see participation statistics, helping you determine which Exchanges are humming along and which ones might need a reminder email sent out. Filter your view by the Exchange Leader (including yourself); sort by the date the Exchanges was created, launched, or completed; or search by keywords or objectives to quickly find what you need.
For a deep dive into creating and managing Exchanges in the new Leader App, check out our Help Site.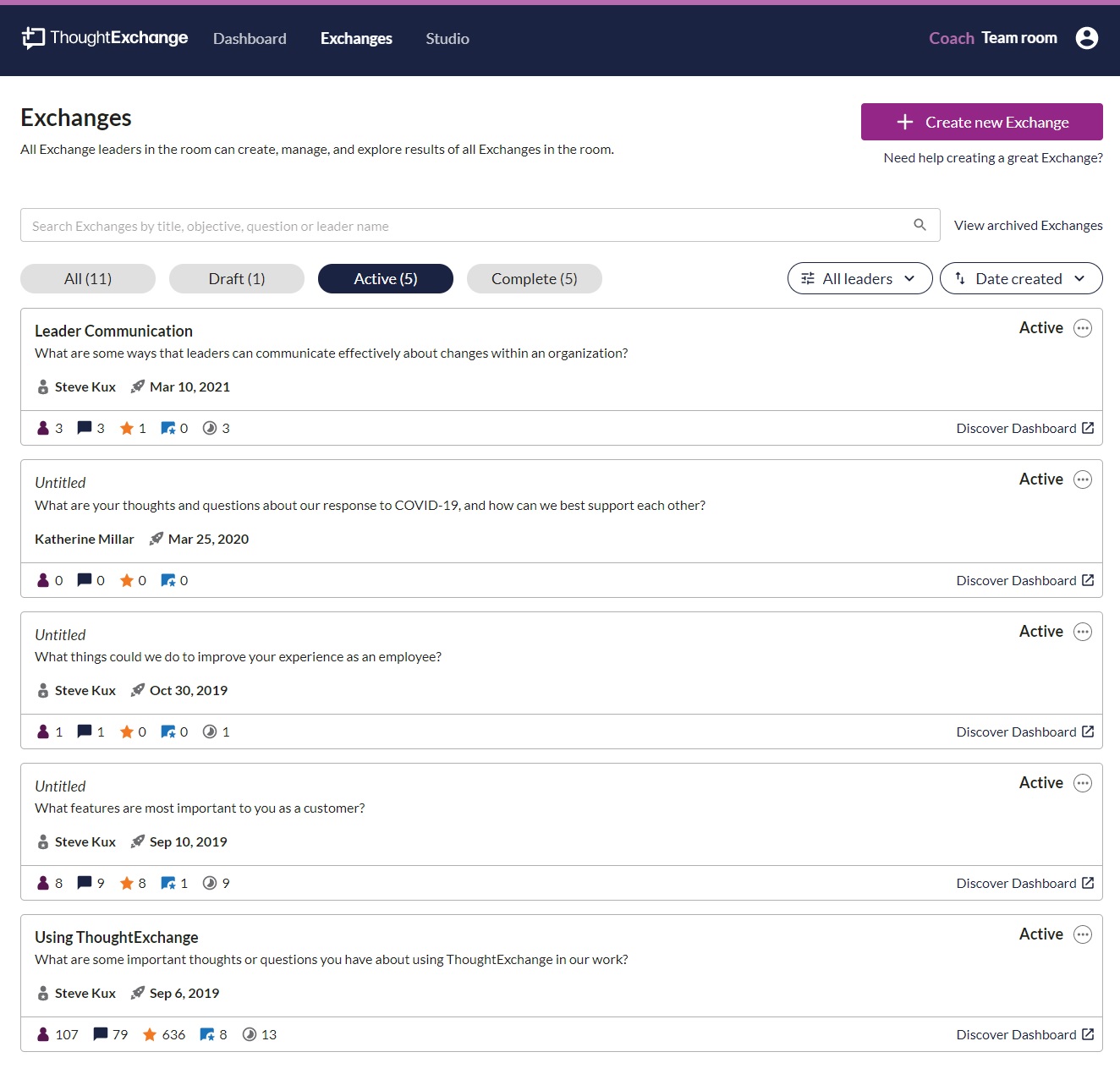 Studio
The Exchange Studio (formerly Exchange Gallery) will help you get inspired for your next Exchange. Find suggested questions and recommended cadences to help you navigate some of the biggest challenges and opportunities, personalized for your needs. You can also create or plan new Exchanges in just a few clicks, allowing you to put together an engagement roadmap in record time!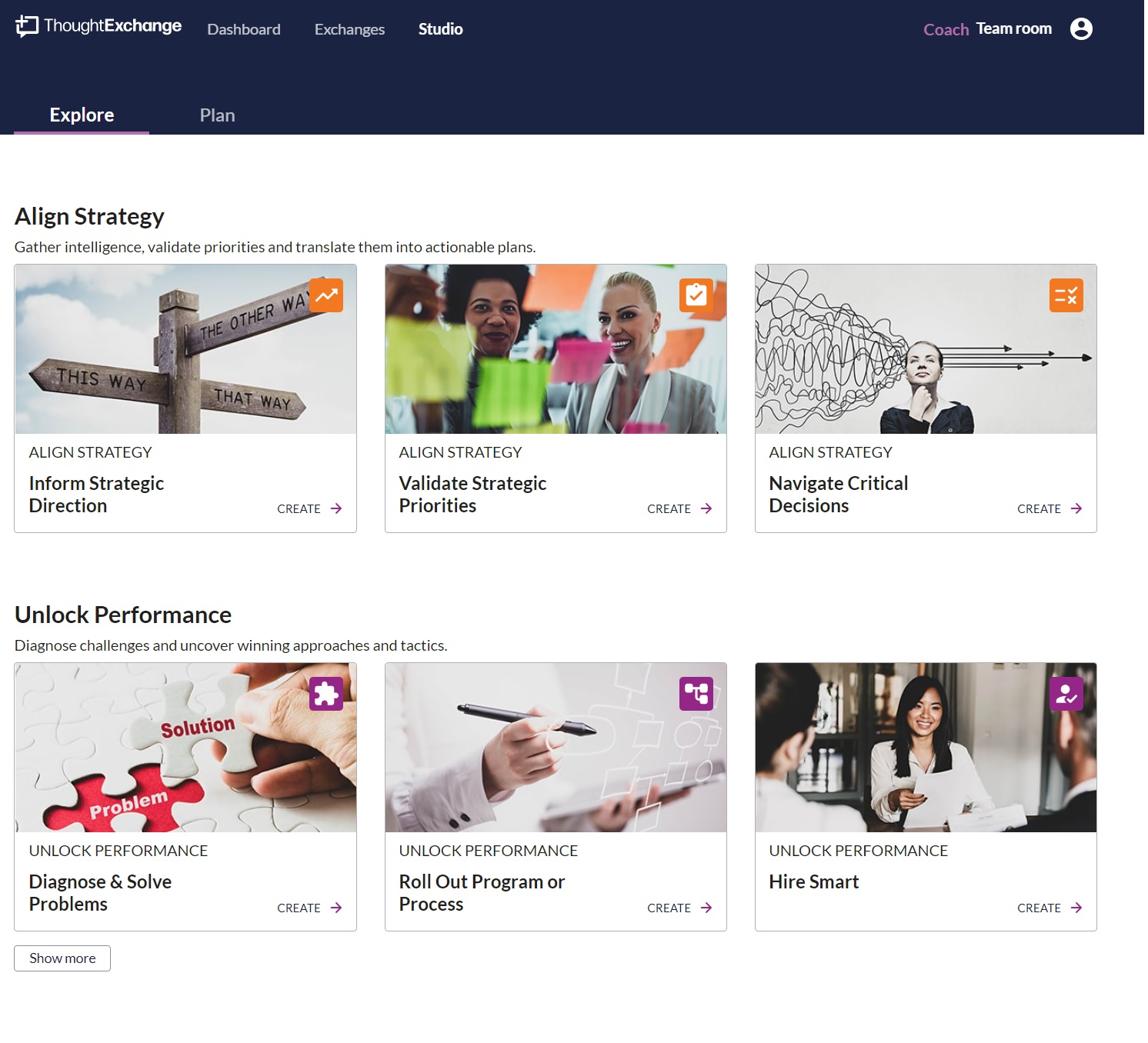 Planner
Last but not least, on the Leader side, our brand new Exchange Planner will help Room Administrators stay aligned, focused, and strategic about when to reach out to your community or team to hear about important topics. Plan and prepare Exchanges far in advance, assign objectives, choose leaders, and define outcomes to tackle strategic issues.
Note: Planner is available only to Room Administrators.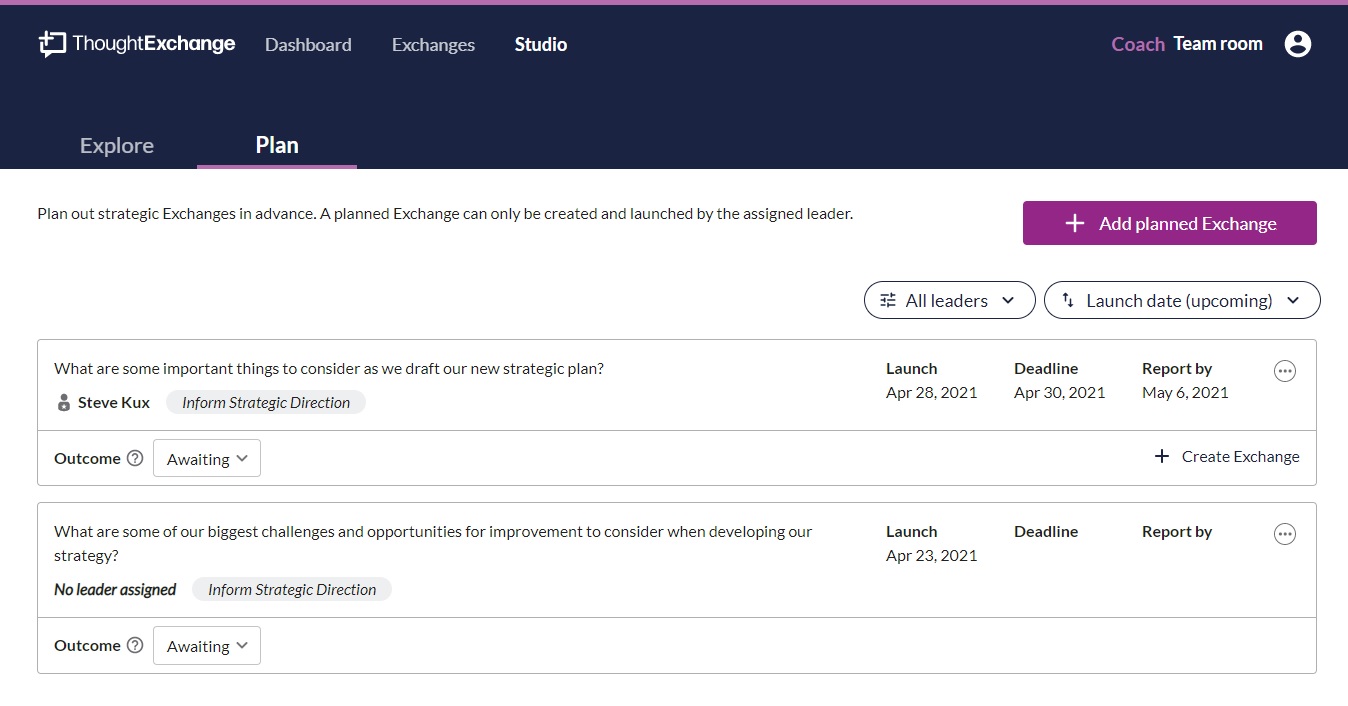 Improving the Experience for Participants
To keep your participants engaged and coming back to share and more rate thoughts, we've gathered user feedback from hundreds of Exchanges and used it to revamp our Scrolling User Experience. We think the results are pretty snazzy.
Highlights include:
Easy navigation between steps.
Easier exploration of Exchange results.
New Topics view to see the subjects that are generating highly rated thoughts.
My activity tab allows participants to see how they compare to others and how their thoughts are rated.

If you have any questions about this update (or any other ThoughtExchange features) feel free to drop us a line at help@thoughtexchange.com. We would love to hear from you!