The Theme tab is where you group thoughts together (targeted theming is one great approach) to develop your understanding of the exchange you just led. The topics covered in this article are,
Review the

progress you'd like to make

before you get started.

Click 'New' to create a new theme set and enter a name for it, then click Create.

Click on the 'Manage' button and enter your first theme name in the text box and click 'Add'. Once you are happy with your initial list of themes, click 'OK' to start theming.

To theme, select one thought (or several) and select a theme name. The thought is automatically assigned to that theme.

To change the theme, select the thought and click the "Unassign" button at the bottom of the theme list, then select the thought again and click the new theme to assign it.

You can add or delete theme names at any point.

A thought can be assigned to up to two themes, but you can create multiple theme sets.
If you are working with a large number of themes and would like to organize them under larger categories, Summary Themes can help.
Click the 'Manage' button and click the arrow next to 'Theme'. Select 'Summary theme'.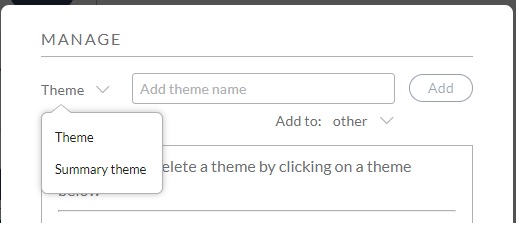 Click a theme you would like to add to your Summary Theme and click the 'Move' button to the right. Then select the Summary theme you want to add it to.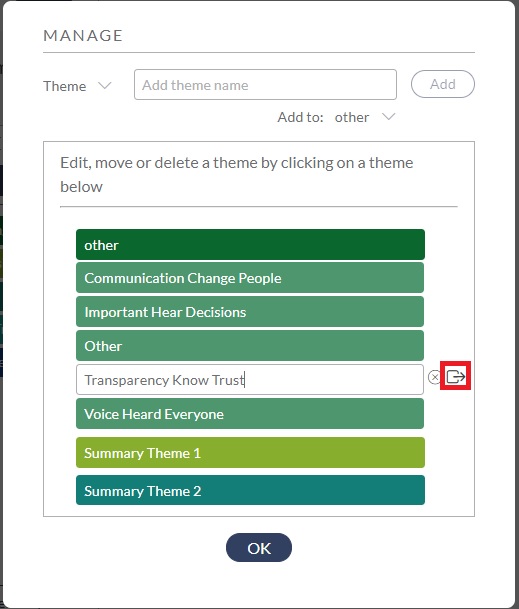 You can create up to 15 summary themes for high-level ideas and 15 sub-themes within each summary theme to focus on the details.

Use summary themes for high level,

Strategic planning buckets
SWOT categories
Positive and negative sentiment

Only delete empty summary themes. Deleting a summary theme will delete all sub-themes as well.
Once you theme as many thoughts as you need to develop your understanding, visualize your results using Tiles, Bars or Heatmaps.
If you're looking for some theming inspiration, our templates give you several predefined theme sets:
Click on 'New' and then fill in a theme set name at the top of the pop-up box.

Under the 'New' menu list, choose from a list of seven templates.

Select 'Create' and you are ready to start theming!
The Discover Dashboard offers a number of Theme Set templates (all of which can be changed and customized as much as you like), including:
Theme Set Name
Themes Automatically Included
Onboarding

Communication
Learning & development
Strategic focus
Team Culture

COVID-19 Response

Known - implemented
Known - non-urgent
Known - urgent
New idea - investigate
New idea - non-urgent
New idea - urgent

Discovery

Known, agree
Known, disagree
New, agree
New, disagree
New, needs investigation

Impact

High impact, low-hanging fruit
High impact, longer term
Low impact, low-hanging fruit
Low impact, longer term
Unknown impact - needs investigation

Action

Immediate
Medium term
Long term
Not going to action
Needs investigation

Agreement

Strongly agree
Somewhat agree
Strongly disagree
Somewhat disagree
Outside of scope
Don't understand

Importance

Must have
Somewhat important
Nice to have
Not important

Department

All
Executives
General & Administrative
Research & Development
Sales & Marketing
Service & Support

Custom

Theme #1
Theme #2
Theme #3
Theme #4
Theme #5
Theme #6
Theme #7
Theme #8
Theme #9
Theme #10
Theming Tips for Advanced Users
Use keywords in the search bar to pull up a list of related thoughts. You can then 'select all' and assign them to a theme en masse.

Use the 'Show:' filter at the top of the page to select 'Themed thoughts' and you can then view all thoughts in a single theme.
When you are working through your participant thoughts, remember, theming not only helps pull out participant priorities, but also underlying values and beliefs. Looking at your results from this values-based perspective can point you in the direction of new solutions and innovative ways to bring your community together. And you can use our theme commenting feature to help participants understand your thinking and why you grouped specific thoughts together.
Theming also helps you understand the language that resonates with your participants so you can close the loop even more effectively. Draw on participant language when you report back and they are sure to feel like their voices were heard.