The Share button (formerly "Manage") allows you to grant other people access to the results of your Exchange either as a viewer (they can only view the results) or a manager (they have all the powers the Exchange leader does). All you need is their email address!
Results Dashboard
The "Share" button (found throughout the Results Dashboard) is how leaders can grant access to other users to either manage or view the results of their Engagements. This essentially turns the entire dashboard into an interactive report that can be shared within teams.

Manage gives the same level of access as the leader. This includes:
Edit-level access in

Edit results

Moderate

access

Publishing and exporting reports
View gives read-only access to the dashboard and allows users to see:
Results Overview
Survey Analysis

Heatmaps

Differences

Reports
Users with view access can see themes created by exchange managers and are able to read and share summary reports in the Reports tab, but not create their own. Viewers are able to download data using the "Data download" feature in the Reports tab.
Note: Users who you grant access to will need to login to ThoughtExchange before they can view the dashboard. That is how we make sure your results are only shared with who you want to share them with!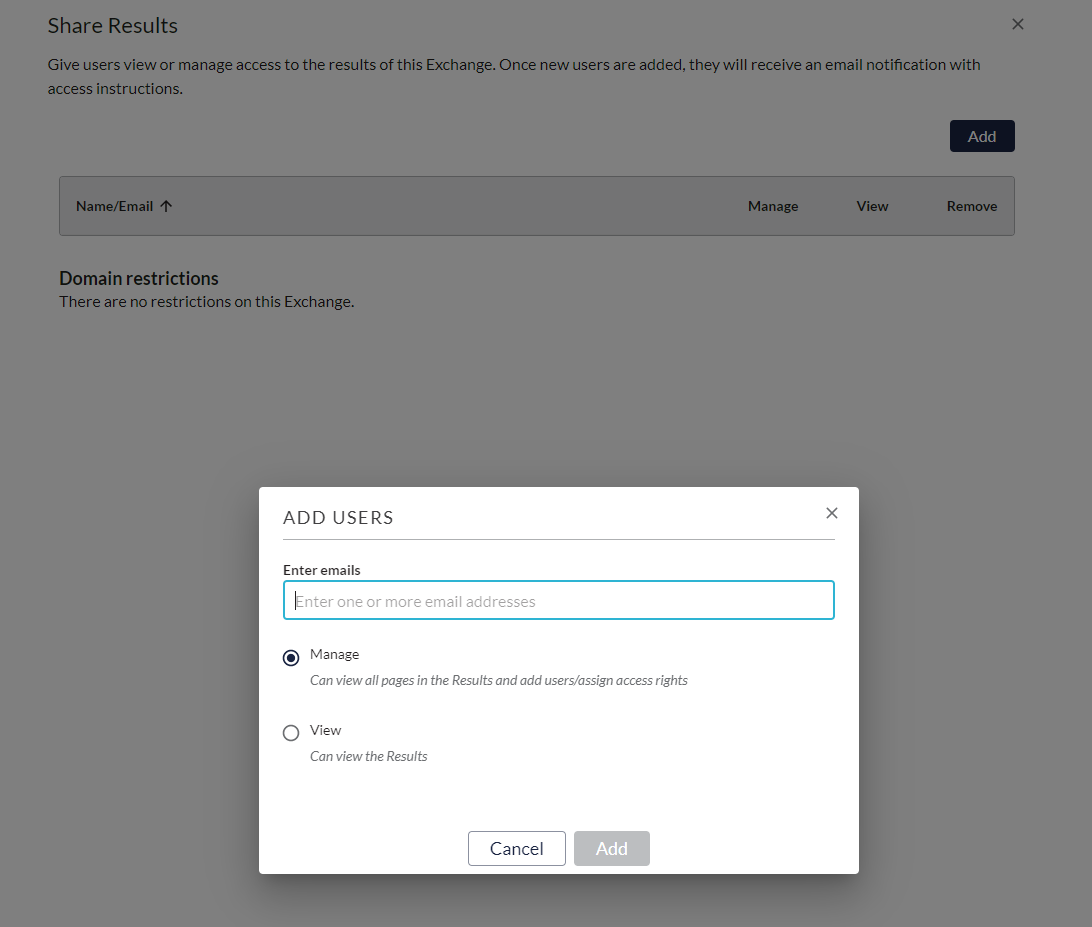 For example, Jane (who is VP of her department) could use Share to grant the manage permissions to her management staff for her recent Exchange. They could then go into the Results Dashboard to theme the exchanges relevant to their teams, export their own Thoughts reports and publish summary reports.
From there, each manager decides that they want to share the dashboard with their team members, but they don't want any changes made to the themes they've decided upon or the reports they have created. They can each use Manage to add their additional users to the Results Dashboard with view access. These new users will now be able to view the dashboard, but won't be able to change anything.