School districts have found value in crowdsourcing ideas through exchanges for years. As districts develop and foster a crowdsourcing mindset, we are seeing more administrators reaching out about using Thoughtexchange at their schools.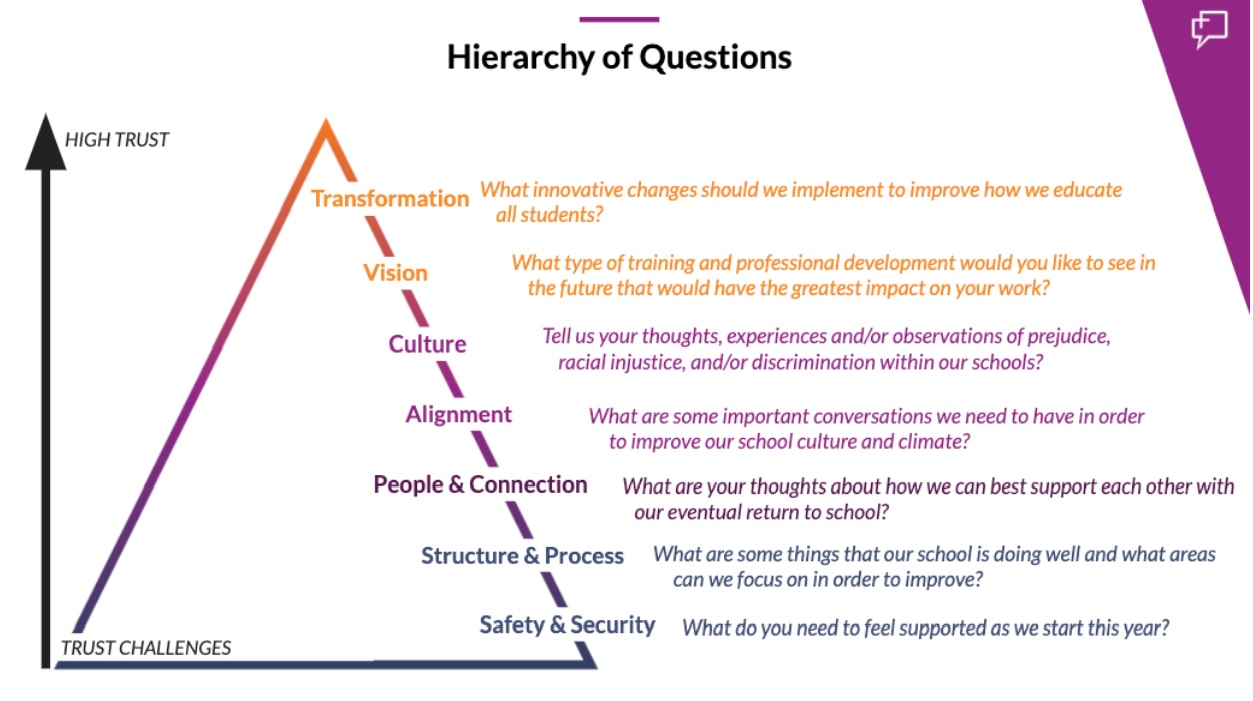 Exchanges can serve many purposes. Most notably, they help leaders make informed decisions and build social capital and trust. Basic needs create the foundation for Maslow's Hierarchy of Needs. By addressing those needs first a leader allows their participants to feel safe, which prompts a journey and transition to a more creative/problem-solving mindset. When you begin to launch exchanges, whether that is at the beginning of the year, just after Thanksgiving break, or at the start of the last grading period, consider a phased approach that meets your participants where they are at mentally and emotionally before moving on to idea-generating exchanges.
Exchanges allow leaders to hear what is important to the entire community, not just the loud voices that always speak up in staff meetings, not just the PTA, and not just the leadership class. It also allows your community to hear from one another and be exposed to different perspectives.
Sample Questions
The questions below can be used and tailored to your exchange participants (i.e. staff, parents, students).
Beginning of the Year
What excites you and what makes you nervous about this school year?

What motivates you to do the work you do and to be the best support for all students?

What are the most important ways we can help all students to be successful?

What additional resources, training and supports do you need to deliver exceptional instruction this school year?

What are your thoughts or questions that you would like our school leaders to address?

As we continue to manage the impact of COVID-19, what are the most important things we need to do to keep everyone connected and well supported?
*Check out this Back to School Roadmap for additional exchange questions.
During the Year
What are some things that our school is doing well and what areas can we focus on in order to improve?

What are some important conversations we need to have in order to improve our school culture and climate?

Tell us your thoughts, experiences and/or observations of prejudice, racial injustice, and/or discrimination within our schools?

What thoughts or questions do you have about the proposed X?

What do you think we are doing well and what can we do to improve the mental health and wellness of our staff and students?
End of the Year
What are some key takeaways or learnings from this school year?

What do you appreciate about our school and what suggestions do you have that would improve school for all students?

What type of training and professional development would you like to see in the future that would have the greatest impact on your work?

As we review the budget for next year, what programs or resources are priority spending areas?
Meetings
What are some things we should prioritize for our upcoming meeting?

What are some successes and challenges we would benefit from hearing right now? (If your thought rises to the top, be prepared to share the story.)

What thoughts or questions do you have based on what we covered in today's meeting?

What are some key takeaways from today's meeting/session?
*Running an exchange live during a meeting, check out Presenter Mode.
The Exchange Gallery is also filled with many exchange questions on topics like COVID-19, Returning to School, Culture, and Diversity and Inclusion.
Interested in seeing questions teachers could ask in their classrooms? Click here.
Exchange Settings
There are many features to consider as you create any exchange, and when creating a student exchange, there are a few features we recommend not skipping over. Click here for more information on exchange settings for student exchanges.
Discover - Working with your results
As you plan each exchange, you want to think about why you are asking this question and what you plan to do with the information. This not only makes for a stronger exchange, it makes the Discover process much easier. A few things to think about while creating an exchange are the use of survey questions and participation groups.
Below are some tips and tricks for how you can use some of the tools in the Discover Dashboard. Want to learn more about the dashboard? Click here!
Wordcloud
Use in reminders to participate in an exchange
Thoughts
Use and include filters to find out what was important to different subgroups (

departments, grade level, language, etc.)

Add leader comments (text and links) to respond to thoughts and questions

Create a Thought Report to share out results and leader comments
Differences
Share during meeting to show where the group was polarized and where the group agrees.

The polarizing ideas give you a broader understanding of what you may need to focus on to build support for your decision/goal/process whereas the common ground thoughts may be quick wins -- things you act on right away to address community concerns and build trust.
Themes
Use AI to uncover topics that emerged within the larger conversation and divide groups by theme to dig deeper

Use Action theme set template to help you organize next steps
Heat Maps
See what themes are important to your survey question groups (

departments, grade level, language, etc.

) to tailor next steps appropriately
TE Labs
Thinking of running the same exchange time after time, check out Learn from Me in Auto Themer to streamline the theming process