The new Alberta Assurance Framework moves leaders from being held accountable for outcomes to engaging stakeholders on their priorities throughout the decision-making process.
As a leader, how do you know what your community values?

How do you provide stakeholders with assurance that the division is moving in the right direction?
ThoughtExchange helps school divisions to make assurance-based decisions at scale. Open-ended ThoughtExchange questions provide collaborative, respectful, and inclusive engagement opportunities that give leaders data-based insight into group priorities.
By bringing diverse voices into decision-making processes, ThoughtExchange allows participants to share responsibility for student growth, achievement, and Alberta educational goals. ThoughtExchange supports school divisions in demonstrating fiscal responsibility by uncovering community priorities. Leaders can then make data-driven decisions with assurance and coherence at every level.
Timeline Overview: Development & Implementation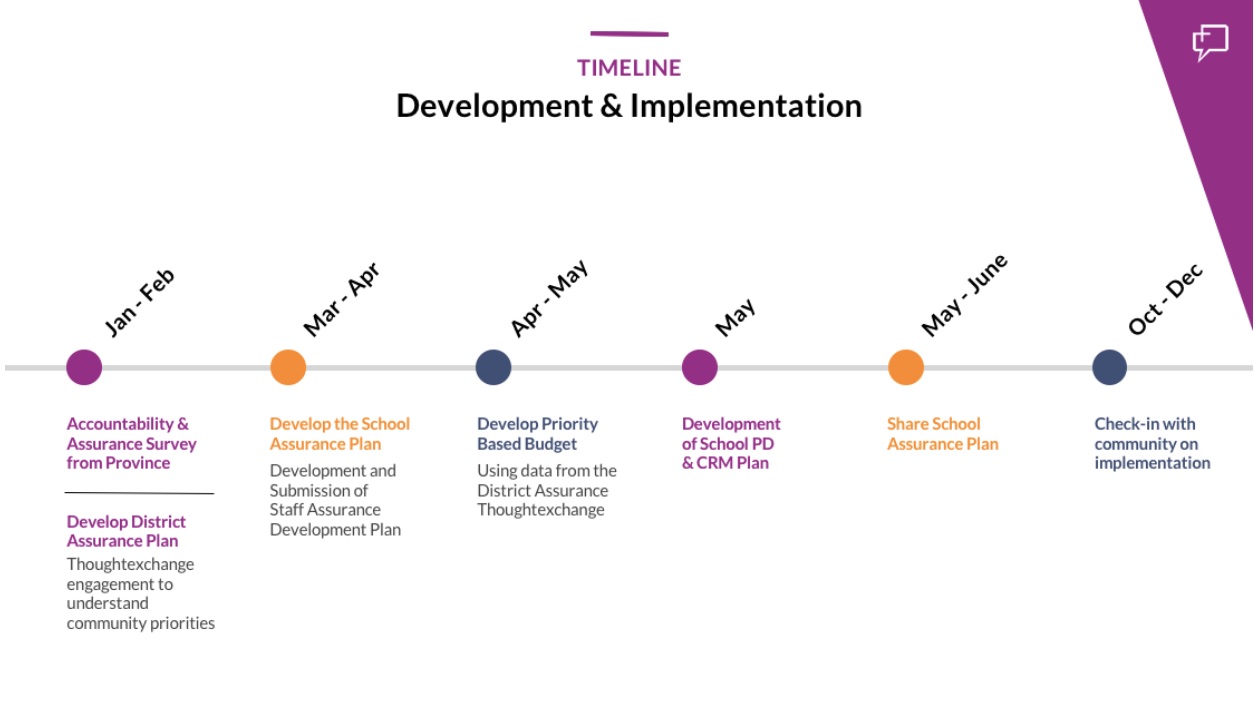 WINTER:
Accountability and Assurance Survey from Province (January-February)
Develop & Update Division Assurance Plan (February)
ThoughtExchange to understand community priorities
SPRING:
Develop the School Assurance Plan (March-April)
Development and Submission of Staff Assurance Development Plan
Develop Priority Based Budget (April-May)
Using data from the Division Assurance ThoughtExchange
SUMMER:
Development of School PD and CRM Plan (May)
Share School Assurance Plan (May- June)
Develop Staff Assurance Development Plan (May-June)
FALL:
Check-in with the community on implementation (October-December))
Division Assurance Planning
January/February
This engagement is key to understanding your community's priorities, and the results will help determine what goals to build into your division level assurance plan. You can run this exchange before or after the government assurance survey. It's also an opportunity to reflect on the progress you've made with your existing assurance plan goals or set out new goals based on the feedback you receive. The results from this exchange will also help divisions to make data-driven budget decisions with Assurance of educational partners.
ThoughtExchange recommended questions:
What are the most important things to focus on as we continue our work to support all students?

What are some important things our division should consider as we plan for the next school year?

What do we need to focus on to ensure the success of every student?
School Assurance Planning
March/April
Engaging at the school level supports administrators in building school-level plans that reflect their local context. This exchange can be used to surface priorities that are specific to each school community. It also aligns with the assurance principle of demonstrating innovative, responsive, and flexible decision making. These priorities can also be used to understand and direct funds to what the community needs.
ThoughtExchange recommended questions:
What is working well, and what opportunities are there for improvement in our school?

What do we need to focus on at our school to ensure the success of every student?
Priority-Based Budgeting Through Assurance
March/April
Using ThoughtExchange in the development of Priority Based Budgeting allows leaders to understand stakeholder priorities, make data-based resource allocations, and reflect back to the community what they heard. An introduction is a powerful way to frame the exchange by sharing information, setting expectations, and communicating any necessary division details. Exchanges are a meaningful step in Assurance that shows stakeholders you are listening, setting budget priorities based on their feedback, and responsibly allocating dollars to achieve division goals.
ThoughtExchange recommended questions:
What are the most important things we should consider as we develop our fiscal budget?

As we plan the upcoming budget, what are the most important priorities we should consider?
Professional Development Assurance Planning
May/June
Ongoing opportunities to build professional capacity and foster continual improvement can be identified by engaging your teachers, administrators, and staff. Beyond identifying professional learning priorities, this exchange highlights an additional opportunity to develop planning that appreciates the local needs/context within each school.
ThoughtExchange recommended questions:
As you reflect on our goals for next year, what do you need PD and support in to be successful?

What training and/or professional development activities do you think will benefit you in teaching and help you to be effective and efficient?

What does great professional development look like to you?
Assurance Check-In: Open and Learning Leadership
October/ December
As you implement your assurance plans at all levels and start seeing the outcomes, reflect on the progress you are making with your stakeholders. Fall exchanges with your various educational partners helps to show the division is responsively actioning their identified priorities. Checking in with your community supports innovative pivoting throughout the year.
ThoughtExchange recommended questions:
Reflecting on [division/school priority], what are we doing well and how can we continue to improve?

What are some things you appreciate about our schools and what are some things we can focus on to make our schools the best places for students to learn?

What are the most important ways we can help you be successful at [your school]?
Additional Opportunities to Engage
While the above options are focused on essential steps in assurance planning, there are many more opportunities throughout the year to engage around a variety of topics. Using ThoughtExchange helps leaders to make sound and consistent decisions by supporting respectful and collaborative engagement of all education partners. The topics included below highlight additional opportunities to connect with your communities to support ongoing communication and transparent decision-making.
For example:
And more!
*The above links are exclusive to ThoughtExchange partners