As an Admin there are a wide range of abilities and tools at your disposal to help everyone in your organization get the most out of ThoughtExchange. This article will be your guide to wielding your newfound power!
Accessing Your Room(s)
When you login to the software at my.thoughtexchange.com you can access your rooms by clicking the dropdown menu in the top right-hand corner of the Dashboard.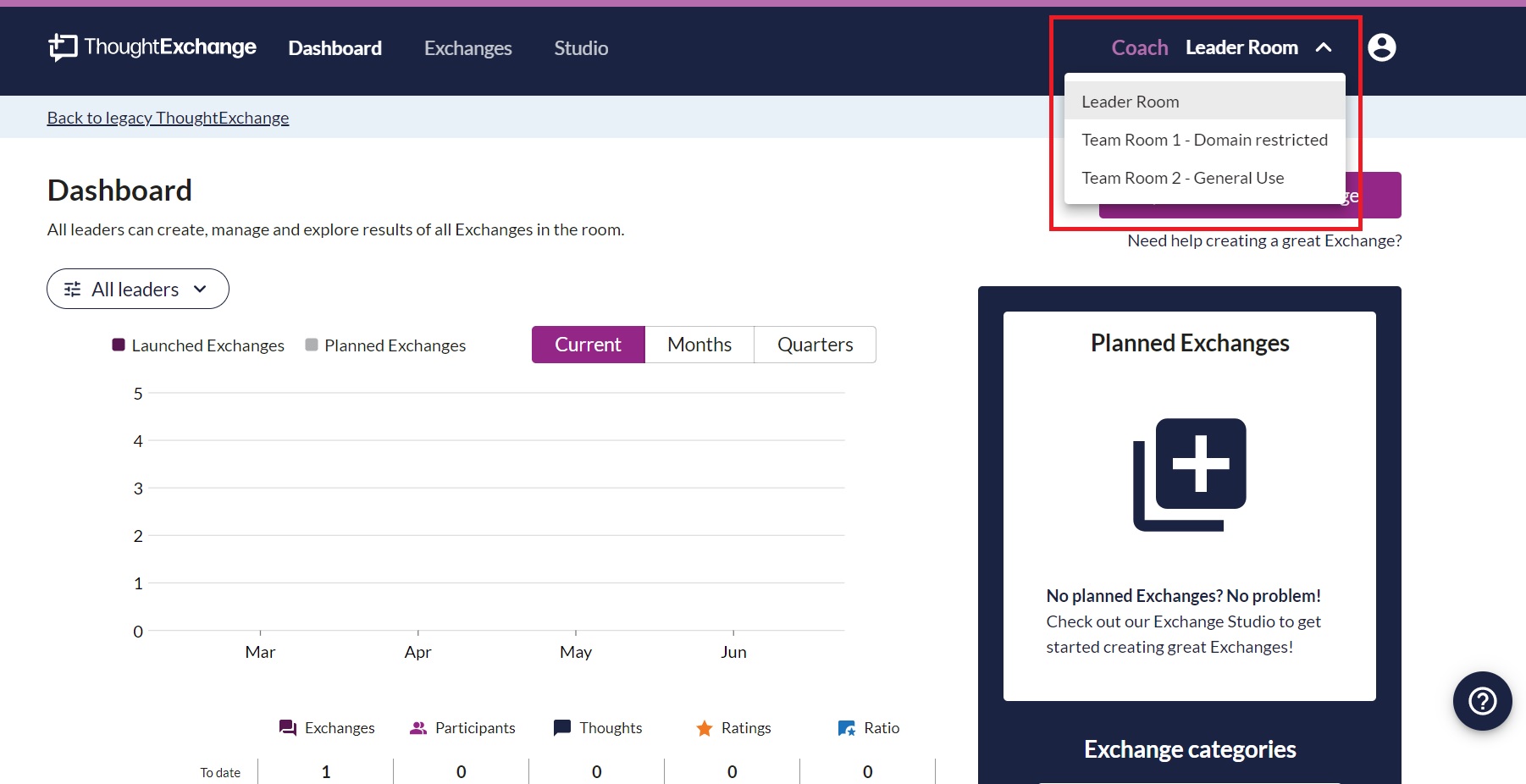 Note: If your organization has opted to organize its rooms into different Workspaces, you will see an additional layer in the rooms dropdown menu allowing you to select a Workspace, after which you can select a room.
If you are linked to more than one customer account, you may need to select the organization whose Rooms you want to access. To switch between accounts, click the profile icon in the top right-hand corner and choose the account you want to work in.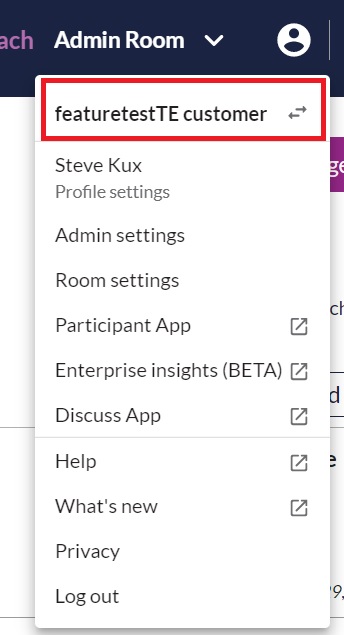 Navigating the Tabs
There are two tabs at the top of the screen: Dashboard, and Exchanges.
Dashboard gives you an overview of the activity in the Room including the active Exchanges in the Room, upcoming planned Exchanges, overall statistics, and statistics for individual Exchanges.
Exchanges gives you access to all Exchanges regardless of their status (Draft, Active, Complete, or Archived). If you are on the Leader list for the room you can create, manage, and take control of Exchanges here. You can edit Exchanges, review Exchange statistics, access tools to manage Exchanges and view the Discover Dashboard for an Exchange.
For exchanges your Leaders have created you will be able to:
Edit, manage, present, close or Archive an exchange (if you are also a leader in the Room).

Participate in an Exchange.

Delete - entirely delete the exchange (this is only possible for exchanges with no participation)

Change the Leader to someone else working in the Room.

Move the exchange to a different Room (if one is available).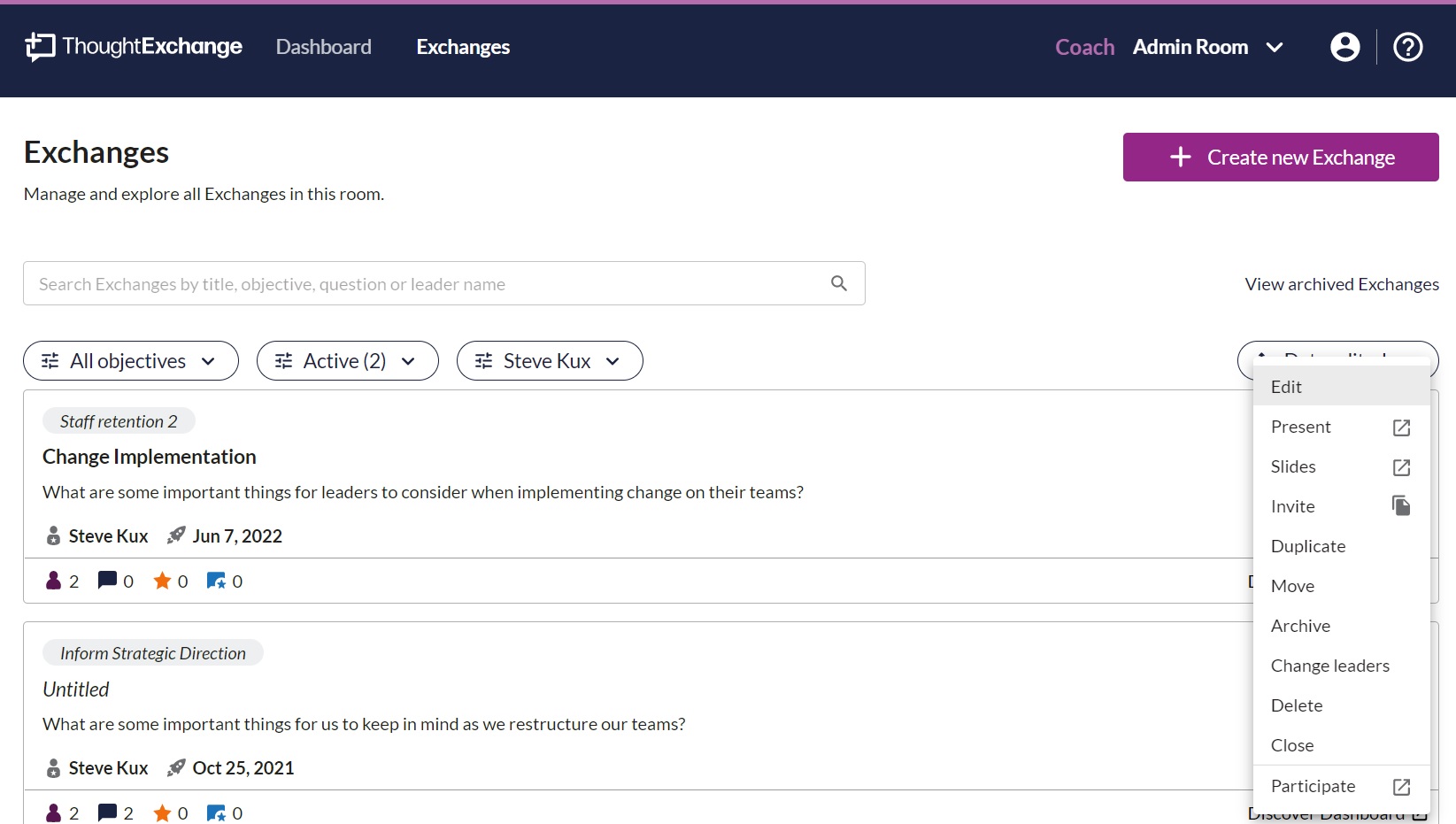 Managing Your Admin Settings
The Admin Settings menu (which you can find by clicking the profile icon in the top right-hand corner) is where administrators can review the leader list for an account, add or remove leaders, or make changes to a leaders permissions.
To add new leaders, simply click the Invite button and enter their email address(es). To remove leaders, click the trashcan icon on the right right of the page associated with their name. To edit a leaders permissions, click the pencil icon.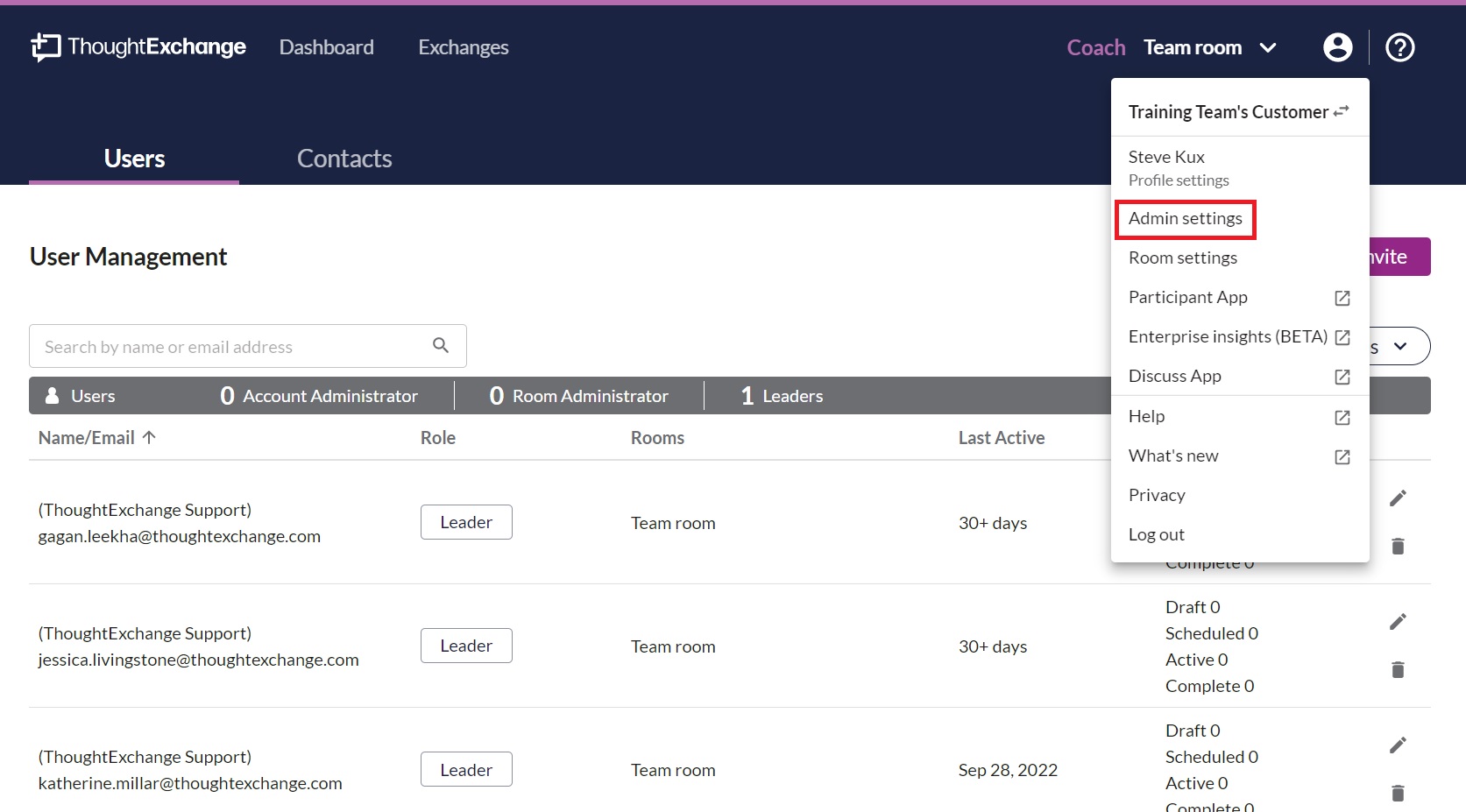 Managing Your Room Settings
The Room Settings menu (which you can find by clicking the profile icon in the top right-hand corner) is where you can conduct some of your most important work as Room Admin. This menu will have twoor three tabs depending on your account settings:
General - for changing the Room name, requiring participants to login/sign up for all Exchanges created in the Room, or limiting participation to people with specific email domains. If your organization requires a custom privacy/compliance message for participants to review before entering Exchanges you can also edit that here.
Email log - If your account makes use of the Contact Upload feature this is where you can keep track of the status of your Exchange invitations.
Templates - Access, edit and create templates for survey questions, participant groups, objectives, and theme sets.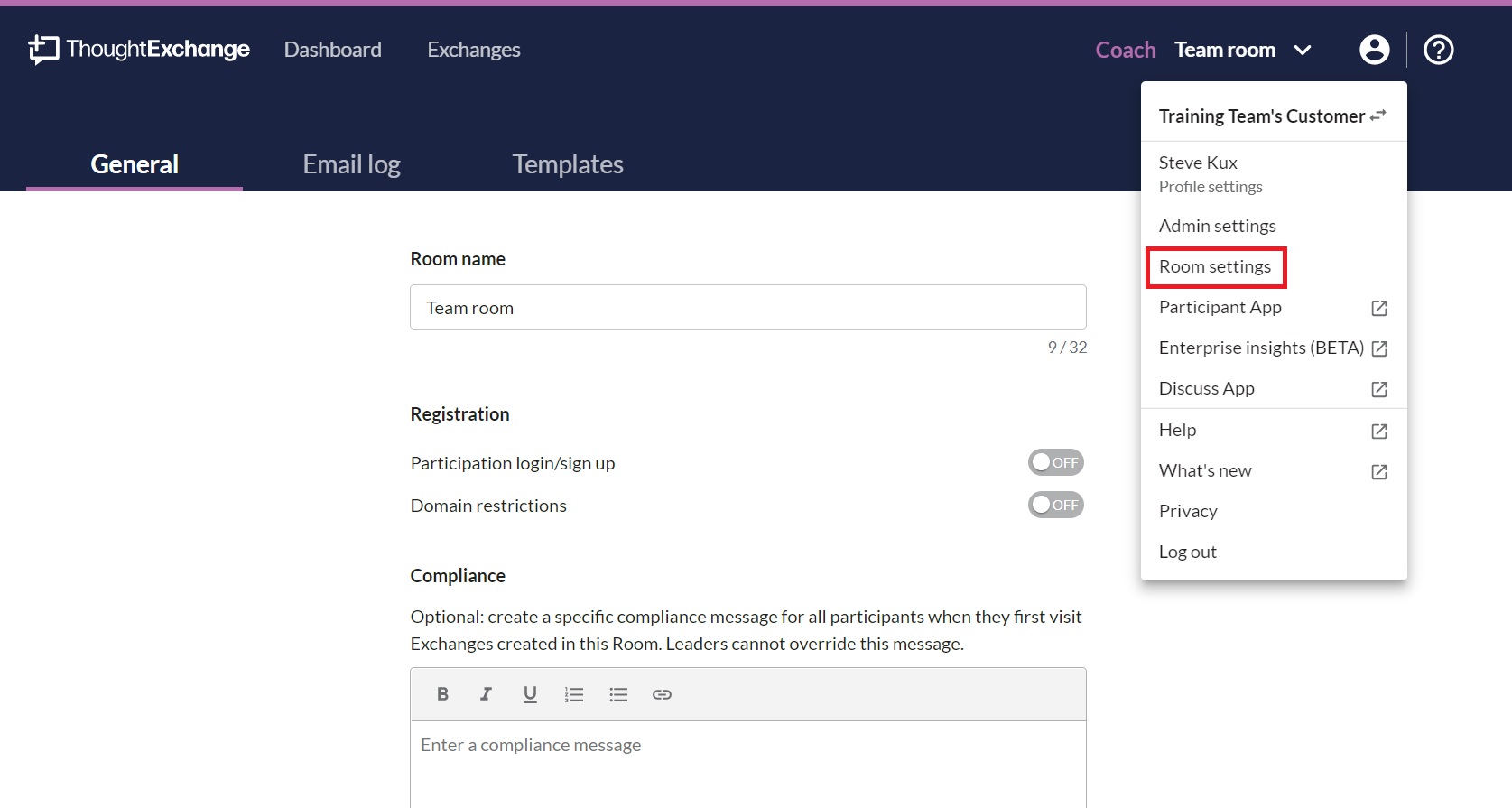 Have questions? We're happy to help you make the most of your Rooms. If you are unsure about anything as a Room Admin, don't hesitate to reach out with questions or to get a walkthrough of these features from one of our amazing staff!