This article covers the Moderate feature in the Discover Dashboard.
For more on things to consider when moderating,

click here

.

For more on different methods for moderation,

click here

.
Moderate helps you keep an eye on the thoughts in your exchange and ensure inappropriate or identifying thoughts stay hidden. That way, your participants can focus on the things that matter most.
Keep in mind that when it comes to moderation, less is more. You don't want to censor your participants. We recommend only removing thoughts that contain bad language or identify individuals.
Note: If you would like to give other members of your team permission to access and moderate your exchange, you will need to add them to the list of Managers for the exchange. Click here to learn more.
Knowing When You Have Thoughts to Moderate
While your Exchange is live you can keep tabs on incoming thoughts and moderate those that need your attention in the Discover Dashboard. Simply click into Discover Dashboard and go to the Moderate tab.
Finding Thoughts and Changing Views
The Moderate tab has everything you need to find every reported thought and decide what happens to it. By default, you'll see your "For review" thoughts, but you can use the 'Thought status' filter at the top of the screen to quickly call up lists of all the thoughts you've approved or removed from the Exchange already. Sometimes it's handy to compare a thought you are deciding on with the ones you've accepted or rejected already.

If you have a longer list of thoughts to moderate, it might also be helpful to change how the thoughts are sorted. The Sort by filter lets you arrange the thoughts according to a number of helpful attributes, including: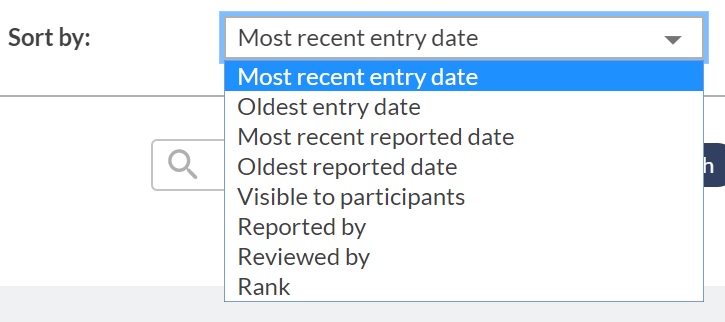 You can even use the search bar to find thoughts containing specific keywords. This is especially helpful if you're looking for a thought you previously approved, but have now changed your mind about. With the search bar, there is no need to hunt through every thought in the Exchange, because who has time for that?
Moderating Thoughts
When you've found the thoughts that need moderation, making your decision is as easy as clicking the 'Remove' button for thoughts you want removed from the Exchange and the 'Approve' button for ones that are A-OK. You can also choose to mark a thought for review if you think it needs more consideration.

Each view also provides you with helpful information about the status and history of the thought. You can quickly see:
The current status

Whether or not the thought is visible to your participants

Who reviewed it (if applicable)

The date it was entered into the Exchange

The date it was reported

Who reported it (a participant, our Machine Moderation tool, a member of your Moderation team, etc.)

The reason why it was reported

Additional comments (if available)
Moderate is an important tool to know and explore, so you can make quick decisions about your Exchange. It provides an easy way to sort thoughts and a record of what has made it into the exchange and what hasn't.
If you have any questions about this or any other feature, drop us a line at help@thoughtexchange.com. We'd love to hear from you!