Wordcloud is a handy tool for generating a quick visual representation of some of the biggest topics in your exchange. Whether you're summarizing your results at a stakeholder meeting after your exchange has closed or enticing community members to get in there and share some thoughts before the deadline, Wordcloud offers a quick, customizable solution.
Exploring Wordcloud
You can create a Wordcloud by simply navigating to the Wordcloud tab in your Discover Dashboard. (You'll need to be the leader of the exchange or have been granted access by the exchange leader to access the Discover Dashboard.)
The default Wordcloud shows words as large or small, depending on the average star rating given to the thoughts that contain those words. You can change this setting so that the size of words depends on how many times they were mentioned in the exchange. To toggle between these settings, all you have to do is click the number of thoughts icon or the average star score icon in the upper right-hand corner of the Wordcloud.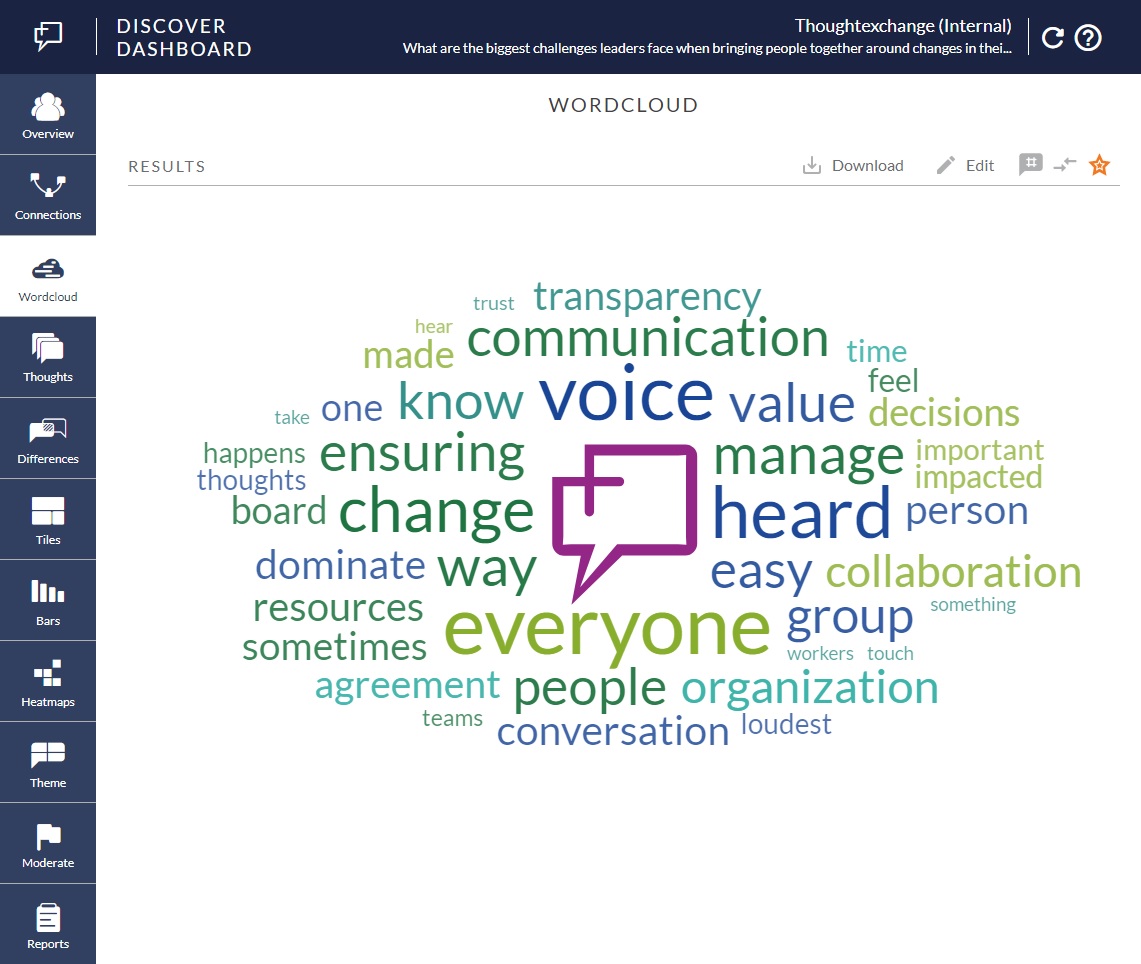 By clicking on a word, you can see a list of all the thoughts in the exchange that mention it. You can even generate a report of these thoughts by clicking the Print option.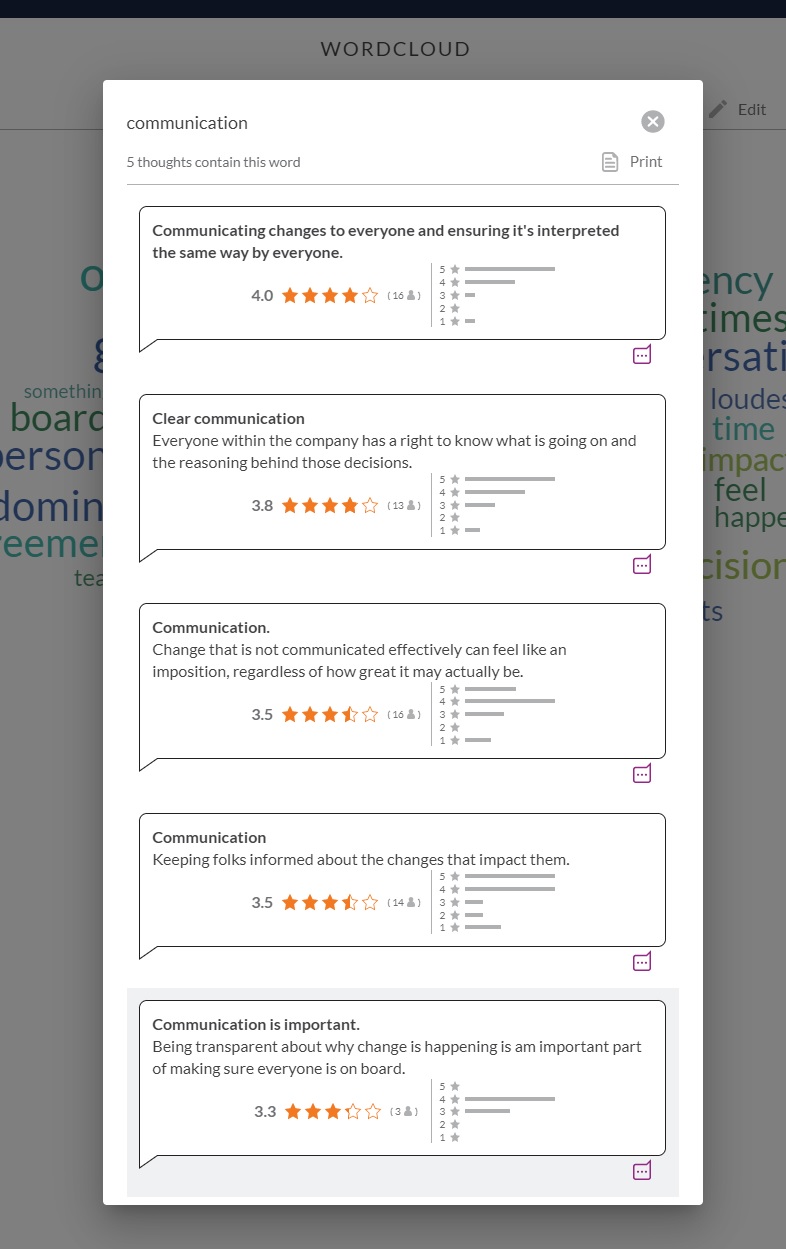 Customizing Your Wordcloud
To make changes to your Wordcloud, click the Edit button. (We like to keep things simple.)
Once in the Edit view, you can remove words from the Wordcloud by clicking them. Words you've deleted are shown below in the Hidden words list. You won't want to remove any essential words, but this feature lets you make sure that common words such as "the" are not the focal point of your Wordcloud.
By default, the words in your Wordcloud are colored based on close relationships. You can switch that setting off by unclicking the checkbox labeled Related words are the same color and all your words will appear in purple (purple is our favorite color).
Finally, you can remove the Thoughtexchange logo from your Wordcloud (we promise it won't hurt our feelings) by unclicking the Thoughtexchange logo checkbox.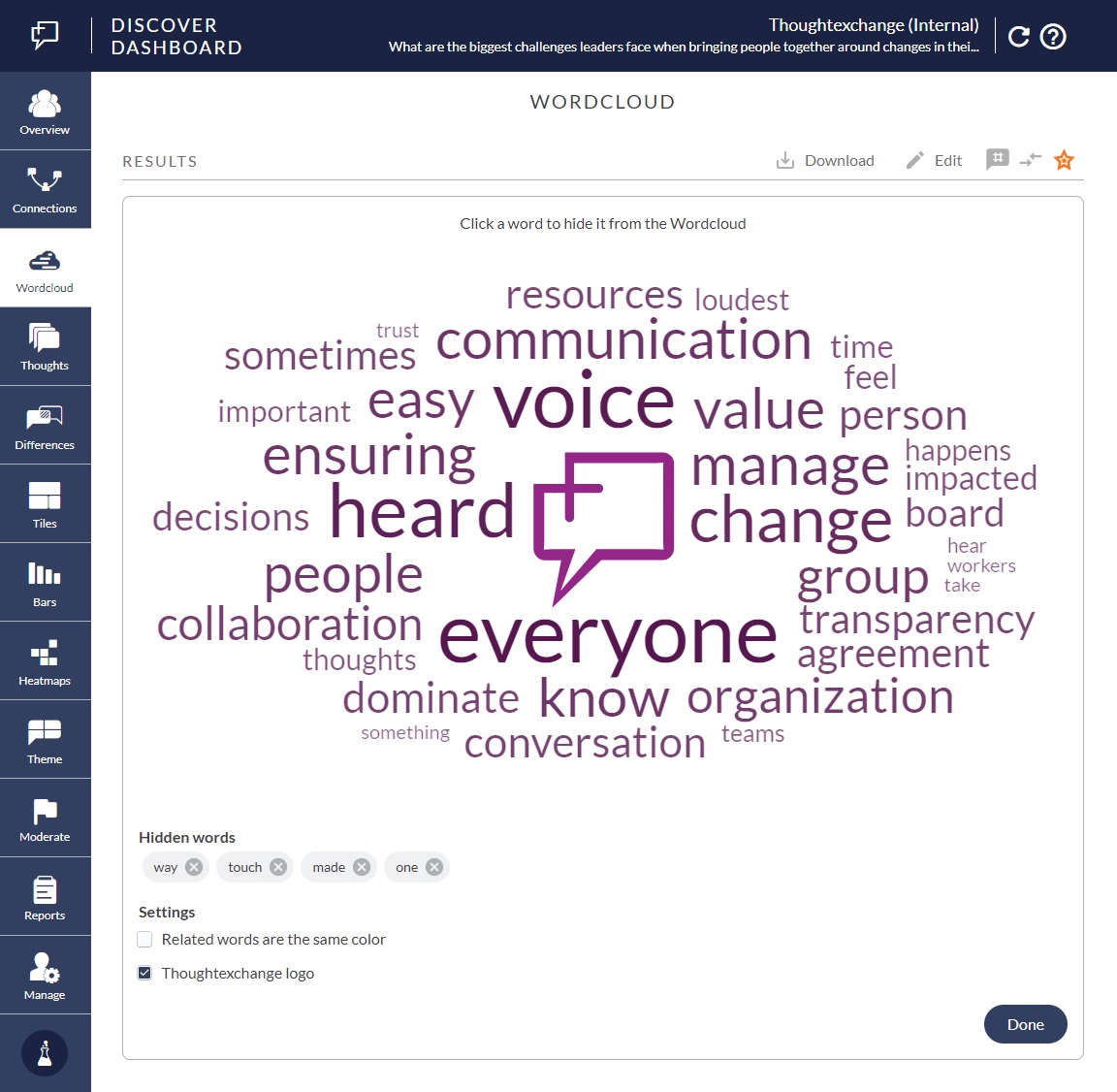 Sharing Your Wordcloud
Once you've got your Wordcloud just the way you want it you can download the image by clicking the Download button. (Again, we like simple.)
A Wordcloud can be a great way to quickly summarize some of the most significant topics in your exchange, but it's also a great way to generate interest in the exchange while it's still live. Include a Wordcloud in a reminder email to your participants, and let them know what ideas are trending in the conversation so far.
If you have any questions about this or any other feature, drop us a line at help@thoughtexchange.com. We'd love to hear from you!