Summer is finally here and while you might overheat mowing your lawn, you won't break a sweat when planning your next exchange. Our new features are sweeter than lemonade and include:
Many of these features were demonstrated at our live release virtual event on July 10, 2019. We've included videos from that event below for more visual learners. If you would like to join us for our next release event, watch out for an email invitation or reach out to one of our Thoughtexchange coaches. 
Question Library
We've all been there. You need feedback from other people, but don't exactly know how to phrase your question. Wordsmithing used to take a while, but not anymore with the Question Template Selector. Now, when you click on the Question/Introduction section of your exchange, you can choose the 'Question Library' tab at the top of the page to get a list of Thoughtexchange-certified awesome questions sorted by common topics. These questions have been used by exchange leaders and also vetted by the Thoughtexchange team.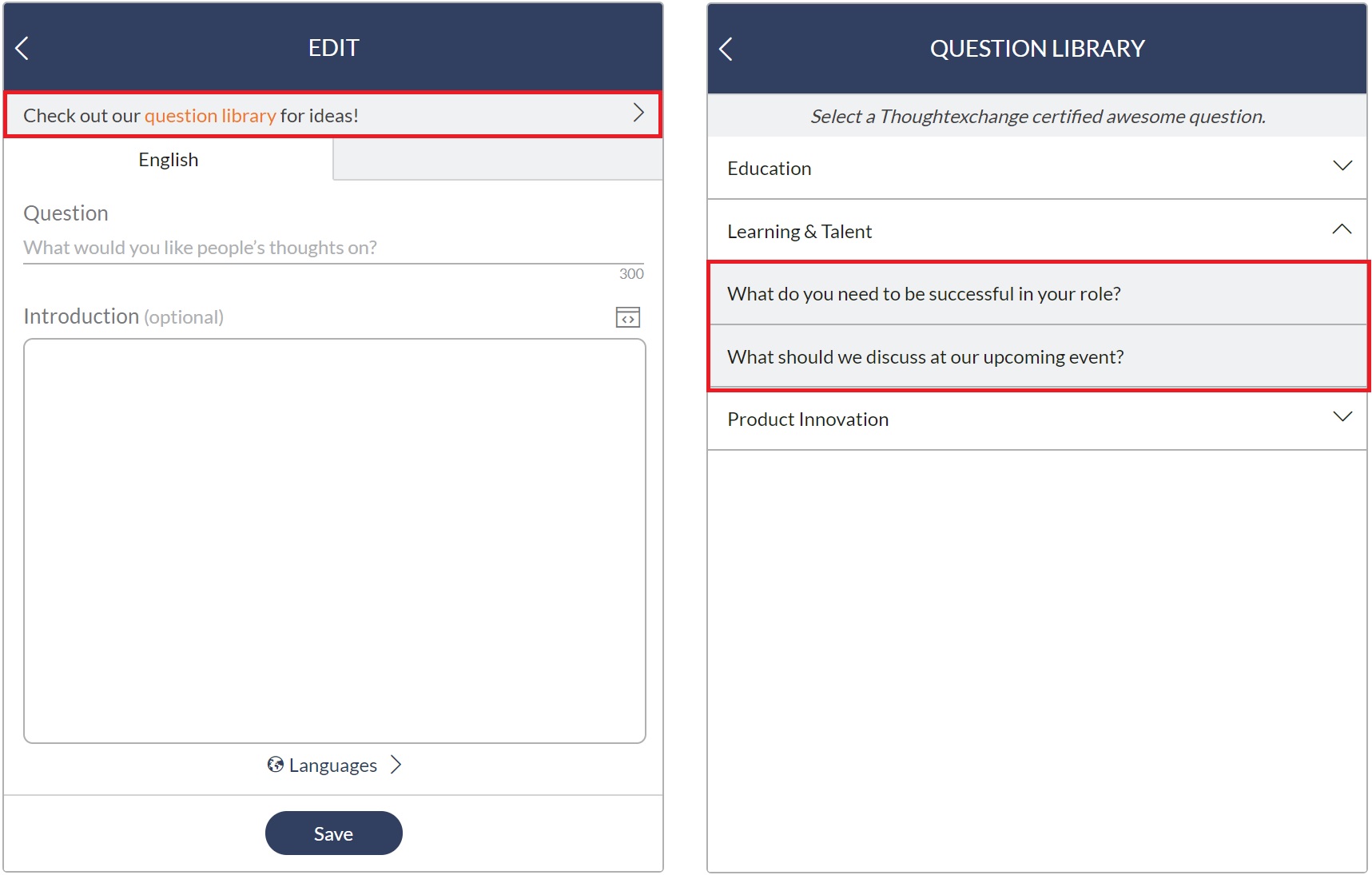 Click the question you want to use and it will automagically appear in your question text box. Then you can tweak and customize to your heart's content. We'll be adding more questions to this list, so stay tuned!
Commenting on themes
Leaving a comment in response to an individual thought is a great way to engage with your participants, share information and show people they've been heard. But what if you want to respond to a collection of ideas in a theme? Now you can do just that. 
Using the Tiles, Bars or Heatmaps tabs in the Discover Dashboard, you can click on any of your themes and leave a comment at the top. You've got 3,000 characters to work with, so there's plenty of space for whatever you want to say.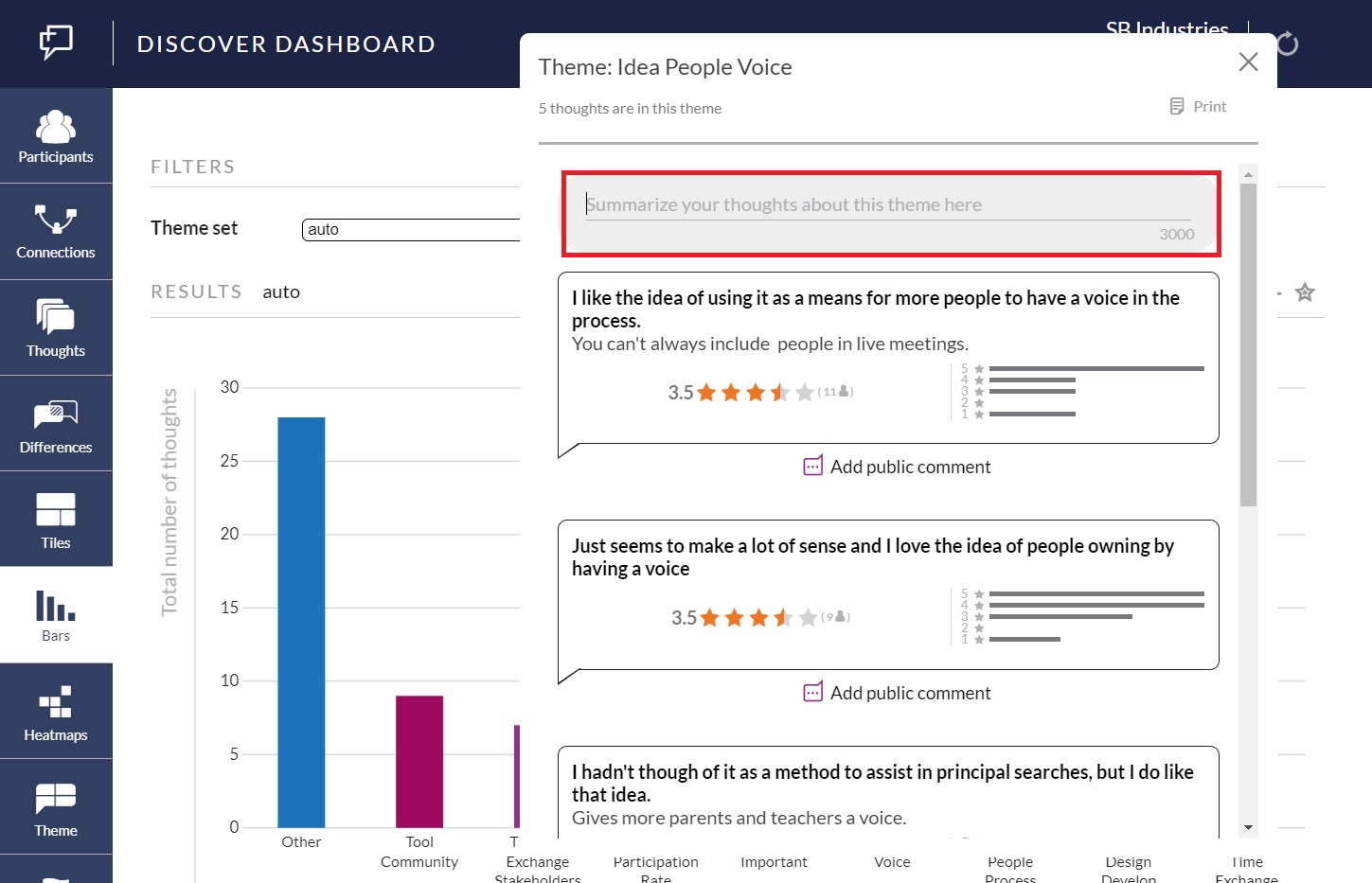 Your comments will appear in the reports you create in the Publish tab (if you use and enable that feature), so you can share your summary, feedback, and actions with your participants. Closing the loop is a great way to let them know you've heard what they had to say.
Google Single Sign-On
Everyone struggles to remember usernames and passwords. We know many leaders and participants wish they could use an existing login to access Thoughtexchange—so we've made that an option. By clicking Sign up or Log in with Google you can use your Google credentials to access all things Thoughtexchange. It's never been easier to create an account, log back in or access an exchange that requires you to log in.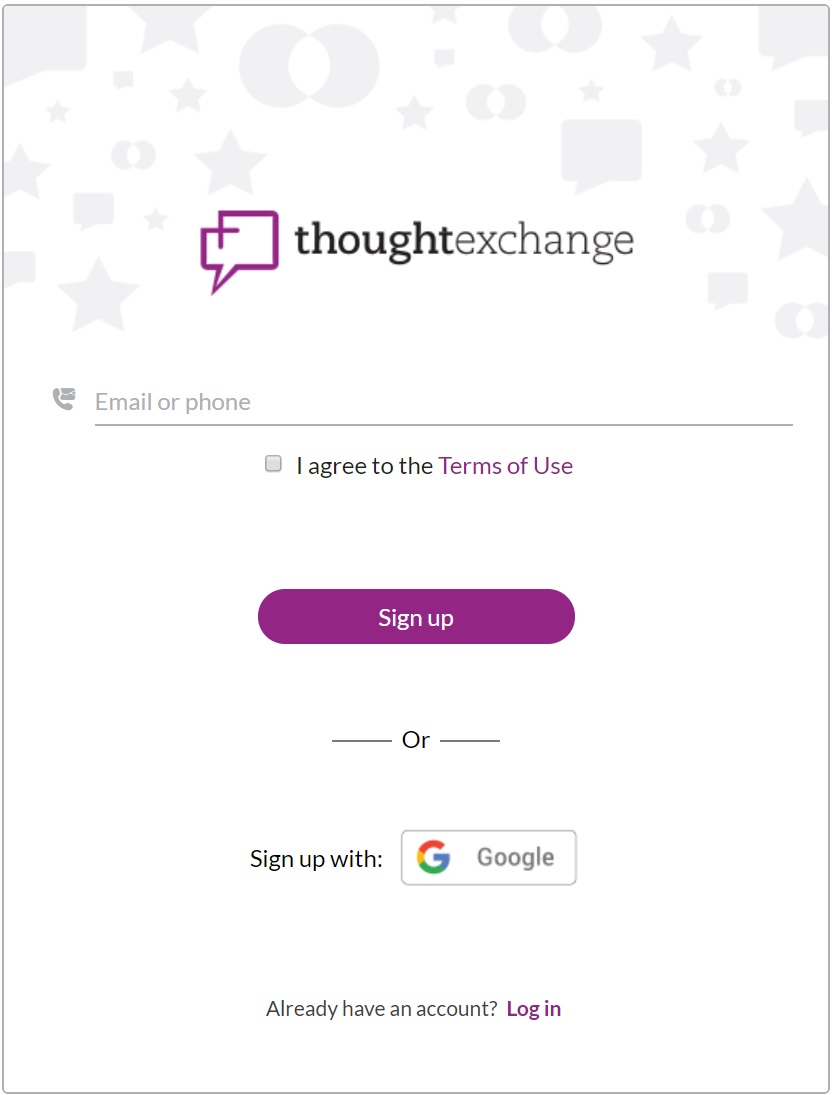 Improved multi-language user experience
Hearing from everyone in your organization or community is important, including those who speak languages other than English. The Thoughtexchange app fully supports participation in English, French, and Spanish. And we're pleased to unveil our new and improved user experience for multi-language exchanges. It's a simpler, sleeker way to get feedback in any language supported by Google Translate (over 100 additional languages).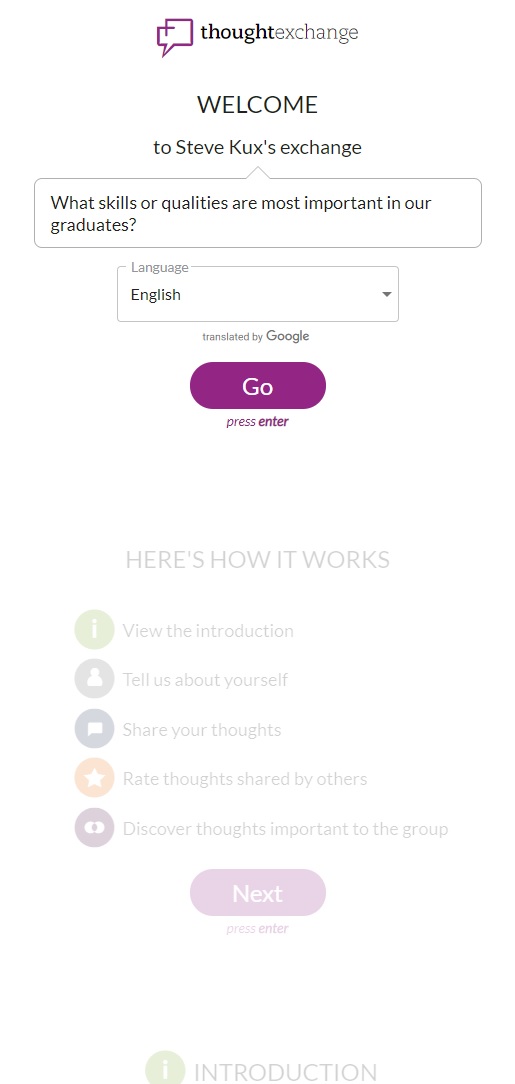 By using the big, friendly navigation buttons and scrolling to whatever section they want to access, your participants can easily engage in the language of their choice.
We would love your feedback about this feature. Share your thoughts in this exchange!
Domain Restricted Rooms
Need an extra layer of security? We now offer Domain Restricted Rooms, which let you create exchanges that require a specific email domain to access. These rooms help ensure that only people affiliated with the organization(s) you need to hear from can share and rate thoughts.
Improvements to Heat Maps
Have questions about any of these updates? Your Client Success Manager would be happy to help. Or, feel free to drop us a line at help@thoughtexchange.com.