Thoughts are the foundation of any good ThoughtExchange (hence the name of the software). Once you have crafted a great question and put it out to your community, the thoughts you get back form the basis of the entire conversation. But once participation is closed and you are ready to plan your next steps, how do you take participant thoughts and turn them into something meaningful?
The Thoughts tab on your Discover Dashboard is a great place to start. Apart from being a place where you can view all the ideas generated by your organization or community, the Thoughts tab is also where you can begin to see what was most important to participants.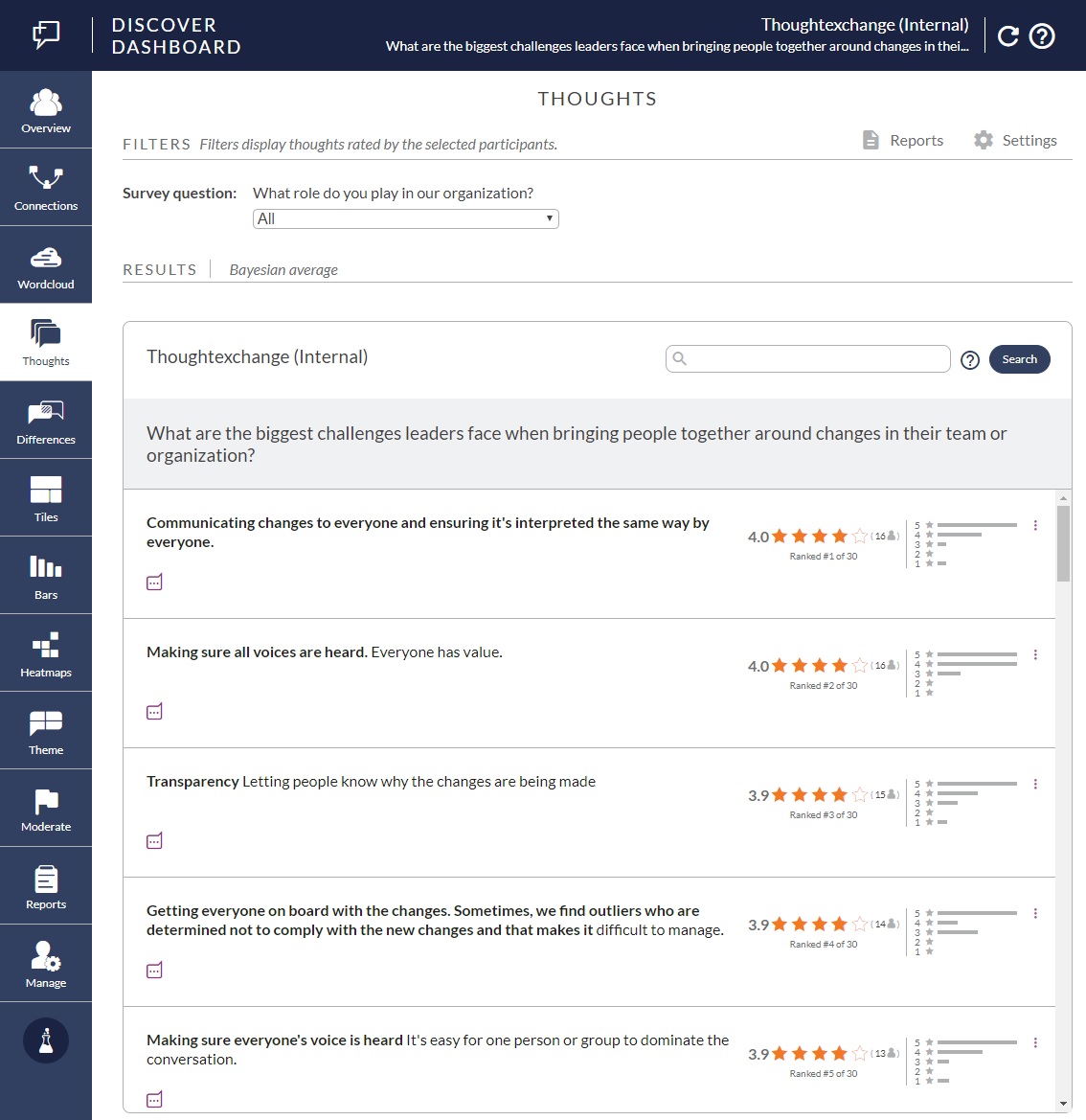 What am I looking at?
The list of thoughts you see in the Thoughts tab are presented with the highest rated thought at the top of the list and the lowest rated thought at the bottom of the last page. You are seeing participants' thoughts exactly as they were entered as well as the average star rating for each idea. Immediately to the right of the average star rating (in parentheses), you can see the number of people who rated the thought. On the far right, you can see a simple histogram showing you the breakdown of how many 5-star ratings the thought received (as well as 4-star, 3-star, 2-star and 1-star).
Bayesian Average v. Simple Average
By default, the thoughts are sorted using the Bayesian Average for their star ratings.
Where the Simple Average is the total number of stars a thought received divided by the number of times it was rated, the Bayesian Average is weighted to reflect the idea that more ratings equals more confidence in the result. Put simply, it ensures that your top-rated thought was seen by more than a few people and thoughts that have a small number of ratings don't appear above ideas with wider-reaching support.
You can switch back and forth between the Simple Average and Bayesian Average by clicking on the Settings icon in the very top right-hand corner of the Thoughts tab.
How do you calculate Bayesian Average?
When each new thought comes in we assign it five 3-star ratings (Only in the Bayesian calculation. These ratings don't actually appear on the thought). We go with 3-stars because that is approximately the average star rating for any single thought across all the exchanges in our database (thousands of exchanges and millions of thoughts). Essentially this technique assumes that every new thought is of average importance and waits for your participants to provide evidence otherwise. By assigning each thought 5 default ratings, the effect is most prominent on thoughts with few ratings, but becomes negligible on thoughts that have been rated by a lot of people.
What are all these drop-down menus?
At the top of the Thoughts tab, you will see one or several drop-down menus.
The top menu is labeled Exchange and, if you planned your engagement to have multiple conversations (e.g. a different exchange for each team within your organization), you can use it to filter your Thoughts report based on the specific exchange you want to look at.
Below the Exchange menu, you will see additional menus for any survey questions you asked. These menus allow you to look at which thoughts were most important to each group (e.g. Do managers rate certain themes higher or lower than their employees?).
You can even apply filters on top of one another. For example, if you asked survey questions about a participant's team (Executives, HR, Service, Sales) and their location (East Coast, Central, West Coast) you can set the menus to look at the most important thoughts to HR staff on the West Coast, or any other combination of the responses.
Search for keywords
Below the drop-down menus but above the thoughts themselves, you will find the search bar. This handy little feature allows you to customize your Thoughts report based on the big ideas you want to look at. Is your organization planning an overhaul of its approach to security? Type in "security", "threats" or any other buzzword related to the topic at hand. You will instantly see every thought in the exchange that used that word as well as how the community responded to it.
Moderate Thoughts
Our newest functionality in the Thoughts tab is a lightweight moderation feature. For leaders who need to quickly scan and remove objectionable thoughts, they can click the grapes menu beside each thought and choose to remove that thought. To review removed thoughts, head over to the Moderate tab.
This is great! How do I share these results?
There are times when you will want to share some of your results with other people in your organization. Giving managers a report about what their employees had to say can help them create an action plan. Sharing all the thoughts that mention a certain keyword can help guide a conversation at a meeting.
However you choose to close the loop with participants, it is simple to create a shareable version of the Thoughts report. Once you have the settings the way you want them, just click on the Reports button in the top right-hand corner (next to Settings). You can then click on New to create your report or click on Generated to pull up a report you already created and want to share again.